Everyone knows that Oktoberfest is a stein-swinging, sausage-scarfing party of epic proportions. But what does it mean when you see it on a beer label? We've compiled the must-know information on one of the world's most misunderstood popular styles, and even came up with a few of the best Oktoberfest beers you can try for yourself. You can practically smell the lederhosen from here!
So from what I can tell, Oktoberfest is a party, but it's also a beer. How did this all start?
Like most great human advancements, Oktoberfest was actually born out of a sick party! It all started back in 1810, when a popular crown prince chose to forego a stuffy, noble feast and turn his wedding celebration a massive public festival. To steal a catchphrase from a beloved SNL character, this party had everything: a super fancy horse race, a huge agricultural fair, food vendors galore, and, starting in the 1870s, lots and lots of beer tents serving steinfuls of delicious brews.
Today, the festival still begins with the mayor of Munich tapping the first keg at noon on the first day of the celebration. A lot has stayed the same, although they did drop the horse race a while back.
But the party is still huge, right?
Unless you consider blowing through 7.5 million liters of beer a snore, then yeah, it's safe to call it alive and well.
So what's in all of those steins anyway?
Here is where semantics start to fall into play. That copper-colored lager that has become inextricably linked with the biggest beer-themed holiday may be known colloquially as Oktoberfest, but there are some rules you may not be aware of. The base style is known as märzen, which translates from German as "March." This is because Germans are a super literal culture, and this style of beer was typically brewed in March, just before the weather became a little too warm to make beer without risking spoiling, bacterial infection, or fire from boiling the wort. Instead, beermakers slightly jacked up the ABV to around 6% to help preservation and kept it in cold storage caves to be drunk through the warmer months. So of course, when a crown prince just happens to call a massive party in the last week of September, the beer you're going to have the most of on hand is the stuff that's been literally chilling all summer. It also helps that the style itself is remarkably drinkable in larger quantities.
Wow, talk about a secure line of sales! I feel like I should just brew a bunch of amber beer, call it Oktoberfest, and rake in that sweet cash!
Swift thinking, Shark Tank, but it's not as simple as that! In Germany, strict trademark rules dictate that only beers brewed by the six breweries located within the Munich city limits can use "Oktoberfestbier" on their labels. This is done largely to protect the locals from outside infringement and large sponsor overkill. Other German breweries are allowed to call their timely marzens "festbiers" if they want to cash in on the buzz around the country, but officially, none are served in the famous beer tents at the Wiesn (the local word for the festival).
Of course, none of this applies to the United States, where we laugh in the face of German trademark laws and slap Oktoberfest on literally any beer we want.
So what should a good, traditional Oktoberfest-style beer taste like?
As we said earlier, Oktoberfest/festbiers/marzens are a dime a dozen, but the best are remarkably drinkable. These lagers should be amberish-copper in color with rich, malt-driven flavors of bread crust and vaguely toasty notes with a nice, dry finish. This is part of what makes it so easy to take it in by the steinful, even though they hover around the (relatively high) 6% ABV range.
All right, fancy beer man: Which ones should I actually drink?!
Unfortunately, the domestic market is flooded with a ton of beers that may say "Oktoberfest" on the label but are really just overly sweet amber lagers that would make a Münchner weep. We've picked a few of our favorite true-to-form examples that should be relatively easy to find in most corners of the country. It should also go without saying that every single one of these goes exceptionally well with traditional German food like weisswurst and pretzels with mustard.
Recommended Video
This Bubble Tea Is Set on Fire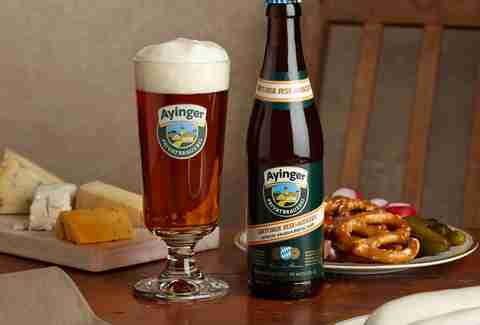 Aying, Germany
It shouldn't be too surprising that the German brewery that is as adept at brewing benchmark versions of all kinds of German styles makes a truly great Märzen. Of course, not being brewed within Munich, the beer itself is a domestic homage to the great party barely 20 minutes down the road, but that shouldn't bother you. This festbier is robustly malty with toastiness on the nose and the palate and medium carbonation that just make it so easy to drink. In fact, the only thing not so easy about this beer is finding enough of it around for very long, so don't wait too long to go out and find some.
Framingham, Massachusetts
If you thought expectations were high for a strictly lager-focused brewery to come up with a killer märzen, you'd be right. Luckily, Jack's Abby hits the mark yet again with their homage to Oktoberfest. This beer pours a slightly hazy amber-orange with brighter bready notes on the nose, where carbonation levels are just right to make it smooth on the palate without filling the belly, and German noble hops weaving through the dry finish that's on the subtle pleasingly bitter side for the style. The 16-ounce can format is a bonus!
Stowe, Vermont
The Von Trapp family -- yes, that Von Trapp family -- has long been established in Vermont, first as gifted performers, then as renowned innkeepers. But it wasn't until 2010 that they entered the brewing game, where their takes on traditional German styles with touches of American influence has garnered a lot of attention. Their Oktoberfest stands out as one of their best: The nose and the palate both boast malt richness, but like some other domestic takes on the style (thanks mostly to local tastes), this one has a slightly hoppier finish with perceived noble hops. If you happen to be in Vermont, it might be worth stopping by their own Oktoberfest to celebrate right on site.
Asheville, North Carolina
Collaborations have become a hallmark of American craft beer, and while pretty much any reason will suffice to foster teamwork, Oktoberfest is very rarely one of them. That's not the case with Culture Keepers, which is the result of two of the south's best breweries coming together to concoct a memorable märzen for the masses. Biscuity, bready aromas and flavors work alongside grassy hops that whistle through a dry, oh-so-barely bitter finish that is as refreshing as it is clean.
Chico, California
So if festbiers are supposed to be a harkening to tradition, how do breweries who've been at it for a long time keep things fresh year after year? In the case of Sierra Nevada, it involves bringing a different German brewery stateside each year to come up with their Oktoberfest offering. This year's is made with help from Weihenstephan, and the results are one of the best widely available marzens on the market. Expect a malt backbone balanced by piney, floral Sterling hops and a dry finish.
Munich, Germany
Just because the idea of planning an entire trip to Munich may feel like such an ordeal doesn't mean you can't drink like a festival goer. Hacker-Pschorr's is a legally proper Oktoberfest, made within the Munich city limits and served at tents at the Wiesn to throngs of revelers. Of course, it's got those flavors toasty bread crust and rich malts, but like all great Oktoberfest beers, it stops short of sweetness, making it easy to sip on for hours.
St. Louis, Missouri
Known for their throwback interpretations of classic German styles, Oachkatzlschwoaf (which means "tail of the squirrel") is Urban Chestnut's ode to Oktoberfest. It's remarkably smooth and medium bodied on the palate with biscuity malts, and although slightly floral, it's truer to traditional märzens than other domestic versions. If you're a St. Louisan, there's a good chance you're already singing this beer's praises, and maybe even going to check out Oktoberfest at the brewery itself.
Sign up here for our daily Thrillist email and subscribe here for our YouTube channel to get your fix of the best in food/drink/fun.