When you were a kid the arrival of fall meant Halloween, what with all its free candy and merriment. Now that you're an adult, fall is when you have to buy candy to prepare for your annoying neighbor's kids knocking on your door. But at least the fall also means there's pumpkin beer. Glorious, glorious pumpkin beer that's been aged in rum barrels, or combined with toasted marshmallow, or brewed with coffee beans.
This year when you open to the door to see those little brats, you should have one of these pumpkin beers in your hand. And be sure to have these specially selected pumpkin craft beers from all across the country on hand all fall long.
Recommended Video
Make This Apple Brandy Elderflower Sparkler for Your Next Fancy Party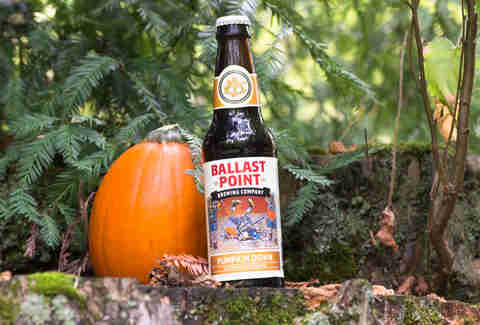 5.8%
San Diego, CA
It's not surprising that a brewery known for doing wonderful things with grapefruit and pineapple could bang out something with fall's favorite dirt-fruit (yep, gourds are fruit!). What is surprising is how wonderfully balanced this pumpkin-spiced take on the Piper Down Scottish ale really is. It's got that full body you'd expect from a Scotch ale, which some may say is heavy, but if you're drinking pumpkin beer mated with Scottish-style beer and thinking it's gonna be light, well, that's your bad. This is the perfect beer for falling off a hay ride.
5.8%
Kansas City, MO
FP is billed as a spiced sour, and if you're into Boulevard's beers, know that it's cheaper to buy a sixer of this than a bomber of the fancy barrel-aged sour Funkier Pumpkin. So we went with the sixer. This doesn't go overboard on the pumpkin or sour flavors, and for both those reasons, it'd make for a fine sour gateway beer for your friends who like pumpkin beers, especially with its nice cinnamon notes on the finish. And while we wouldn't go so far as to call this a session sour, at 5.8%, you can certainly have more than one. Go ahead, no one's judging!
9.6%
Tampa, FL
When we tasted 21 different pumpkin beers for a ranking a few years back, this beer came in first. And that's because this tastes like liquid pumpkin pie. Check the spice list: Ceylon cinnamon, Jamaican allspice, and Zanzibar cloves and nutmeg. And you bet your sweet bippy those spices show up in every sip. It's also 9.6%, so you don't need to drink much of it to get into the Halloween spirit. Also, you can't drink much of it because it only comes in 22oz bombers (and on tap, if your state is lucky enough to carry Cigar City beers in bars).
5.9%
Dexter, MI
Jolly Pumpkin has endured years and years of people making jokes about not actually making pumpkin beer, and has finally caved with La Parcela. Unlike fan demand for a second Dumb & Dumber movie, it actually paid off. This beautiful, bubbly oak-aged ale gets all the pumpkin notes right, with a hint of cocoa on the back of the tongue. "Guess now folks will have to find something else to joke about" reads the bottle. Alright, JP. How about a Blue Raspberry Jolly Rancher saison?!
5.5%
Arvada, CO
When I picked this up at the liquor store, the beer section guy warned me, "It's sweet." Two things. One: this is a toasted marshmallow pumpkin porter, so it better be at least a little sweet. Two: it's actually not overly sweet! I've had more than a few sickly sweet beers in my lifetime, and this is not one of them. Instead, you get a bit of marshmallow on the nose, and a heady mix of marshmallow, chocolate porter, and pumpkin in the finish. The illustration on the can is of marshmallows toasting atop an open fire of jack-o'-lanterns, and that is not false advertising.
6%
Seattle, WA
This has such an intoxicatingly delicious nose to it that it almost can't possibly taste as good as it smells. If you blindfolded a friend and asked them to describe what they were smelling here (we have weird relationships with our friends!), they'd probably say, "a cup of iced coffee." And sure enough, Elysian uses beans from Portland's famed Stumptown. When you finally drink it down, you'll almost get more coffee flavors than pumpkin -- it's got a bit of that Pumpkin Spice Latte magic within it. It's a solid choice if you're looking for something a little off-center from a standard pumpkin beer.
8.5%
Boonville, CA
Short of Hunter S. Thompson, nobody does greater things under the influence of Wild Turkey than Anderson Valley, including the coveted Bourbon Barrel Stout. But Pinchy Jeek… well, holy shit. It's basically Thanksgiving in a bottle, provided you usually burn the turkey and just switch to bourbon. It's got all those sweet/spicy pumpkin notes, but kicked in the gobble by six months in a Turkey barrel. Even more alarming is how easy it goes down at 8.5%. For those who chide pumpkin beers for lacking depth, Anderson Valley's latest barrel-aged masterpiece is here to prove you wrong with layer upon layer of flavor.
10.8%-11.1% (depending on the year)
Portland, OR
Portland's master of barrel-aged sours treats its beers with the care of wine, with bottle-aging transforming different vintages of its more coveted beers. And Pumpkin Smash is certainly coveted: it's a blend of the brewery's blond and quad ales that sits in bourbon and brandy barrels for up to two years, chilling with a bunch of pumpkin from a local farm. The result is a complex beer, with layers of sour and spice and more that just keep transforming over time. This is a special-occasion beer. But as "special occasion" is a relative term, that means it's as good at Thanksgiving as it is carving pumpkins on a Tuesday morning.
18.8%
Boulder, CO
The Boulder beer expert barrel-ages a new batch of this stuff every year. The last time I had it was a few years back, when it was but a weak 17.22% ABV. Finally, Avery upped the ABV on this sucker, and now it's 18.8%. It's about time! This beer is not messing around. It's aged in bourbon barrels, and there are a ton of bourbon notes on the nose. It smells so good it's kind of difficult to stop yourself from smelling it so damn much. And the taste is pure bourbon-y, pumpkin-y goodness, with loads of pumpkin spices in the finish. Sure, you'll want to take a nap after drinking the 12oz bottle, but you'll certainly have sweet dreams.
8.6%
Lakewood, NY
There are a couple of schools of thought when it comes to pumpkin beers. There are those who don't mind a hint of spice, but who get a little bit leery when things veer into liquid pumpkin pie territory. Pumking is not for those people. If you're the type who gets seconds on pie at Thanksgiving and has Pumpkin Spice Latte day marked on your calendar, this is the pumpkin beer for you, one rich with notes of vanilla, nutmeg, cinnamon... and, wait, are you sure they don't make this with pie crust?
5.25%
Cambridge, MA
Apparently, Cambridge Brewing is not willing to settle for just having what many consider the grandaddy of pumpkin beers on its roster. No! It has to take a batch of its Great Pumpkin, barrel it (on Halloween night, no less!), and then wait a year for the Brett and oak to do their work. The result is a funky, slightly tart beer with musky, earthy undertones and hints of spice and wood. It's a beer geek's pumpkin beer if there ever were one, but it will easily be enjoyed by anyone who pours themselves a glass with an open mind.
8.5%
Amherst, WI
This year's batch of bourbon barrel-aged beers makes a good case for pumpkin puree replacing pickle juice as a go-to chaser. Headless Heron is yet another beer that takes pumpkin brew up a notch through the magic of the barrel. Flavors of cocoa, vanilla, oak (hey, bourbon barrels!), gingerbread, and clove are all there, with a long finish just like your favorite Kentucky export. This is also one of those rare pumpkin beers that you can hold on to for a while in your cellar, so no need to feel guilty if you don't crack open your bottle before Christmas.
8%
St. Louis, MO
No conversation about pumpkin beer is complete without Schlafly, which might just be the most well-balanced bottle in the patch. The spiciness on the nose may spook some, but one sip reveals how it's medium-bodied and smooth on the palate, with pumpkin flavors playing along more as an accent than the language. It's what people in the industry call a "converter" beer because even people who hate this style will usually find something they like. Not surprisingly, this makes it a pretty obvious choice for a cooler option at your Halloween party or mid-season tailgate.