12 Rosés You Should Be Drinking All Year Long
In the heat of the summer, scroll through your Instagram feed and pink wine will make a cameo nine times out of ten -- your bikini-clad friends sipping rosé on pool floats, Drew Barrymore captioning her pic "yes way rosé!", and your coworker's step-sister (who you follow?) doing and drinking the same thing.
"Rosé is thought of as a summertime side-piece," says Certified Sommelier Heather Gordon, "but rosé as a category is broad, with many sub-categories that trickle off the pink wine umbrella."
Essentially, rosés are like people: they come in all different flavors, bodies, complexities, and colors -- and they are all beautiful in their own ways. Sure, light, Provence-style pinks made for chugging are a fan favorite (and for a good reason -- they're delicious), but it's time to expand your palate and get acquainted with bold Italian rosatos, California rosé bubbles, and food-friendly Portuguese pinks. Because rosé is not just for pool parties in the Hamptons -- rosé is for always, and "there is a pink wine out there for every season," says Gordon.
Today, rosé is increasingly growing as a year-round sip of choice, meaning people are starting to catch on and branch off the grape vine. According to the 2018 E. & J. Gallo Consumer Alcohol Beverage Survey, one in five consumers have enjoyed a glass of rosé in the last month. Additionally, this year's Nielsen retail insight survey pinpointed that rosé shoppers are expanding total wine sales; consumers are buying rosé in addition to their other go-to wine varieties, indicating that rosé is becoming a popular middle ground.
So mark your calendar… or don't, because #roséallday is thing of the past. Here are 12 amazing pink wines that prove #roséallyear needs to be everyone's new hashtag.
January
Domaine Jousset Éxilé Rosé Pet-Nat 2016 ($16.99): To kick off the new year right, you'll need bottles (on bottles) of festive fizzy. This 100% Gamay sparkling rosé from the Loire Valley is bursting with light, spritzy bubbles that are perfect for celebrating new beginnings. You'll relish vivid red berry and cherry flavors as you sip, rounded out by serious acidity and minerality; with its bright finish, you'll be feeling especially optimistic. Not to mention, the wine lends itself well to the party's prosciutto plate and macaron dessert display, so keep the refills coming.
February
Mas de Daumas Gassac, Rosé Frizant ($22): Whether you're single or spoken for on Valentine's Day, prepare to fall in love with this mineral-driven gem from France's Languedoc region. The wine is 70% Cabernet Sauvignon (30% Mourvèdre, Pinot Noir, Sauvignon, Petit Manseng et Muscat) with a fruity bouquet and flirty effervescence. Chill it, add a raspberry in the bottom of your glass, and pour for an extra-sexy flavor and presentation; then serve with chocolate mousse (spoon fed to bae, of course) to seal the deal.
March
Conestabile della Staffa Rosato ($27): Spring, is that almost you? Daylight Savings awaits at the end of this frosty tunnel, so begin your first thaw with rosato -- the fat-backed Italian rosé that's bold enough to keep you warm, yet beckons warmer days ahead with its fruit-forward character. Try this rosato from the Umbria region, made with Sangiovese grapes, natural fermentation, and a longer maceration (a process that extracts tannins, aroma, and color from grapes). The final juice boasts a full, savory flavor and darker hue that's great as an aperitif or an all-night dinner companion.
April
90+ Cellars Lot 146 Rosé de Pinot Noir, Coteaux du Giennois ($14.99): This pale pink delight originates from the edge of the Loire Valley where Pinot Noir grapes thrive. Warm days, cool nights, and limestone flinty soil created a rosé with pleasant acidity, subtle minerality, and fresh red berry aromas. This is the bottle to bring to Easter Brunch -- the juice stands up to a wide range of flavors, balancing out honey-baked ham just as nicely as a savory quiche or fruit parfait. Plus, rosé arguably tastes better when you're wearing pastel seersucker.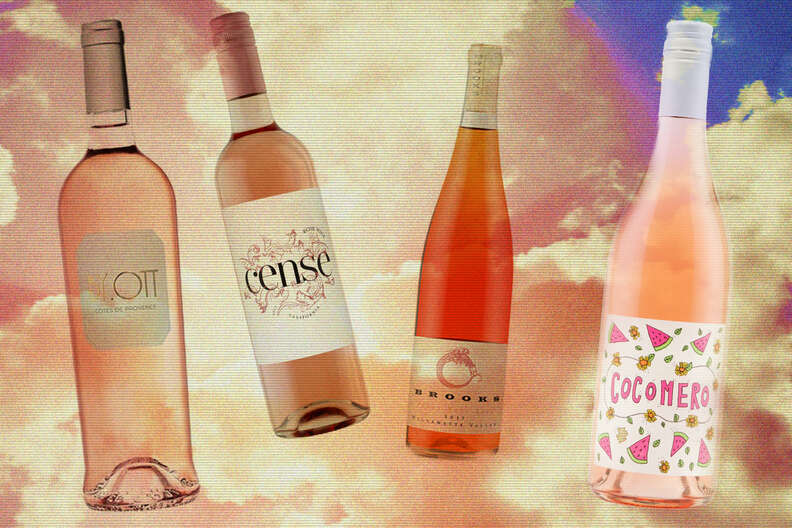 May
Cense Rosé Wine California 2017 ($15): It's May, meaning it's almost Memorial Day… meaning it was time to get your summer bod in check yesterday. Generally, wine (well, booze) is the caloric nemesis of abdominal muscles, but here's a delicious rosé you can feel good about sippin' on. Cense's rosé of Zinfandel is only 85 calories a glass with a punch: it smells like berries, tastes like cherries and white peaches, and with a burst of acidity and a mouthwatering finish, the wine plays nice with warmer-weather dishes like mango chicken lettuce wraps, shrimp ceviche, or a fruit and cheese platter. (So much for that summer bod…).
June
BY.OTT Cotes de Provence Rosé 2017 ($25): The sun is shining, the swan is floating, and your squad is attempting to out-'gram one another by your Airbnb pool in Southampton. BY.OTT's pale pink wine is your ultimate summer water. It's light and well-rounded with notes of apricot, grapefruit, and minerals -- all the makings for an easy-drinking poolside sip. Next, fire up the grill and pair your drink with BBQ shrimp, grilled salmon, and a watermelon salad with feta and basil.
July
Brooks Pinot Noir Rosé 2016 ($20): It's America's birthday, so let's be patriotic about our drinking. This rosé was born in the U.S.A. -- more specifically, Oregon's cool-climate Willamette Valley that's pretty much made for growing Pinot Noir grapes. The wine tastes like fresh red berries, spring herbs, and freedom. Its lively acidity and surprisingly rich finish makes for a great pair with fried chicken, grilled pork, kabobs, and other July 4th BBQ favorites. If you're feeling fancy any other summer day, this wine also complements best-enjoyed-al-fresco bites like crab dip and tomato bruschetta.
August
Cocomero Rosé 2017 ($15): Take one last last whiff of summer -- literally. This bright Italian-style rosé from California smells like juicy watermelon and 5-and-dime gummy candy on the inside and out (the bottle has a playful scratch-and-sniff label). The wine's name translates to "watermelon" in Italian, so you'll obviously taste that, plus honeysuckle and rhubarb. Despite all these saccharine-sounding flavors, the wine is quite dry and light, pairing nicely with sushi, shellfish, fruit salad, and one last beach trip to close out the season.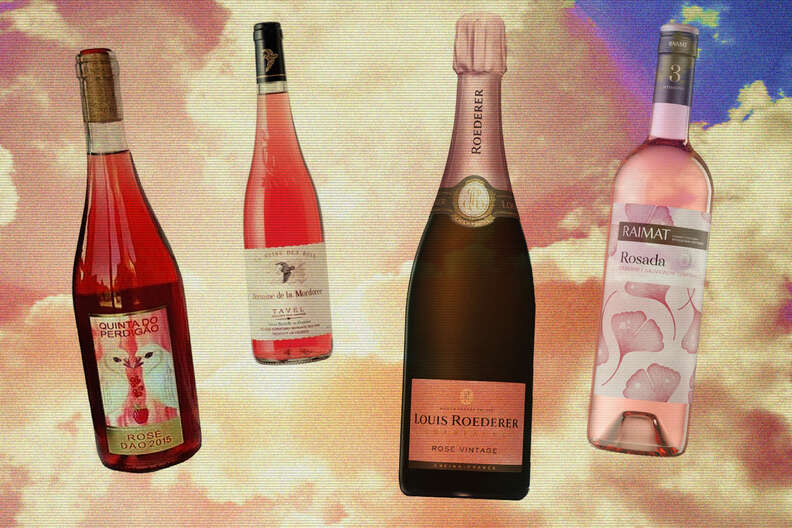 September
Quinta do Perdigao Rosé 2015 ($16): As we transition into fall, reach for a pink drink that understands the conundrum that is September: it's still kinda warm out, but we're ready to retire summer whites for the season and cozy up to full-bodied reds. This award-winning Portuguese rosé toes the line flawlessly; before release, its tannins softened in the bottle for a year, so the final juice drinks like a smooth, substantial red with rich fruit flavors. So grab your blanket scarf, a wheel of fatty brie, and raise a pink-hued toast to the autumn equinox.
October
Raimat Rosada 2017 ($13.99): Move over, light beer, and meet our new recruit for football season imbibing: Spanish rosada. You and your girlfriend can be equally excited to turn on the game and pop a bottle of Raimat's rosé, which balances out underlying grapefruit notes, raspberry sweetness mid-sip, and a long finish. Its blend of Cabernet Sauvignon and Tempranillo grapes creates in-depth flavor that's a winning pair with game-day eats like pizza and chili.
November
Tavel Domaine de la Mordorée La Reine des Bois ($22): If you haven't been serving rosé at Thanksgiving then you have been doing the holiday all wrong. Turkey begs to be paired with a big-boned, deep-hued rosé. (Note: a dark pink color doesn't mean "sweet" or "cheap" -- this isn't your grandma's White Zin from the '80s.) This wine from Tavel, a tiny region squeezed in the middle of the Cotes du Rhone, is medium-bodied and made with 60% Grenache (40% Clairette, Syrah, Cinsault, and Bourboulenc). Take a sip (after you give thanks, of course) and you'll get red fruit and wildflower aromas, elegant texture on the palate, and a nice long finish.
December
Louis Roederer Champagne Rosé Vintage ($80): 'Tis the season for holiday parties, your in-laws staying the week, and Uncle Jim showing up to dinner with his girlfriend whose age is the square root of his. The tree is lit, and you deserve to be, too -- so do the damn thang and indulge in real rosé Champagne. Produced by the same Champagne house as Cristal, this merry and bright blend of Pinot Noir and Chardonnay gives you zesty fruit on the nose and fresh minerality on the tongue; it's rich, full-bodied, and perfect for celebrating. So raise a glass to another year down… and a new vintage of rosé to come! (And wrap a bottle up for your sister, since you forgot to get her a gift again.)
Sign up here for our daily Thrillist email and subscribe here for our YouTube channel to get your fix of the best in food/drink/fun.