stockcreations/Shutterstock
For many drinkers, rum can be an afterthought: a little boost to turn a glass of juice into a nice mai tai and help you justify sitting in a thatched bar listening to Jimmy Buffett. The truth is, though, that rum can be as satisfying on its own as a glass of whiskey. You just have to choose wisely.
Like all liquors, rum is a spirit distilled from sugar. Like most modern liquors, rum has a handful of characteristics that make it rum. But within those parameters, there are variations ranging from light to dark to amber to spiced. Point is, rum's complicated.
Almost every developed nation in the world (and many developing nations) have at least one rum label churning out bottles of the not-necessarily-good stuff. But if you're the sort who drinks rum even when it's not Talk Like a Pirate Day, you need to be more discerning. That's why we consulted Blair Reynolds -- owner of legendary Portland Tiki bar Hale Pele -- and writer/brewer Christopher Jennings to figure out the best ports of call when it comes to the world's best rum.
Barbados
Barbados is the nominal birthplace of rum, and also Rhianna, which is maybe why so many rum drinks have umbrellas in them. Though some other locations claim this title, Barbados is the first place where rum purchase was recorded and it was a key stop on the famed "Triangle Trade" route so important to the economic health of the New World. They use a blend of pot and column stills, and use local molasses.
Barbados rums are aged in whiskey and bourbon casks. This isn't unusual, but most Barbados rum makers use the wood to advantage, producing a rum with woody flavors of coconut and banana. It's great in cocktails, provided you work with the flavors instead of overpowering them.
Best bottles: 96 Cockspur Old Gold, Real McCoy
The Philippines
You don't always think of the Philippines when you think of rum, but the island has all the requisite sugar crops, molasses production, maritime tradition, and less-savory elements that made the Caribbean what it is, so why the hell not? Though it's likely some kind of rum existed earlier, rum production here went big when the Spaniards started it up during the 19th century.
Solid white and golden rums made in column stills are what you'll get in a Filipino rum. Most are blended to provide an almost wine-like smoothness with a silky mouthfeel. Good for neat or rocks treatment, or with a light cocktail like a caiporena.
Oh, and Filipino rum is the best-selling rum in the world, ever since Tanduay rum overtook the market back in 2013.
Best bottles: Tanduay Superior 12 Years, Don Papa
Guyana
A tiny coastal nation on the north end of the part of South America that fits into Africa the way your girlfriend's butt fits into your crotch when you spoon, Guyana has only one famous drink. (The less said about a Guayanan Kool-Aid the better.) However, Guyanan rums have long enjoyed a solid reputation among those who know about rum.
Guyana's rums are smoky and flavorful with notes of vanilla, honey, and baking spices. They tend to be thicker than other rums, for a viscous mouth and tongue feel. Most are distilled in wooden coffey and pot stills.
Best bottles: El Dorado 12 Years, El Dorado
Cuba
Until recently, it's been hard to get a Cuban rum, but the lifting of sanctions by Obama means they'll probably be available starting this year. Before what we'll call the Big Pissing Contest, Cuban rums were popular throughout the United States. Their return might be the biggest thing in alcohol legalization since Repeal Day.
Cuban rums are a Spanish-style spirit -- clearer, drier, and with a higher proof. This means a crisper mouth-feel and lighter flavors (often of honey or citrus skin). They're a smooth drink best enjoyed neat or over a single chunk of ice.
Fun fact: Cuban rum has been formalized since a royal decree in 1539, which standardized production and built a rum brand before branding was a word people used.
Best bottles: Ron Palma Mulata, Santiago de Cuba Extra Anejo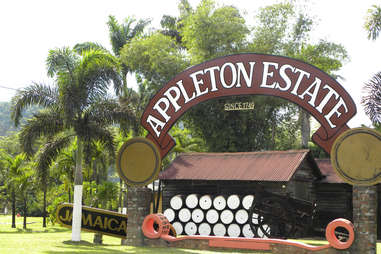 Jamaica
You think of rum mixers like Mai Tais when you think Jamaica and rum, but you'd be thinking wrong. Jamaica rums are famed for their "hogo": a funky, sulfurous odor and flavor that reminds more than one taster of gasoline, but in a good way. If you like that slight formaldehyde aftertaste in Jamaican beer, you're already a fan of hogo.
Jamaican distilleries get their hogo profile by maintaining a culture of "dunder," a preserved yeast that continues to grow and mutate much like a sourdough batch and carry notes of previous batches into new brews.
Best bottles: 95 Smith & Cross Traditional, 98 Appleton Estate 21 Year
Haiti and Martinique
Both of these island nations have had plenty of weird history for the good and the bad, and both produce a style of rum similar to one another, but unlike rums made anywhere else in the world.
Haitian and Martinique rums use a charentaise distillation method -- the same kind used in producing cognacs. A charentaise is a two-stage distillation method, meaning the first batch of distilled spirits is put back through the system to be distilled a second time. The rum is then aged in Limosin oak, which gives it more tannin and spice than other oak varieties. The end result is acidic, with spicy notes of ginger and pepper on top of the honey finish.
Best bottles: St. James Fleur de Canne, Rhum Barbancourt
India
There's a good chance the first spirit distilled from cane sugar was made in India, sometime between 0CE and 500CE. Despite not being exactly world-famous for its rum, India is the biggest consumer of rum in the world, both in terms of rum drunk per capita and in terms of most rum drunk each year.
Indian rums are molasses distilled, and dark. They tend to have a sweet nose and taste, with a thicker mouth feel even than other dark rums. Some reviewers recommend it as a before-dinner sipper, like Sherry.
It's also something of a currency: Soldiers in the Indian army still receive a "ration" or rum each week as part of their pay.
Best bottles: Old Monk 12 Year, Khukri XXX
Sign up here for our daily Thrillist email, and get your fix of the best in food/drink/fun.
Jason Brick is a voracious reader, heroic drinker, and awesome dad (not necessarily in that order of importance). When not testing the theoretical limits of awesome, he practices martial arts so he can beat people up for teasing him about how much he likes playing Dungeons & Dragons. Find out more at brickcommajason.com.