9 session beers crucial for holiday drinking
Just because you've been snowed in for a week doesn't mean you have to drink heavy, complex winter brews with enough kick to knock you out after two glasses. I've compiled some of the best session beers (in this case, below 5% ABV) that will help you get through these trying weeks with your family without passing out before dinner is served.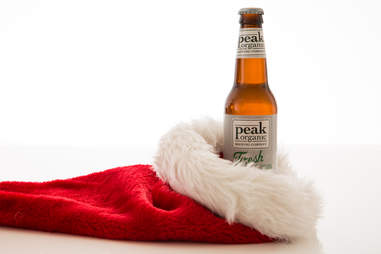 Drew Swantak
Peak Organic Fresh Cut Pilsner
Pilsner, 4.6%
Portland, ME
As the name suggests, Peak Organic's Fresh Cut uses dry hops to bring that fresh hop flavor to IPA-levels of citrus and pine, while still keeping a medium body with the refreshingly crisp finish that (true) pilsner fanatics love.
 
Evil Twin Bikini Beer
American IPA, 2.7%
Brooklyn, NY by way of Stratford, CT
When the brewer himself refers to one of his creations as a "sissy beer", you know you're getting something as sessionable as possible. Bikini Beer is light-bodied with beautifully balanced, citrusy hops and a floral aroma, proving that you don't have to tip the booze scales if you want a complex brew. If your holidays happen to find you in a warm weather locale (you lucky bastard), this also makes for a killer beach or poolside drink.
Drew Swantak
Breckenridge Vanilla Porter
Porter, 4.7%
Denver, CO
Forget what you think you know about beer with added flavoring: Breckenridge uses real vanilla beans, not extract, so this porter has dessert-like qualities without being even close to cloyingly sweet. Consider it the beer equivalent of a mid-ski run hot chocolate. Even if you're not looking for a full drinking session of dark beers, it's the perfect palate cleanser for a day full of citrusy, light, low-alcohol beers.
 
Founders All Day IPA
Session IPA, 4.7%
Grand Rapids, MI
The philosophy behind this beer is right in the name, and it applies to holiday party drinking, too: even people who aren't hop-heads will cozy up to this super-balanced, fragrant, light-bodied beer with enough complexity to be served alongside food.
Drew Swantak
Aecht Schlenkerla Helles Lagerbier
Munich Helles, 4.3%
Bamberg, Germany
Munich Helles beers were born out of the Bavarian reaction to the massive popularity of light lagers created by the pilsner boom -- the name itself actually means "light" or "bright" in German. Schlenkerla is mostly known for their killer Rauchbier, but this sessionable option is a great primer for getting to know Bamberg's claim to beer fame. It has a malt-forward, medium-bodied profile with slight hoppiness and a residual unique smokiness from using the same production equipment as its smoke-bomb of a big brother, Urbock. Drink it in front of a fire with a sweater on: it'll complement the aroma wafting from the hearth.
 
Fantôme Blanche
Witbier, 4%
Soy-Erezée, Belgium
Fantôme's Blanche is damn near a gold standard for the Belgian witbier style: flavors of orange peel, coriander, and cloves make for a good break from the dark, roasty beers that tend to dominate the shelves and draft lines this time of year. It's also a perfect early afternoon or breakfast beer, so feel free to bust this out at brunch without shame.
Drew Swantak
Off Color Troublesome
Gose, 4.5%
Chicago, IL
Wintertime shouldn't automatically preclude you into drinking dark beers. Light beers like goses are good for many things around the holidays, including being a pre-dinner drink that won't stamp out your appetite. The market has recently become crowded with goses of varying quality, but Off Color's is no joke: if you need something in hand that is refreshingly sour, light-bodied, and just a touch salty while wrapping gifts, this will work wonders.
 
Mystic Table Beer
Saison, 4.3%
Chelsea, MA
Fans of Belgian styles usually have the hardest time finding beers that won't knock them on their ass after their second drink. Saisons, though, were originally developed centuries ago in part to give farmhands something to drink that wouldn't get them [redacted]... or just sick from waterborne disease, as used to happen to farmhands. Mystic makes a damn-near-perfect farmhouse table beer, with bright fruit notes and the trademark peppery finish that make this one of the most flavorful session beers out there.
Drew Swantak
Uinta Baba Black Lager
Schwarzbier, 4%
Salt Lake City, UT
Don't let the jet-black color fool you: schwarzbiers (which is a literal German translation of "black beer") are deceptively light-bodied and sessionable. Fans of roasty, malt-forward beers will instantly fall in love with Uinta's take on the lager, whose low ABV and clean finish make it easy to take down multiple in one sitting.
Zach Mack is Thrillist's contributing beer writer, the owner of Alphabet City Beer Co. in NYC, and absolutely nothing else. Follow him to holiday drinking @zmack.