The best thing about summer is that it's the only season that gives you a built-in excuse to drink multiple beers while swinging in a hammock, unless you live in Hawaii, in which case, well, good job. And when selecting your next crushable beer, the best choice for the summer of 2016 is a session IPA in a can. It's portable (in case you'd like to drink upon a hammock elsewhere), it's lower in booze than its usually stronger big brother, and it's perfect for the beach or a BBQ.
But most importantly, the best versions of this style give you all of that IPA flavor you crave while allowing you to keep the party going longer. What are the best versions? So glad you asked!
4.9%
Longmont, CO
Only a fool would recommend a soda instead of a beer when it gets hot out, but what if you could have both by the same damn brewery? Oskar Blues makes both a fantastic orange cream soda and a dry-hopped, 25-IBU beer named after a slang term for a joint, though strangely the owner said they named the beers after drinking a brew themselves. Though OB is a Colorado-based company and its employees could legally name beers after a hit of a pinner or two, this beer is actually brewed in its Brevard, NC, facility, a place where a pinner is illegal, but OB Pinners remain blissfully legal and plentiful.
4.7%
Brooklyn, NY
The hippest little brewery in Brooklyn certainly lives up to its hype with this juicy, citrusy, and pleasantly tropical session IPA. Light on the malt and big on the hops, Forever Ever pours a hazy tangerine, capped by a snowy white head and bursting with fresh-cut grass and orange peel aromas. A touch of biscuit at the finish dries the palate and keeps you thirsting for more. The two-year-old microbrewery -- which operates out of a warehouse under the Brooklyn-Queens Expressway -- releases these slate-gray tallboys sporadically and in super-limited quantities, so if you want to sample this treasure, make sure to line up bright and early.
4.7%
San Francisco, CA
Speakeasy's been around since 1997, which makes it practically an OG in the Bay Area craft scene -- so why doesn't it serve (E-)40s? No matter. Its cans of Baby Daddy are interesting for a couple of reasons. First, it's the company's first foray into cans. Second, it's part of the Session Series, which also includes another session ale and a pils. And finally, it's the easy-drinking, summery version of its uber-popular Big Daddy IPA, a 60-IBU West Coast hop-filled delight. Baby Daddy has about 2% less alcohol and half the IBUs, but still plenty of hop flavor to keep the beer from boring the hell out of your palate.
4.5%
Durango, CO
Summers in Durango, where Ska is brewed, are a time to zipline and mountain bike while waiting for winter to come back. And waiting for that sweet, sweet fresh pow is a lot easier when you wake up and drink one of these suckers, as the brewery claims it pairs well with breakfast... as well as "summer, sunny days, rainy days, [and] winter." It's summertime; maybe your boss will understand.
4.5%
Paso Robles, CA
If it's good enough for Lagunitas' brewmaster Jeremy Marshall, then it's good enough for us. Marshall says he's drinking Easy Jack this summer because Firestone's brewmaster-in-arms "gets a nice character out of [the] German hops" to the tune of a lusty 47 IBUs. Basically everything in Firestone Walker's Jack line is worth picking up, but now that Easy Jack's easy-drinking brew is available in cans (it debuted last year), there's no reason not to pick up a six-pack.
4.2%
Louisville, KY
Collaboration beers between fantastic breweries sometimes end up being a letdown, likely because your expectations are so damn high. It's all your fault! But one of Kentucky's finest brewhouses and Baltimore, MD's own Stillwater Artisanal Ales pushed their boozy heads together to make a 16oz can of hop-filled goodness that's still somehow insanely easy to drink in one huge gulp.
4.8%
Warren, VT
Not many of the session IPAs in this rundown are of the single-hop variety, but not many of the IPAs here are from Lawson's either -- one of the 16 best breweries in the Northeast. Its beloved one-two-three punch of Sip of Sunshine, Double Sunshine, and Triple Sunshine IPAs might hog the spotlight, but when it gets to be 110 degrees outside and you're sweating through every shirt you put on, it's a tad more refreshing to drink a 4.8% Super Session than a 10.5% hop bomb.
4.5%
Brooklyn, NY
According to what I read when I typed in, "Denmark summer weather," the average August temp is 60 degrees, or what people in Southern California call "the coldest temperature ever recorded." And despite that, Evil Twin's Dane brewer Jeppe Jarnit-Bjergsø makes a helluva beer for days that get much, much hotter -- none better than tallboys filled with tropical fruit aromas of Sunshine Slacker. You'll need to pour it out of the can and into a glass to get the full effect.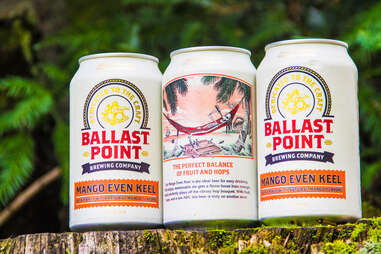 3.8%
San Diego, CA
It should be no surprise to anyone who knows that Ballast Point also brews sculpins with pineapple, grapefruit, and habanero -- plus a watermelon Dorado -- that the brewery sure does enjoy mixing fruit and beer. And while the Dorado is more of a beer you drink one or two of -- it goes big with a 10% ABV and 90 IBUs -- the Even Keel is designed to allow you to enjoy all those mango notes over and over and over again. In the same sitting.
4.5%
Austin, TX
When a brewery's stated goal is to solely brew session beers, it better make 'em good. And that doesn't appear to be a problem with Oasis' stuff, including the beloved session IPA with a trippy psychedelic can that would've made Timothy Leary wonder, "Maybe this is a little much?" As for the beer itself, it's hop-bursted, so expect plenty of hop aromas and notes, but somehow only 45 IBUs. Magic!
4.5%
Chicago, IL
Cans are a relatively new thing for the taproom-less Chi-town brewery, which has wowed us previously for its terrific, cartoonish, comic book-level art on its drinking vessels. War Bird is a Belgian-inspired session ale in a big ole 16oz can, and unlike Pipeworks' exceptional Ninja vs. Unicorn DIPA, you can inhale a couple of cans while waiting for the next Marvel movie to come out. Considering the pace with which those suckers are released, it won't be long.
4.2%
Atlantic Highlands, NJ
If I could drink this beer every single day from May 1st to November 1st, I'd be the happiest person on the planet. It smells like lemongrass, tastes like tangy grapefruit and lemon zest, and drinks like a cool, crisp breeze on a hot summer day. Carton's Boat Beer is arguably the finest thing to ever come out of the Jersey Shore (with the exception of Bruce Springsteen, of course -- I'm not a monster) and it's well worth a trip to the beautiful seaside brewery to get your hands on a four-pack.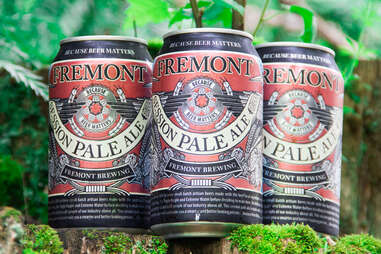 4.5%
Seattle, WA
Given it's brewed in America's richest hop region, it's no surprise that the SPA has a nice 50 IBU dose of Simcoe and Citra hops that manages a bit of the bite you come to suspect from traditional IPAs. And unsurprisingly, given this is arguably Washington's best brewery, that bite doesn't leave marks on the palate, instead subsiding into a smooth, balanced hot-weather beer. The most surprising thing about it, aside from its inherent deliciousness, is the fact that you probably drank five of them without even thinking about it. Don't worry. There's one more. That's the thinkin' one.
4.5%
Carlsbad, CA
The beach and session beers go together like surf and turf, so it's no wonder that a brewery from SoCal that was started specifically based on its proximity to the beach would come through with a solid session IPA. In fact, San Diego-based brewer Michael V. Sardina of Societe Brewing says that this "tropical-tasting beer" is perfect for a hot day. So get thee to a beach and SIP(A) from this 16oz can.
4.3%
Kansas City, MO
Kansas City's Boulevard, an OG of the midwestern craft scene, threw its hat into the session ring with Pop-Up, a fruity, 4.3% ABV IPA with an invitingly floral nose and almost no bitterness. A bit maltier than some of its fellow sessions, Pop-Up balances out its crackery backbone with a nice mix of earthy, citrusy, and mildly piney hop flavors. This is the kind of beer you'll want to crush by the caseload, preferably lakeside, armed with nothing but a fishing pole and plenty of time. -- Meredith Heil, Staff Writer
4.7%
Grand Rapids, MI
Founders has been around for about 20 years, but All Day in a 15-pack of cans is a relatively new offering, and that's good news for beer-lovers everywhere. Especially those who love a good bargain, as you get charged the same as if it were a 12-pack, which gives you three beers on the house. Even if you hate IPAs (though you probably don't if you're reading this), it's tough to hate on its "refreshing, effervescent mouthfeel," as Green Flash's Dave Adams describes it.
Sign up here for our daily Thrillist email, and get your fix of the best in food/drink/fun.
Thrillist staff writer Meredith Heil contributed beer, writing, and Springsteen references to this article.
Lee Breslouer is a senior writer for Thrillist, and will have a session IPA right now, thank you very much. Follow him to gratitude: @LeeBreslouer.