The 10 best beers that aren't available in six-packs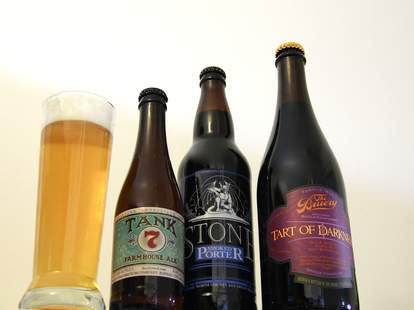 If you're going for sheer volume of beer and efficiency of drinking, getting a six-pack is probably your best bet. But if you're really willing to savor what you're imbibing, it might be better to look for a high-ABV four-pack or large bottles. Big guys like bombers (22oz or 750ml) have been around for centuries, and they capture a lot of what the cans simply can't. It's the closest you can get to the ancient Belgian abbey tradition, and pouring one brings out whole new aspects of its flavor. They're harder to shotgun, too, but that's beside the point.
These large bottles and small packs lend themselves well to drinking with friends, so we asked a couple of our friends (508 Gastrobrewery brewmaster Chris Cuzme and Cannery Row Brewing Company manager Brian Curtis) to list off their favorites. Here's what they came up with. They're kind of the bomb.
Russian River Consecration
American Wild Ale, 10%
Santa Rosa, CA
Brian says: "This sour dark ale aged in Cabernet barrels is one of my favorite sours. The flavors of tobacco, currants, chocolate truffle, and just a hint of the Cabernet can be found while drinking this beer. Very refreshing to the palate, but sip with moderation, because the beer is 10% ABV."
 
Stone Smoked Porter with Vanilla Bean
American Porter, 5.9%
Escondido, CA
Brian says: "When fall and winter roll around, I always get excited to see this beer hit the market. This is one of my favorite dessert pairing beers. The big flavors of malt, chocolate, and coffee -- and the sweet vanilla finish -- make this beer perfect for sitting by the fire on a cold night."
Anything from Transmitter Brewing
Long Island City, NY
Chris says: "Anything you can get your hands on. Rob Kolb and Anthony Accardi are making really great and really fun beer, celebrating farmhouse ales in NYC. Their beers are generally dry and delightfully quaffable. It is advisable to visit them in Long Island City under the Pulaski Bridge and join their CSB (Community Supported Brewery) program, enabling you to pick up two 750ml bottles a month for a six-month duration. Totally worth it."
The Bruery Tart of Darkness
American Wild Ale, 7%
Placentia, CA
Brian says: "I love this brewery out of Orange County. The idea of throwing a stout into wine barrels and adding wild yeast didn't sound like a great idea at first, but when I drank this low-ABV sour stout, my opinion changed instantly. With the dark, rich color, nice roasted flavor, and the right amount of tartness to it, I became a fan."
 
Firestone Walker SLOambic
Lambic, 11.5%
Paso Robles, CA
Brian says: "I'm not a big lambic fan, but when I had heard that Firestone was brewing one with local olallieberries from San Luis County -- and since olallieberries are my favorite -- I figured that I should give this one a try. They took 1,500lbs of these fresh berries and added it to the Sour Opal beer that they brew. Sweet, yet still slightly tart, with just a little bit of that fun sour funk. I give this lambic a thumbs up."
Anything from Cantillon
Anderlecht, Belgium
Chris says: "When talking about the large-format bottle 'must try before you die' list, we would be remiss not to enthusiastically mention Cantillon. Cantillon's Jean Van Roy is considered to be the master of all things lambic and gueuze. The beers of Cantillon are a challenge to get ahold of, but are worthy of the search, whatever the asking price may be. Trust me. Anything Cantillon, but among my favorites are the Gueuze, Rose de Gambrinus, the Lou Pepe, and the Iris."
Firestone §ucaba
English Barleywine, 12.5%
Paso Robles, CA
Brian says: "My ALL TIME favorite barleywine. Every year's release never seems to disappoint. Firestone's barrel-aged program gets better every year, and the beers that come out of it are perfect to drink right away or cellar for years and get better with age. The flavors of dark cherry, vanilla, and toasted coconut make this my favorite liquid dessert. With a 13.5% ABV, it's a perfect nightcap that can be slowly sipped for hours and take you through a wide range of flavors that just don't get old."
 
Lost Abbey Merry Taj
American IPA, 8%
San Marcos, CA
Brian says: "This was the first and only IPA I have ever seen from Lost Abbey. When I got word that Lost Abbey was doing an IPA, I was more than pumped up for Merry Taj. Lost Abbey is one of the breweries that has always impressed me with their wide variety of styles that never seems to disappoint, and neither did this IPA. Using Chinook, Centennial, Amarillo, Cascade, and Simcoe hops, this beer is so well-balanced that even some of the biggest hop-heads will raise their glasses to it."
Brooklyn Black Ops
Russian Imperial Stout, 10.7%
Brooklyn, NY
Chris says: "This imperial stout might have been first brewed in secrecy by the brewers for the brewers as a night time black-ops mission at Brooklyn Brewery. It was fermented and aged four months in bourbon barrels, then bottle conditioned in large-bottle format. Being able to taste of the first batch of this liquid delight must have truly given meaning to the phrase 'friends with benefits'. The ABV ranges a bit every year, hovering around 10.7%. One can count on it being rich, chocolatey, robust, and mind-bogglingly delicious. It is a great beer to drink fresh and in season (especially with winter-warming chocolate desserts), but it is an incredible beer to age and savor tomorrow (two years is the money spot)."
Boulevard Tank 7 Farmhouse Ale
Saison/Farmhouse Ale, 8.5%
Kansas City, MO
Chris says: "This is a beautiful saison worthy of mention, with a slightly larger-than-average IBU for the style. It's bright, crisp, hoppy, and fantastically drinkable on any occasion. A rare large-format bottle that I'd drink entirely on my own. No, you cannot have some of mine... but you should totally try it."
Adam Lapetina is a Food/Drink staff writer at Thrillist, and thinks these beers all sound great for sharing... or not. Read his musings at @adamlapetina.