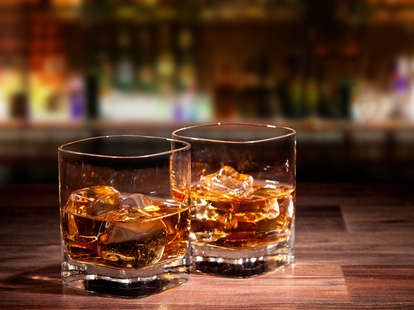 Shutterstock
Shutterstock
With the nation's bourbon industry barreling forward at breakneck speed, it can often be tempting to buy a lot of our favorite big bourbons in bulk. But sometimes, sitting in smaller, tucked-away corners of the liquor store, you find rare gems of the whiskey world that give the giant distillers a run for their (lots of) money.
But which small-batch distillers are making the biggest waves? We spoke with American whiskey expert Charles Cowdery to find out which small-batch whiskies he's got his eyes on. Here are five you'd do well to watch too.
Waco, TX
Founded in: 2008
Recommended whiskey: Baby Blue Corn Whiskey
Charles says: "Really, all of the Balcones products are terrific, I just happen to like their corn whiskey the best. But get it while you can, because mad whiskey scientist, still-welder, and Balcones founder Chip Tate is in a death match with the money dudes, and it probably won't end well."
Where to find it: Balcones is distributed by a bunch of companies in 19 states, and some of those distributors can ship it, depending on state law.
Hye, TX
Founded in: 2006
Recommended whiskey: Garrison Brothers Texas Straight Bourbon Whiskey
Charles says: "After doing this for almost 10 years, Garrison Brothers has finally gotten its production up to the point where they can sell it in a few states outside of Texas. While many micro-distilleries like to make many different things, they make only one: Texas Straight Bourbon Whiskey -- 'Texas born from Texas corn'. Rich flavor with a surprising butterscotch note."
Where to find it: It's currently only available at liquor stores in a handful of states (Texas, Colorado, Arizona, and New York), but they're working to expand their presence to every other part of the Union. Manifest destiny never sounded so good.
Evanston, IL
Founded in: 2011
Recommended whiskey: Rye Whiskey
Charles says: "The name is all caps because those are the initials of Frances Elizabeth Willard, who ran the prohibitionist Women's Christian Temperance Union from Evanston, where FEW Spirits is located. They have a spicy, young rye whiskey with a nice, balanced flavor you can actually enjoy drinking (some micro-spirits are a challenge). Plus it's made the right way by nice people."
Where to find it: Their products are sold online from a few retailers, at stores in Illinois and the Nashville, TN area, and in the great state of Japan. Wait, that's not right...
Sperryville, VA
Founded in: 2000
Recommended whiskey: Wasmund's Single Malt Whiskey
Charles says: "Virginia's Copper Fox Distillery hand-malts their own barley and uses apple and cherry wood smoke to flavor it. Americans have never made much malt whiskey (i.e. Scotch), but there's no reason we can't (we can't call it 'Scotch', of course). Rick Wasmund has been at it longer than most, and he has a terrific product."
Where to find it: Wasmund's is available for online order in some states, and has a handful of distributors throughout the East Coast and Midwest. And the UK, where they also don't call it Scotch.

Denver
Founded in: 1999
Recommended whiskey: Maryland-Style Rye Whiskey
Charles says: "The brothers started as craft brewers in Michigan, then moved to Colorado and started a distillery. They are a first-class operation, and everything they do is recommended, but the Maryland-style rye is a fun attempt to recreate a lost, historic style. Clean and spicy with a cocoa finish."
Where to find it: You can get it on store and restaurant shelves in California, Nevada, Idaho, Wyoming, Arizona, Colorado, Illinois, Washington DC, Virginia, and Georgia (for lists of individual retailers, look here). For everyone else, keep on pleading with your bartenders.
Adam Lapetina is a Food/Drink staff writer for Thrillist, and is kinda peeved his moonshine distillery didn't make the li-- uh, nothing. Read his musings on Twitter at @adamlapetina.