In order to better understand why sour beers are all the rage right now, we turned to Zach Mack -- proprietor of New York's ABC Beer Co. and perhaps the most enthusiastic sour beer fan ever -- to tell us a little about them. He ended up telling us a lot, including the six you should be drinking right now. To wit:
ZACH MACK'S SOUR BEER 101
There's no other beer discovery moment that makes me quite as happy as giving someone their first sip of a sour beer. Watching someone's face light up as they have their entire understanding of beer shifted beneath them is unparalleled, if only because so few people (especially in the US) are even aware that these styles exist. As we drift back into the (supposedly) warmer months, the public's interest in picking up new sours is at a high, and I am proudly part of this bandwagon. But how did these styles even come about?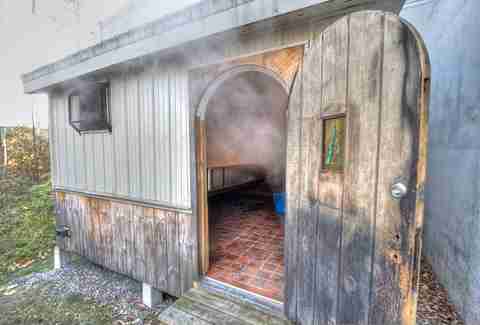 The short answer is literally blowing in the wind. Centuries ago, Belgian brewers in lambic-producing regions would pump beer into wide, shallow, open-topped tanks (now called "coolships"), often in their attics during the cooler months. They would then throw open the windows, where the breeze from nearby orchards would carry in microflora, including the most feared yeast in the wine world: Brettanomyces.
Brettanomyces is this wild yeast that does a fantastic job of burning off sugars during "spontaneous fermentation" and creating the puckering acidity in the beers we covet. This is also (along with water) what most argue is beer's closest "terroir" quality (or what the wine community calls the effect that a winery's location and soil composition has on the finished product). In this case, the result is a beer with barnyard-y, horse-blanket notes in the aroma, and a dry, sour finish that is as unique as it is refreshing and thirst-quenching.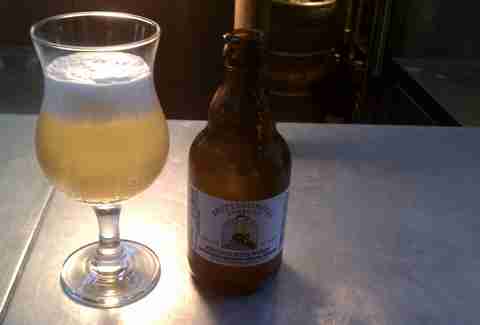 The earliest styles of "sours" in Europe were Berliner Weisse, lambics, and Flanders red, but today, interest in the style has led to an explosion of "New World" styles highlighting high acidity. The bacterias Lactobacillus and Pediococcus are often used to round out the use of Brettanomyces (or "Brett" as beer lingo commonly shortens it), which can add complexity and work harmoniously to remove the unwanted byproducts of fermentation.
Thus concludes beer class. Let's drink.
6 Essential Sours
1. Original Ritterguts Gose - Brauhaus Hartmannsdorf
We're not even in Summer yet, and I'm already heavily favoring this beer. Gose is blowing up in popularity amongst nerdy and casual beer drinkers alike, and this old German style that uses salt and coriander is absolutely perfect for quenching thirst on warm days. As I told Thrillist before, pair this with chicken tacos with garlicky guacamole!
2. Sour in the Rye - The Bruery
Easily one of the most complex sours on the market from one of my all-time favorite breweries. This bad boy combines the spiciness of rye in the malt and peppery notes that blend in with hints of cherry tartness, all rounded out by the time it spent aging in red-wine barrels. Use this beer during a dinner when you're proposing to your girlfriend, hopefully over duck confit.
3. Gose - Westbrook Brewing Co.
The fine folks down at Westbrook do an incredible job with everything they release, and their Gose is a highlight in their already impressive lineup. There's something about Americans taking a German style and doing it so well (in a can, no less!) that makes me feel incredibly patriotic. This beer was born to be brought to the beach: use this to wash down your salty cooler snacks like chips and salsa, or even your watermelon slices.
4. Simple Sour - Peekskill Brewery
I don't know how else to say this without sounding hyperbolic, so I just will: Peekskill is my favorite brewery in New York State, and I love everything they put out. Simple Sour is one of the few beers that we're able to get outside of their brewpub, and it's easily one of the most popular we ever put on tap at my bar. (It's) great, and the sour pairs really well with their devils on horseback.
5. Abraxxxas - Freigeist
Freigeist is a brewery that I really get behind: their name literally translates into "free spirit" (which helps the ghost logo make more sense), a nod to their brazen disregard for the German beer purity laws known as Reinheitsgebot. This beer brings another great German tradition of smoke to the table, making this lactic, sour bad boy a seriously geeky treat. Don't overthink this pairing: throw a lamb burger on the grill, pour yourself a glass, and enjoy.
6. Duchesse De Bourgogne - Brouwerij Verhaeghe
In my eyes, this is the perfect example of a Flanders red. It's a complex blend of oak-aged beers that can be enjoyed like Champagne with a long, dark-fruit finish. Slowly sip and savor through the entire bottle with some steak tartare or some Tomme de Rabelais cheese.
Adam Lapetina is a food/drink staff writer at Thrillist, and highly encourages all of you to try these beers, especially with Zach's food pairing recommendations. Read his musings on Twitter at @adamlapetina.