Spicy Beers That Are Worth the Burn
For years, the words "chili" and "beer" were most commonly associated with somebody saying "let's go get some beers at Chili's." No more. These days, brewers have been adding heat to cold ones with increasing frequency.
These nine sinus-clearing beers represent the best and burning-est spicy beers on the market. Some are mild, some medium, and some near-unbearably hot, so you might want to proceed with caution as you make your way down the line there, buddy. Just remember: If you happen to get intense heartburn while attempting to enjoy one of these bad boys, at least we warned you.
Chili beer, 8.8%
San Diego, California
A more recent brew for the SoCal hopheads over at Green Flash, Dia De Los Serranos is a feisty imperial stout that starts with a rich 'n roasty malt bill teeming with layers and layers of pungent coffee and bittersweet chocolate notes. Then come the peppers: serrano chiles flying in with the gusto of a thousand angry bees. The fire burns out relatively quickly though, proving no match for the beer's velvety chocolate base.
Chili beer, 5.2%
Boulder, Colorado
It might be light on alcohol, but this hip-hop-inspired daredevil is anything but restrained when it comes to hot, hot heat. The almighty ghost pepper heads up a fiery fleet of six different peppers -- jalapeño, serrano, Anahaim, Fresno, and the ever-dangerous habanero -- infusing the unfiltered, light-bodied golden ale with an slow-burning, smoky, spicy kick that just won't quit. It's by no means an everyday beer, but when you want something to numb the mind, (not to mention the tongue, lips, and esophagus), this will definitely do the trick.
IPA, 7%
San Diego, California
Ballast Point is something of an innovator when it comes to chili beers, having released its first round of peppery Habanero Sculpin back in 2011 when the rest of us were still super-jazzed about pumpkin spice. The OG Sculpin is a medium-bodied IPA loaded with a complex mix of inescapable, brightly floral heat and a fruity, West Coast-style bitterness. And the latest iteration of this spice bomb is 1,000 times more refreshing and drinkable than you could ever imagine a beer chock-full of peppers to be. We recommend grabbing a few as soon as you spot 'em.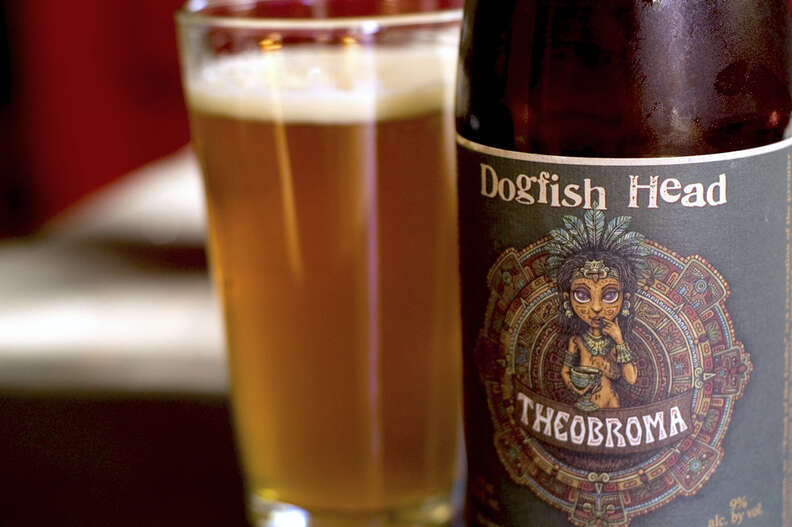 Chili beer, 9%
Milton, Delaware
Despite Dogfish Head's rep as a fairly out-there brewery, this beer keeps it old-school. And by that, we mean it's based on a recipe from 1200 BC. Very dark in color, it's got a strong, smooth cocoa powder and honey base that balances out all the herbs and chilies thrown into the mix. The peppers give each sip more of a pleasant, earthy vibe, kind of like a slightly fruity mole sauce that builds layers of richness as you savor it. With its creamy, softly carbonated body and dry finish, it's a great starter beer for the spice-curious. And at 9% ABV, it's primed to give you the liquid courage you'll need to delve deeper into the boozy fire.
Double IPA, 8.5%
Juneau, Alaska
Leave it to the Alaskans to figure out a way to make something as boozy as an imperial IPA even more belly-warming by dropping a huge load of freshly harvested jalapeños into the kettle. The ample hop additions -- Centennial, Sterling, Magnum, and Apollo -- work to balance out the peppers' deliciously zesty heat and elevate the brew's crisp, grassy aroma. And in the end, the full-bodied, caramel malt provides a much-needed wash of sweet comfort. It's pure Alaskan gold.
Wheat beer, 4.9%
Portland, Oregon
The dudes at Burnside -- who are probably required to make a spicy beer with that name -- aren't exactly shy about messing with convention, whether they're crafting oatmeal pales or sours made from salted Japanese cherry blossoms. That spirit is the backbone of the year-round favorite Sweet Heat, which starts with a solid wheat beer, loads it with apricot puree, then kicks it in the ass with a hit of Scotch bonnet peppers. Taken on their own, those flavors might kill the palate, but with the sweetness counteracting the heat -- and the wheat keeping both in check -- they somehow find harmony.
Chili beer, 6.3%
Queens, New York
This Queens-brewed summer seasonal is probably the best beach beer I've ever tasted -- and I do love me some beach beer. It's brewed with fresh-from-the-pepper-patch jalapeños, fiery habaneros, juicy lemon, and a dash of palate-cleansing lime, while a supple wheaty backbone mellows out the tart, peppery blow. Drinking one of these bad boys feels like kicking back seaside in Puerto Vallarta, the sun peeking through the holes in your floppy straw hat, Jimmy Buffett on the radio. OK, well maybe not the Buffett part, but definitely everything else.
Chili beer, 5.7%
Newport, Oregon
The OG Oregon craft pioneers at Rogue have been known to jump on trendy stuff over the years -- this is, after all, a brewery that sells pink bottles of Voodoo Doughnut Maple Bacon beer at the airport. And while the Sriracha craze has basically subsided, we're still very much behind this Huy Fong collaboration, which pairs the already-great Rogue stout with rooster sauce that kicks surprisingly hard -- and satisfyingly -- for a beer that's ostensibly a novelty. Unlike that Voodoo or the beer it made with the yeast from the brewer's beard (for real), this one's delicious, and gets bonus points for coming in a 22oz bottle that looks just like a bottle of Huy Fong.
Smoked beer, 5.9%
Escondido, California
Taken on its own, Stone's Smoked Porter is an intricately layered beast, a beer whose chocolate and coffee notes get just a slight kick of that namesake smoke without tasting like you poured the beer through an extinguished grill (as is so often the case with "smoked" beers). With such a complex profile, adding peppers to the mix might seem like overkill, but they don't overwhelm. Maybe it's because chipotles take to smoke naturally. Or maybe it's because the base beer is so infinitely drinkable that you don't even notice the slight burn until it gets to the back of your throat. Which is to say, chipotle's more of a guest star in this one, and as part of an ensemble, it serves to enhance an already-great beer.
Sign up here for our daily Thrillist email, and get your fix of the best in food/drink/fun.
Meredith Heil is a staff writer for Thrillist. She clean up very nicely, shoes are kinda pricey, she match 'em up precisely -- good jeans nice tee, she like her beer spicy. Follow her @mereditto.