Beyond the Michelada: 6 Hot Sauce Cocktails to Spice Up Your Home Bar
As a tried-and-true hot sauce fanatic, I think just about everything tastes better with a little liquid fire (save maybe creme brulee, but I could be swayed). French fries, Caesar salad, split pea soup, every single component of Thanksgiving dinner -- you name it, I drench it. But when it comes to cocktails -- which, honestly, could easily count among my favorite foods -- creative sauced-up options are often lacking. Scour any bar menu and you'll probably land on one of two standards: a hangover-zapping Bloody Mary or a bubbly michelada. And while there's absolutely nothing wrong with those two good ol' boys, they both fall squarely into the salty-tangy-tomatoey zone, a fairly limited profile that can stretch only so far. So what's a thirsty home bartender -- equipped with a fridge full of hot sauces and a hankering for something shaken, stirred, and just a little different -- to do? Well, for starters, turn to the experts.
We asked a talented group of booze-savvy pepper fiends to let us in on their favorite hot sauce-centric recipes, and they came up with these seven fiery originals, each capable of bringing the heat (if you love hot sauce but cant' take the heat, try one of these). The drinks are cold, but they definitely bring the heat.
Cholula La Fonda's Signature Margarita
"Hot sauce, when used correctly, is an incredibly versatile flavor enhancer for food and cocktails alike, and has the ability to completely change the sensory experience of a drink," explains chef Eduardo Marin, the culinary force behind Cholula La Fonda, a celebrated cantina perched on the picturesque Plaza Principal in Tequila, Mexico. As you might expect from the name and location, Marin's menu draws heavily on two of his beloved region's signature products: tequila and Cholula hot sauce. "Alcohol has a tendency to intensify heat, so it's important to have an understanding of how much spice is added to a recipe."
Marin is no stranger to spice, but when it comes to cocktails, he puts balance front and center. For his signature marg, he keeps the OG Cholula's layered intensity in check with a hit of tart, citrusy sangrita, a traditional Jalisco-born drink made from orange juice, chile de arbol and spices and most often downed as a palate-cleansing chaser between tequila shots.
2 ounces cucumber-infused white tequila like Tequila 1800 Verdano
1 ounce sangrita (Viuda de Sanchez is the bottled go-to)
2 ounces lemon juice
1 pinch salt
1 dried chile de arbol
1 cup chopped cucumber
5 dashes of Cholula Original (we'd suggest an alternative, but Cholula is pretty much the only player on the market specifically highlighting the chile de arbol pepper, so it's kind of a shoe-in here)
Rim a frosted, old-fashioned glass with salt and fill with ice. Add tequila and lemon juice to a cocktail shaker, shake, and strain into the frosty glass. Carefully stir in the sangrita, cucumber, and pepper. Finish with a hearty five dashes of hot sauce and serve.
The Heat Step
"This drink is a spinoff of a cocktail we developed for our book. It's called the 3 Step, and answers the question: What would happen if a Boulevardier and a beer had a baby?" says food and spirits writer Carey Jones who, along with mixologist husband John McCarthy, penned the recently-released Be Your Own Bartender, a choose-your-own-adventure-style cocktail recipe book. "It's refreshing and a little bitter and, we found, amazing with hot sauce. Tabasco is our choice here, delivering solid heat with just a dash or few. Start with two dashes and scale up from there. Six is our preferred dosage, but we like it spicy."
1 ounce bourbon (the pros recommend Old Forester)
1/2 ounce Campari
1/2 ounce sweet vermouth
2-6 dashes Tabasco (or, if you're fresh out, another sharp and potent vinegar-based stinger)
12 ounce lager beer
Combine all ingredients except lager in mixing glass over ice. Stir until very well-chilled, then strain into a pint glass and top with beer. Garnish with a lemon wedge squeezed into the drink.
Pineapple-Jalapeño Cocktail
This crisp, summery sipper is the brainchild of Alberto Ontiveros, a mixologist at Mundo Cuervo in Tequila, Mexico. It drinks like a tropical garden in a glass, packing just the right amount of grassy punch from the herbaceous coriander, zesty fruit and vegetal hot sauce. If you don't have Cholula Green Pepper on hand, you can try to sub in a different salsa verde-style sauce, as long as it's made primarily with bright, green peppers, like jalapenos and poblanos, and falls squarely in the middle of the mild to hot spectrum.
2 ounces silver tequila (Ontiveros goes with Jose Cuervo Tradicional)
3 dashes Cholula Green Pepper hot sauce
2 ounces freshly chopped pineapple
1 teaspoon coriander
1/2 ounce fresh lemon juice
1 dash Angostura bitters
Macerate the pineapple with the coriander. Combine all other ingredients in a shaker with ice, shake, and strain over ice into an old-fashioned glass.
The Rum-DMC
"Up until recently, I've been a bit apprehensive to add any kind of heat to a cocktail," says Alexa Delgado, lead bartender at The Ritz-Carlton Key Biscayne, Miami. "I often find it difficult to create balance between the heat in a spicy drink and the presumed cold, refreshing nature of a cocktail. But I think for the Rum-DMC, you get a well-rounded cocktail featuring a myriad flavor profiles: sweet, spicy, and refreshing. The flavors work to complement and balance each other out." Like Jones and McCarthy, Delgado decided to use Tabasco's original red here because she likes the vinegar and red pepper combo's instant, sugar-cutting sting, but if you're in a bind, another light-bodied, vinegar-based brand packing a similar heat intensity could do the trick.
Delgado thankfully faced her fears when she whipped up this hot pink thirst-quencher for Rum & Robusto, a rum- and-cigar-themed pool party at celebrity chef Eric Ripert's long-running Cayman Cookout food festival down in the Cayman Islands. And in a stroke of genius, she served her creation in resealable Capri Sun-style pouches complete with a built-in straw for easy access.
1 1/2 ounces cucumber-infused white rum (Delgado likes Diplomatico Planas)
1/2 ounce strawberry liqueur like Bols
1/2 ounce fresh lime juice
1 ounce hibiscus syrup (Hella Cocktail Co. makes a mean one)
1/2 ounce triple sec
3 dashes orange bitters
3 dashes Tabasco, give or take depending on your preference
Orange wheel
Pour all ingredients into a shaker over ice. Shake approximately 20-30 times until frosty and well-blended. Strain into a tall glass over fresh ice -- or if you're Delgado, into a festive plastic pouch -- garnish with an orange wheel and serve, preferably poolside.
To make the cucumber-infused rum, slice a large cucumber into thin ribbons using a vegetable peeler or mandolin. In a large glass bottle or mason jar, combine rum and cucumber strips. Cover and let steep at room temperature for 12 to 24 hours. Strain back into clean bottle or jar and discard cucumbers.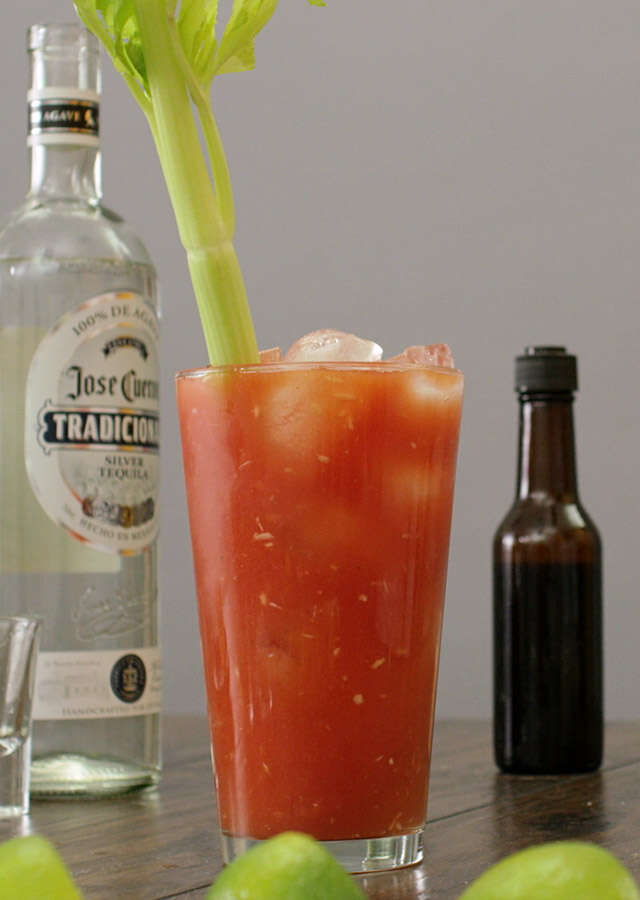 Bloody Smoke Tequila
For this super smoky, slightly spicy twist on the already-twisted Bloody Maria, Ontiveros incorporates rich, earthy beets into the mix for depth of flavor and color.
2 ounce silver tequila (Ontiveros goes with Jose Cuervo Tradicional)
6 dashes Cholula Chipotle or another smooth, not-too-spicy chipotle hot sauce
3 dashes soy sauce
1 ounce fresh lime juice
6 ounces beet-tomato juice (see recipe below)
Combine all ingredients in a cocktail glass and stir. Serve over ice in pint glass. To make the beet-tomato juice, combine one piece of beetroot with tomato or Clamato juice in a blender and blend. Strain mixture through a colander and refrigerate.
Rogue Scorpion Tea
NYC Hot Sauce Expo co-producer Lisa Seabury, a skilled barkeep who also heads up hot sauce brand High River Sauces, masterminded this bourbon-based stinger. The whiskey is tempered with fragrant passion fruit-hibiscus tea then doused with a blood orange simple syrup infused with High River's fruit-tinged Rogue Blood Orange Trinidad Scorpion sauce. "I love infusing simple syrups with hot sauce," she says. "The sugar takes down the heat level and makes it cocktail-friendly."
Given Rogue's admirably monstrous ingredients list -- Moruga Scorpion peppers, Jolokia peppers, red serranos, blood oranges, apples, pears, apple cider vinegar, brown sugar, lime, garlic, ginger -- it'd be tough to sub another brand in for this one. But if you truly can't get your (gloved) hands on a bottle, make sure whatever you're working with is bold and juicy with a balanced boatload of tropical peppers, tart citrus and sweet fruit.
2 ounces hot sauce-infused simple syrup (see recipe below)
3 ounces hibiscus-passion fruit tea (steep for at least 5 minutes and let cool for full bodied flavor)
1/2 ounce fresh lemon juice
1 1/2 ounce bourbon (Seabury suggests Elijah Craig)
Lemon twist for garnish
Combine ingredients in a cocktail shaker, add ice and shake hard for at least 7 to 8 seconds. Strain over fresh ice and finish with an extra dash of hot sauce for a floating kick. Top with a lemon twist.
Rogue Simple Syrup:
1 cup granulated sugar
1 cup water
1 tablespoon Rogue Blood Orange Trinidad Scorpion hot sauce
3 to 4 blood orange slices
Heat the sugar and water while stirring to dissolve. Promptly remove from heat once all the sugar is dissolved. Add the hot sauce and blood orange slices and stir. Let the mixture come to room temperature and refrigerate.
Sign up here for our daily Thrillist email, get Eatmail for more food coverage, and subscribe here for our YouTube channel to get your fix of the best in food/drink/fun.