It's quite possible, even probable, that your first encounter with spiced alcohol came in the form of an ill-advised shot someone handed you in college. Like leaving behind Solo cups and learning to wash your sheets once a year, it's time to graduate to something more sophisticated. Embrace autumn in all its spice-happy glory with one of these bottles that pack a punch.
Recommended Video
Applebee's Serving New Dollar Hurricanes to Kick Off Mardi Gras
Ancho Reyes Verde chile liqueur
$33, 750ml, 80 proof
Bartenders went gaga over the original Ancho Reyes, a raisin-y chipotle liqueur that debuted in 2013. The brand's second product, Verde, which launched in September, is made in Mexico with chile peppers harvested when they are still green, then fire-roasted. The result is clean and crisp, with just enough vegetal bite to remind you of chomping on a green jalapeño -- then smoothed with a hint of vanilla sweetness. It's great for adding herbaceous heat to light spirits like vodka, gin, or blanco tequila.
ESP smoked gin
$38, 750ml, 84 proof
Empire Spirits Project founder/master distiller Jake Sawabini -- a veteran of restaurants including Le Bernardin and WD~50 -- debuted a trio of "culinary-inspired" gins. New this fall, this gin incorporates applewood smoke, peppercorn, and caraway. To be honest, the black pepper is what dominates; there's almost no trace of smoke. But it's still enough to give a racy, zesty tingle to your next G&T, finishing with a gentle rosewater note.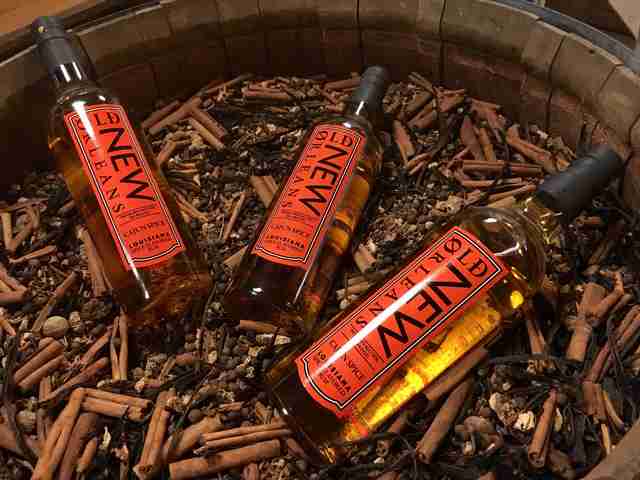 Old New Orleans Cajun Spice rum
$37, 750ml, 80 proof
Made at a pioneering Louisiana distillery that was one of the first among modern American craft producers, this definitely puts the "spice" in the "spiced rum" category. The base is a three-year-old rum infused with cayenne pepper and cinnamon, though you may also detect hints of clove, ginger, and nutmeg. Sip or mix into rum-based cocktails like daiquiris or Mai Tais for gentle warmth.
Soltado spicy añejo tequila
$40, 750ml, 80 proof
This barrel-aged tequila from Soltado is infused with fiery serrano peppers and Mexican cinnamon. It yields a pepper fruitiness but also a walloping dose of heat that die-hard chili-heads will love. Mix a highball with ginger ale to tame the fire for those with more tender taste buds.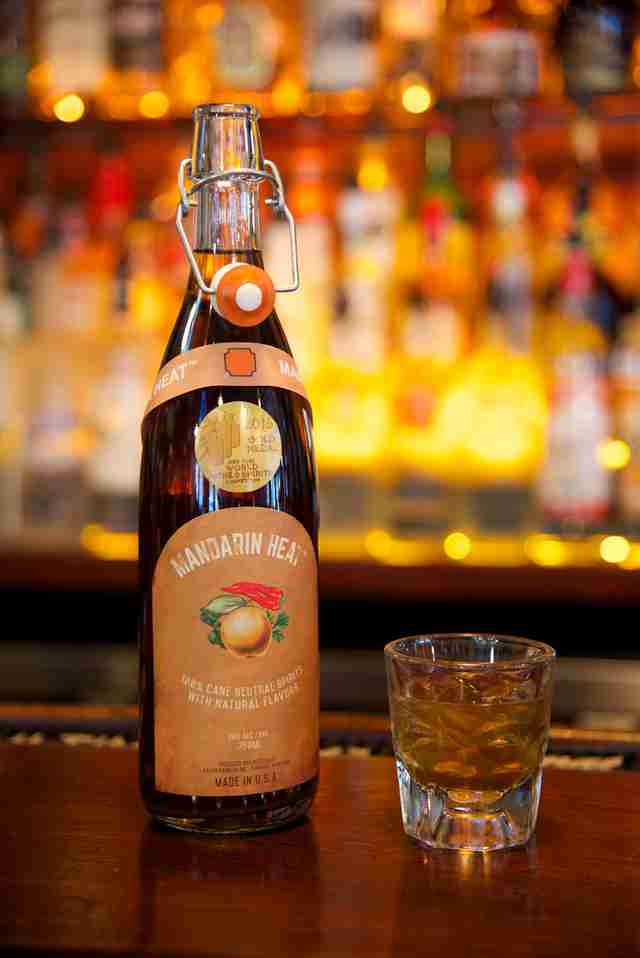 Mandarin Heat
$49, 750ml, 80 proof
Think orange liqueur with a little (fine, a lot) of extra heat -- it's got a bite both in alcohol level and chili pepper sting. The New York-based startup, inspired by the Native American ancestry of one of its founders, says that it uses chili pepper juice to provide a natural punch. The slow-building burn is balanced out with juicy orange and vanilla bean sweetness -- just the ticket to build a spicy margarita without muddling or infusing chili peppers.
Barrow's Intense
$37, 750ml, 44 proof
Chili peppers not your thing? This golden liqueur made by an indie Brooklyn (of course) distiller packs a big gingery punch -- each batch requires 30lbs of fresh ginger to steep in the cane spirit base for nearly a month. The spicy-sweet spirit will amp up Moscow mules, Dark 'n Stormys, and other ginger-centric cocktails.
Wild Turkey American Honey Sting
$23, 750ml, 71 proof
If nothing but whiskey will do, give this bourbon-based liqueur a try. Hailing from one of Kentucky's legendary bourbon producers, Wild Turkey, this liqueur is made fierce with ghost peppers -- aka bhut jolokia, one of the hottest chili peppers in the world. The honey tempers the slow burn on this one: It starts out mild, with an apples-and-honey flavor, but the heat sneaks up on you, with black pepper and cayenne flavors.
Sign up here for our daily Thrillist email, and get your fix of the best in food/drink/fun.