Sure, we don't live in the WORST sports town in the country, but aside from the Sounders, and our 2014 Super Bowl, being a Seattle sports fan can be pretty heartbreaking. Please don't get us started on the Mariners, or even mention the Sonics. But if what they say about misery loving company is true, that could explain why The Town has so many solid sports bars -- including a slew of soccer-obsessed bars, tons of neighborhood sports dives, plus regional and national chains like The Ram, The Lodge Sports Grille, Taphouse Grill, etc. -- where you can get over a tough loss (or celebrate the occasional victory) with people going through the same thing. Here's our rundown of the 12 best.
Greenwood
Seattle's only hockey bar, and its most Canadian one
Posted up in the old Pig & Whistle space, this north-of-the-border-inspired bar is all about Canada's favorite things that don't include universal health care and Ryan Reynolds, including its namesake beavers (the Canuck national animal!), hockey (they show it on at least six big screens), and cuisine (poutine and, um, wait -- does Canada have other food?).
Fremont
Seattle's quintessential soccer bar
Named after a pub in London that dates back to the Middle Ages, it seems like The George & Dragon has always been the most popular soccer bar in what is arguably America's most footy-mad city. It's obviously one of Seattle's go-to spots during the World Cup, but it's packed pretty much every weekend morning when the European matches start as early as 6am, which gives you an excuse to have beer for breakfast. And their traditional "Full English."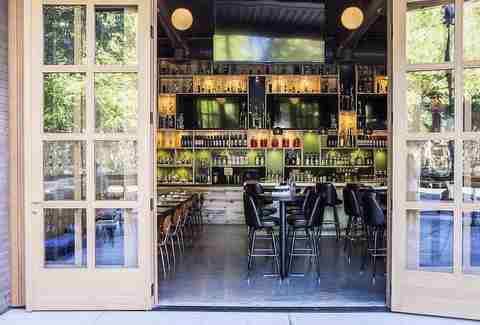 Pioneer Square
Seattle's most posh sports bar
This upscale sports space has it all: tons of flat screens, a slushy machine, a rooftop garden, fire pits, and an AstroTurf bar out back. Not to mention a location right next to CenturyLink Field. And that's before you even get to the food/drink, including the 12th best burger in Seattle, nachos with pork carnitas, three-cheese queso, pico, cotija & refried beans, and something called "Hot Balls!!!" that involve fried cream cheese & smoked jalapeno.
SoDo
Sleek sports bar/nightclub right next to the stadium
This is not your neighborhood sports hang. It's a massive lounge boasting an LED wall for game day display, a live LED sports ticker for up-to-the-minute scores and fantasy results, three Xbox Stations with Madden Football, Fifa Soccer, and NBA Live, tons of TVs (including a Jumbotron-like installation in the middle of the room), as well as a 50-foot bar and a team of cocktail waitresses dressed like referees.
Lower Queen Anne
An exuberant sports experience across from Seattle Center
This memorabilia-filled and flatscreen-heavy sports emporium from the guy behind the recently renovated Seastar and John Howie Steak makes it on the list for its indulgent food menu (bacon mac & cheese, Wagyu burgers, etc.), and innovative promotions like team-colored specialty shots during March Madness. Oh, and the personal TVs in every booth don't hurt.
Belltown
A sophisticated sports hang with over 20 beers on tap and over 20 TVs
This spacious spot in a turn-of-the-century building is Buckley's second location (the original one in Lower Queen Anne is worth a visit too) and somehow manages to fit in with the stylish strip of bars lining this particular stretch of Second Avenue, while also being all about sports. The bar boasts 22 TVs and a 5-foot projection screen, 24 beers on tap, two daily happy hours, and if that's not enough, a ton of banners hanging from the ceiling, probably including one from your favorite team. No matter who it is.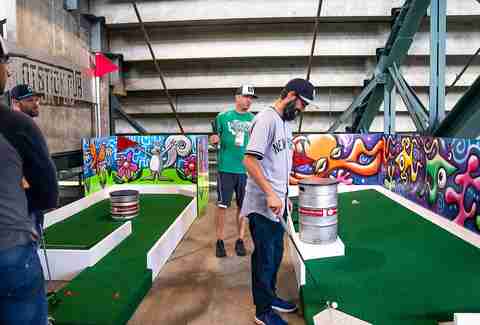 Multiple locations
Stunning mini golf destinations in Pioneer Square, SLU, and Kirkland
Flatstick's original Pioneer Square location would be a can't-miss drinking destination if it were just a sprawling brick-heavy basement bar rife with industrial touches, whimsical wall art, and a few tabletop games. But it also boasts an impressive mini-golf course that actually spells out "Seattle" in big block letters across the concrete floor and ends at a towering replica of the Space Needle -- the tip of which just brushes the high ceiling. Oh, and the other locations aren't too shabby either. And -- if you ever need an excuse to toss back a few -- on Sundays they donate a portion of every beer, and every game of golf, they sell to charity.
SoDo
The sexiest sports bar location in Seattle
What they say about real estate is also true about the restaurant/bar industry: It's all about location, location, location. Well, The Doghouse is basically in the middle of nowhere, but there is one thing that makes it special... it's literally right next to one of Seattle's best stripclubs, which means even if the games on the place's nine big screens don't keep you entertained, something else probably will.
Downtown
So much cooler than playing pingpong in the basement
Boasting seven locations across the US and Canada, SPiN's latest location fashionably fills nearly 10,000 square feet in the basement of the historic Decatur Building with a dozen pingpong tables, a massive bar, and original graffiti-style art featuring local legends like Bruce Lee and Jimi Hendrix. One thing they don't have a lot of is TVs, so this is the kind of sports bar for people who'd rather play a sport than watch one.
Multiple locations
A line of sports bars that try not to feel like… sports bars
Sure, the bars have TVs -- lots of them -- and show all the games, but the atmosphere is more "laid-back neighborhood bar" than "Go Hawks," and they've got solid beer/cocktail lists, over 120 whiskeys, and some excellent, if unpretentious, food including massive waffle fries, chicken & waffles with honey-butter and cinnamon whiskey syrup, a NW Cheesesteak with Mama Lil's Peppers, and more.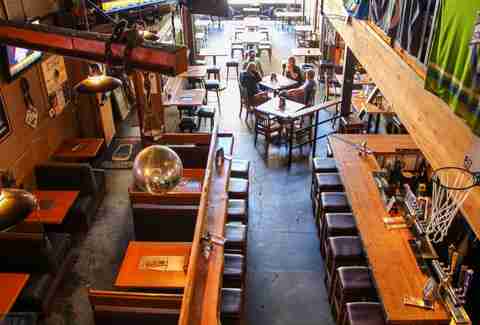 Ballard
Classic sports bar in an old machine shop
Opened a decade ago on Ballard Avenue, the Loft was one of the first wave of bars/restaurant to hit the historic street, and remains the best place in the 'hood to catch a game, thanks to dozens of flat screens, the sprawling front patio, and a solid food menu that features, among other things, a "Game Day Brunch" (spicy chorizo breakfast burritos, etc.), and classics like hot wings, and nachos.
Columbia City
Infinitely better than your neighborhood sports bar
Boasting a sparsely stylish space dominated by a black chain-link fence, and custom baseball bat art, Rookies is locally owned and serves a locally sourced menu -- shrimp tacos with pineapple salsa, fish & chips, plus all the usual stuff -- to a mostly local crowd. Its location is out there in Columbia City, but is still worth a visit for a lively place to catch literally any sporting event on TV.
Sign up here for our daily Seattle email and be the first to get all the food/drink/fun in town.