The 17 beers you need to drink this Spring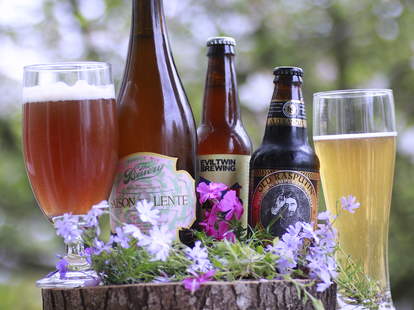 Spring is finally here, so what better way to celebrate than by cracking open a bottle of your favorite Springtime beer? Well, first you have to figure out what that beer is... and our roster of awesome beer experts is here to help. We asked them which beers are best for Spring -- not necessarily Spring seasonals, mind you, but their favorite beers to drink in the Spring -- and they perked up like twitterpated forest animals. Here's what some of the greatest brew-brains in America are drinking during April showers and May flowers:
Lee Breslouer
Blue Ski Lager - Epic Brewing Company
"It's a great patio beer, not too heavy on the alcohol -- nice and crisp. And if it's a normal Denver Spring where it snows every Tuesday, you can always switch to their Big Bad Baptist."
Wheat Wine - Station 26 Brewing Company/Former Future Brewing Company
"Described as 'reminiscent of Winter with hints of Summer', this Collaboration Fest submission from Station 26 and Former Future is a big, hoppy, malty, flavorful balance of all that makes new breweries such a delight."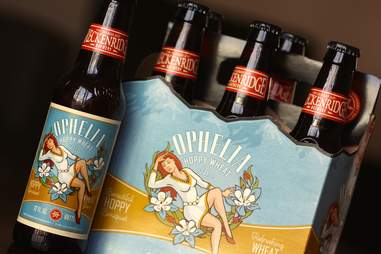 Lee Breslouer
Ophelia - Breckenridge Brewery
"A hoppy wheat made by a brewery that holds Denver together. Ophelia has the light wheat flavors that the heat of the coming Summer demands, but the spicy hop additions that remind you that this isn't your normal boring wheat. The flavor! Oh my, the flavor."
Lembeek 86 Blonde - Other Half Brewing
"In Spring, we host an annual April Sours sour beer dinner for the end of April at Jimmy's No. 43. So I'll pick several sour beers. Lembeek is the town in Belgium that lambics come from -- classic sours. Other Half, the newest brewery in Brooklyn, made this beer at 5.9% ABV with some hoppiness and all Brett (yeast)."
Rhubarb Gose - KelSo Beer
"Another classic sour-style, Gose originated in Germany. Goses have a hint of salt and cardamom. Rhubarb screams Spring to me, and brewer Kelly Taylor at KelSo in Brooklyn thinks so, too."
Evil Twin Brewing
Bikini Beer - Evil Twin Brewing
"Carton Brewing Company's Boat Beer has inspired many local sessionable, hoppy, low-ABV beers in the past two years. Evil Twin has gone one step further with the Bikini Beer -- 2.7% ABV, but full of hops!"
Double Sess(ion) - Finback Brewery
"Finback Brewery, another brand-spanking-new brewery in Queens, has amped up the wit style in their 'double sess' with ginger, chamomile, and Szechuan peppercorns. The name is a play on session beers, so wit plus sessions plus pepppercorns equals Spring to me!"
Less Is More - Une Annee Brewery
"(It's a) very light (4.6% ABV), refreshing, dry session saison -- spiked with orange zest and orange juice and hopped with Ahtanum hops. (It's) known for its floral bouquet, citrus essence, and spicy pepper aromas."
Rubaeus - Founders Brewing Co.
"Fresh raspberries are added to this beer, making it a perfect balance of sweet and tart."
Leipziger Gose - Gasthaus & Gosebrauerei Bayerischer Bahnhof
"The Leipziger Gose appeared for the first time around 1738. It's made from wheat and barley, spiced with coriander, fermented with lactic acid bacteria, and brewed with salt water. It's complex and spritzy, with a subtle, refreshing tartness from delicious lactic acid. It's bursting with lemons, oranges, and dried apricots, and has a refreshing salty sharpness prominent in the dry finish."
Adam Lapetina
Ruthless Rye IPA - Sierra Nevada Brewing Company
"Ruthless Rye is brewed with a rustic grain that gives the beer a deep complexity. Combining pepper, spice, and bright citrus flavors, it's perfect for the transition from Winter to Spring."
Dry Irish Stout - Brooklyn Brewery
"Brooklyn Brewery's Dry Irish Stout is one of the most surprising beers of Spring because of its light alcohol and calorie content. This beer is rich, complex, and crisp."
UFO Big Squeeze Shandy - Harpoon Brewery
"UFO Big Squeeze Shandy is an unfiltered wheat beer blended with all-natural grapefruit juice. Pleasantly sweet with a hint of tartness."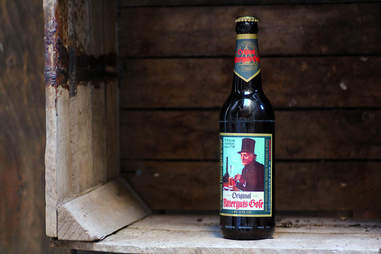 Adam Lapetina
Original Ritterguts Gose - Brauhaus Hartmannsdorf
"If you've already heard of this old-school German style that's brewed with coriander and salt, you know how refreshing it is. You also can bet that it'll be the first drink I'll reach for when T-shirt weather finally hits New York City. Drink it with chicken tacos doused in lime juice and garlicky guacamole."
Mo - Maine Beer Company
"If Summer is a full-blown IPA, then this citrusy, crisp, refreshing pale ale is definitely Spring. I try to keep a few bottles of this in my fridge at all times so I can share it with friends when they stop by. This also pairs so well with the fresh, young goat cheeses that are just coming into season this month -- I'd have to be insane not to include it."
Andy Kryza
Saison De Lente - The Bruery
"Most breweries tend to use saisons as their Spring seasonal offering. But then again, no other breweries are The Bruery. This bad boy is brewed with wild Brettanomyces yeast, and, as with a lot of their bottles, this can be cellared to enjoy sometime next Spring… or next Winter, when you'll need something to help yourself get through the rough months. Whatever you do, drink this while eating a lobster roll: you won't be mad about it."
Old Rasputin - North Coast Brewing Company
"Maybe it's because I'm assembling a list of my favorite Spring beers on a day when it's 34 degrees out. Maybe it's because this beer was one of my first loves in the earliest days of my beer discovery, so it's always on my list. Perhaps it's because the symbol of Spring as a season of rebirth is nothing but a myth, or at the very least, a reminder that all things, including ourselves, are fleeting blips in a deep, black sea of infinite nothingness. I also think I've been watching too much True Detective. But that doesn't change the fact that this beer works year-round, especially when you pair it with a Philly cheesesteak (with onions, of course) or some Stilton blue cheese."
Adam Lapetina is a food/drink staff writer at Thrillist, and better get cracking on these beers before Winter comes back to NYC in a couple weeks (probably). Read his musings on Twitter at @adamlapetina.