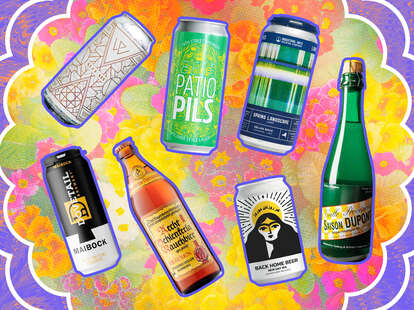 Design Maitane Romagosa for Thrillist
In terms of seasons, spring is notoriously the hardest one to categorize. Temperatures volley back and forth and we're never sure when we're quite ready to ditch our winter coats. But the universally held truth appears to be that the budding of trees and the sprouting of fresh flowers does something to the air that makes a hard-earned beer taste that much better.
Fortunately, there has literally never been a better time to support your local breweries, no matter the season. Spring is ripe with great beer releases, including Vienna-style lagers, crisp witbiers, and pilsers perfect for the patio. If you're looking for some inspiration, we've picked some of our favorite spring seasonal beers that should do the trick.
6.2% ABV
Garnersville, New York
Industrial Arts has managed to become something of a household name in the craft beer community thanks in no small part to its solid core lineup of hop-driven pale ales, IPAs, and DIPAs. But despite this notoriety, the brewery is much more than just a hop-focused operation as evidenced by this year's spring release in its Landscape series. This Helles bock perfectly lands the flavor profile required to straddle the change in weather from cool to ever-so-slightly warm with hints of honey and herbs fleshed out by freshly baked bread flavors. And as if that's not impressive enough, it's also made using ingredients that were entirely sourced from within New York State.
5.2% ABV
Tampa, Florida
The fickle nature of spring weather can make it hard to plan everything from outfits to social outings. And while there's absolutely nothing that says certain styles of beer can only be drunk during specific times of the year, it can be nice to reach for a brew that feels like it's on the same wavelength. Tampa's latest beer upstart tackles this with Anomaly, a hoppy lager brewed with malted oats that help to flesh out the beer's body and provide a creamier mouthfeel. Think of it as your favorite easy-drinking happy hour beer that's put on its trusty hoodie to stay warm.
4.8% ABV
Warwick New York
Let's be clear: There's almost no situation in which witbier is an inappropriate option. At its best, the style is as good a palate refresher during a multi-course meal as it is a refreshing option during the first warm weather patio drinks of the season. Drowned Lands sticks a perfect landing with their take on the historically Belgian beer, maintaining both a refreshing flavor profile that's still rich, full-bodied, and creamy on the palate. Bright fruity notes brought on by the addition of orange peels is matched by aromas of banana, bubblegum, coriander, and a dusting of black pepper all resting on top of malty flavors of freshly baked white bread.
6.5% ABV
Brooklyn, New York
In an industry where beer made with ingredients like Pop-Tarts and fistfuls of spaghetti have become tired gimmicks, it can be easy to lose sight of the fact that genuinely talented brewers are still entering the industry with authentic stories to tell. Founded by Zahra Tabatabai, a Brooklyn-based former journalist and the daughter of Iranian immigrants, Back Home Beer focuses on Middle Eastern brewing ingredients and techniques—including inspiration from Tabatabai's grandfather, who homebrewed in his basement in Shiraz, Iran throughout the 1950s and 60s. Her previous releases, such as a gose brewed with sumac and a crisp lager brewed with blue sea salt, have been eagerly scooped up by beer fans. But her latest brew is being dropped just in time for Nowruz, the Persian New Year.
5.1% ABV
Chicago, Illinois
The fact that craft lager is having a bit of a "moment" works well for spring's purposes. Now, instead of relying heavily upon imports, plenty of American-made cold-fermented beers can easily be found. One brewery making such beers is Chicago's beloved Dovetail Brewery, which focuses on traditional Czech, German, and Belgian styles and has shot to national popularity for releases like its Vienna-style lager. The copper-colored brew manages to provide a perfect balance of biscuity, bready maltiness and soft caramel flavors typical of the style while providing a medium-bodied mouthfeel, subtly floral, grassy hop notes, and a refreshingly crisp finish.
6.5% ABV
Tourpes, Belgium
Spring may be a time for cleaning, organizing, and welcoming in the new, but when it comes to beer, sometimes the best decision you can make is to go with a longtime favorite. Like rewatching a classic movie, Saison Dupont lives on in the beer world as a widely adored favorite for being a rustic, traditional bottled option that always seems to hold something new every time you revisit it. It has a super complex nose that smells like a barnyard in the first days after a long winter thaw with flavors that are equally complex. Thanks to second fermentation in the bottle, tart flavors and strong carbonation dazzle the palate with each sip while earthy aromatics linger through a long finish. Show up to any dinner party hosted by a beer geek with this in your hand and they'll likely applaud you at the front door.
5.3% ABV
Littleton, New Hampshire
After years of being relegated to the obscure sidelines of the American craft beer movement, dark lagers appear to be having their long-overdue moment in the sun. And while hazy IPAs may still be dominating the conversation, beers like Karluv 13 prove that there are plenty of beer fans ready and willing to accept them into their rotation. Of course, a lager-focused brewery like Schilling is one of the best equipped to put such a complex yet refreshing beer on the market. The toasty, malt-driven flavor profile brings up hints of freshly baked rye bread, but manages to stay crisp and deeply refreshing through the dry finish. Even old-world purists would be quick to agree that this is a wellmade take on a once underappreciated style.
8.8% ABV
Santa Cruz, California
It may seem hard to believe after, well, literally everything about the past two years, but in 2022, the beer industry appears to have stuck to their guns and gone all-in on the New England-style IPA. And since it's been quite some time since the now-ubiquitous style was confined to breweries in the Northeast corner of the country, the sheer volume of the NEIPAs on the market can make it basically impossible to see the haze through the sea of haze. So, when shopping for this style, it's usually best to go with whatever is the very freshest or—perhaps more importantly—going for a beer that also supports a good cause. Humble Sea's "foggy" DIPA is as dense as the atmospheric soup that can hit the California coast it calls home with bright tropical fruit, citrus, and cotton candy flavors. Beyond that, the brewery itself has "raised tens of thousands of dollars and gobs of awareness for local groups and nonprofits thanks to the community of Santa Cruz, the Bay Area, and beyond" since opening up in 2015.
4.9% ABV
Hammond, Indiana
Whether you live in the chilly north or the perpetually balmy south, spring is the one perfectly calibrated season where hanging out on a patio with a beer in your hand makes the most sense. Such days call for the best sessionable sippers, which in this case just might be 18th Street Brewery's Best Patio Pils. One sip of this beautifully aromatic lager will make it clear why this award-winning Black-owned brewery is rapidly expanding to keep up with demand. Thanks to a slightly hoppier flavor profile, a smooth mouthfeel, and a crisp finish, this is an easy choice for non-Zoom-based office happy hours on a Friday afternoon or an impromptu backyard party.
4.55% ABV
Bamberg, Germany
If you've spent any time chatting up American brewers after hours, they've likely let slip that they believe smoked beers are bound to be the next big thing in the industry. This may very well be the case, given that the style is one of the few that hasn't really had an earnest entry into the U.S. quite yet. To prime your tastebuds for what's likely to come, you're best off starting with one of the world's most respected rauchbier breweries. But while Schlenkerla's Helles provides an easy entry into the style, spring offers the opportunity to enjoy its ultra-traditional kräusened release. Without getting too complicated, the process involves adding younger, brighter lager to more complex aged lager. The result here is a timewarp of a beer-drinking experience that also happens to pair perfectly with anything coming off of your recently revived barbecue setup.