Genius Can't-Lose Drink Subscription Gifts for Everyone on Your List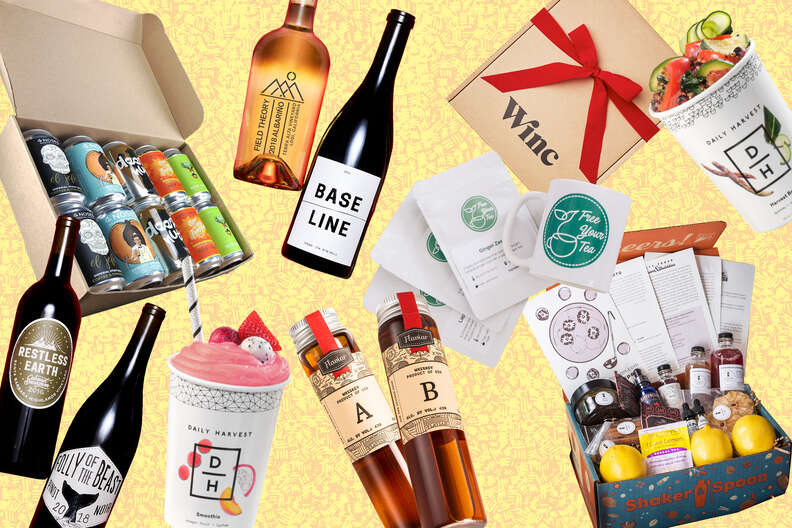 People typically fall into pretty simple categories based on what they like to drink. I'm a basic cold brew all day/wine all night kinda gal. Both of my roommates have a dedicated cabinet to stock their tea addictions, and one often cracks open a beer at the end of the day. And you probably know someone who'd describe themselves as a huuuuuge craft beer guy.

But from stouts to sours, and pinot noir to prosecco, there are so many gift options for these folks -- and so many ways you could go wrong. Thanks to Old St. Nick and these drink subscription gifts, you don't have to know a damn thing about the particulars of your friends' and family members' preferences. These companies take out the guesswork and analyze your recipient's drink preferences so you don't have to, and the end result is a thoughtful, customized gift -- without the uncertainty.
Wine
Remember those wine-of-the-month clubs you used to see on every last-minute holiday gift guide? Well, Winc is like those clubs' cooler, smarter sibling who gets slightly better holiday gifts for everyone in their family. You know the type.

You can choose from gift sets that pair your recipient's trusty Cabernet Sauvignon (or whatever other wine they pretend to be well-versed in) with two sleek Riedel glasses. But if you can't remember what their go-to grape is, Winc has you covered. The company offers discounts on bottles but its defining feature is a short quiz that members take to asses their wine preferences, so you can grab a gift card and not stress about picking the perfect bottle.
Price: Gift sets start at $45. For gift cards, consult your recipient's tolerance.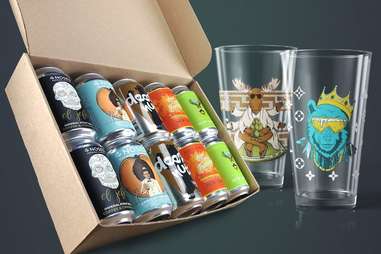 Beer
We all have that one friend who never strays far from their can of choice. But c'mon, you can't slap a bow on a case of Miller Lite and call it a day (or can you?). Maybe this could be the year they step it up a notch for the holidays? Beer Drop is the perfect way to do so.

With a Beer Drop gift box, your recipient will get two pint glasses with funky designs emblazoned on the side (see, already a step up!) and a gift card to redeem a subscription online. When they log on the website, they'll choose from flavor profiles like hoppy, malty, or sour, and the website will suggest beers from small breweries located across the country. They'll choose the 10 they want to take home, and the case will be delivered before they know it.
Price: Gift boxes start at $25 for two pint glasses and 10 craft beers.
Spirits
Whether you're tasked with buying a gift for someone who couldn't tell vodka from gin or for the biggest cocktail nerd you know, Flaviar makes an ideal gift. You could sign someone up for a membership to Flaviar so they get a full-sized bottle and samples every quarter -- or opt for something from the Half-Assed Gift Collection for some holiday hijinks.

The joke starts with a "sad" holiday gift, like a truly heinous snowman tie or a season's greetings mug that looks like it was made on MS Paint. Whoever you choose to give this to will think they landed on the naughty list. But upon further inspection, they'll find that the half-assed gift includes a code to unlock a year-long Flaviar subscription.

Once the joke has run its course, the program starts with a brief quiz that asks what spirits you like or are willing to try, brands you've enjoyed, and the one spirit you'd need if you were stuck on a desert island. Based on your preferences, you're presented with several options for a full-sized bottle of top brands and three samples that you'll later rate on the company's website to improve future options.
Price: $300 for the Half-Assed Gift Collection (which includes a year-long subscription and a shitty gift to trick your family member or friend), or $190 for half-year and $300 for full year subscriptions.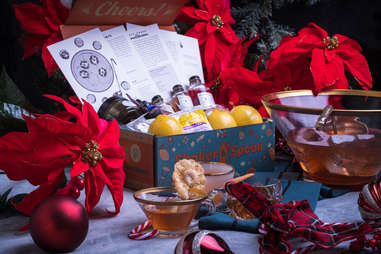 Cocktails
Sure, your roommate can talk classic cocktails with even the most well-versed bartenders, but is their cobbler sitting at home collecting dust on the counter? Enter Shaker and Spoon.

This subscription sends all the fixings you need to create top-notch cocktails at home -- the only thing you'll have to provide is the booze. Each box contains three recipes dreamt up by leading mixologists and all the ingredients you need, like syrups, bitters, garnishes, mixers, and citrus to get shaking (or stirring). The recipient can browse recipes for each month before redeeming one, three, six or twelve months, so they can choose the set that spruces up their favorite libation.
Price: Gift subscriptions start at $50 for one month.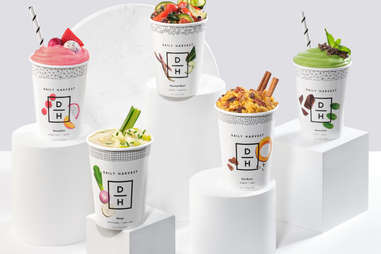 Smoothies
I never know what to get for the wellness obsessed. They probably already have more workout clothes than they could ever need (which explains why they wear leggings to every function), so what do you get them?

Daily Harvest is a great option to mix up their smoothie game at home. With the brand's gift option, they can choose nine flavors from options like tart cherry and raspberry or cold brew and almond. They'll be sent a box with small cups of those frozen ingredients, which they can toss into a blender, add water, almond milk, or another base; within seconds they have the kind of smoothie that they'd normally dole out handfuls of cash for.
Price: $75 for a nine-cup box that the recipient fills with their favorites.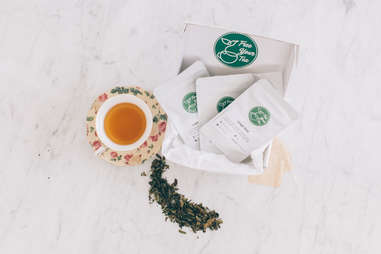 Tea
Tea might just be the hardest thing in the world to pick out for another person. Why is that? Because most people drink tea cuddled up in their own home, so chances are you have no idea what types your tea-loving friend or family member likes.

With a year-long subscription, your recipient will get enough tea to drink a cup a day -- or stage a decent-sized Boston Tea Party 2.0 -- and a monthly sampler so they can try new brews. And you don't have to worry about choosing the wrong leaf or turning them into a jittery mess if they've been avoiding caffeine, because with each monthly six tea sampler, Free Your Tea asks users to rate their cups to provide personalized recommendations.
Price: $20 for a month, $108 for six months, or $192 for a year subscription.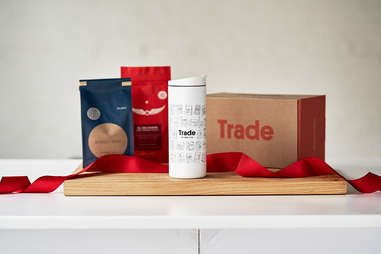 Coffee
You know the coffee addicts in your life. You see them, giant cold brew in hand even in a nor'easter. Or with their favorite office coffee mug is seemingly glued to their hand. But do you know what their preferred roast is? Trade will allow your recipient to customize their gift and even learn more about what flavors they like along the way.

With a gift membership, your recipient will be prompted to go online and take Trade's flavor profile quiz. After answering questions like how they typically prepare their coffee and whether they like it black or with additions like cream and flavored syrup, they'll be matched with the coffees that best fit their needs from high-end, smaller craft roasters across the country.
Price: Gift boxes start at $40 for two bags customized to their caffeine addiction (ah, I mean preferences).
Sign up here for our daily Thrillist email, get Eatmail for more food coverage, and subscribe here for our YouTube channel to get your fix of the best in food/drink/fun.
Liz Provencher is an editorial assistant at Thrillist. You can talk to her at lprovencher@thrillist.com, follow her on Twitter, or see what she eats on Instagram.