The Summer's 7 best beer variety packs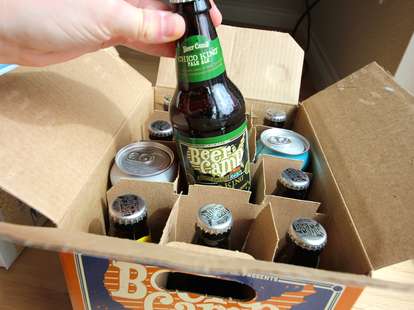 Lee Breslouer
Lee Breslouer
Baseball card packs are a fun way to collect cards of players from every team, but if you love a specific team, like the 1989 Oakland A's, they're useless, as most packs lack a photo of Dave Stewart's rocket arm. Variety packs are the craft beer equivalent of getting all the players from the same team: a bunch of delicious (and sometimes limited-edition!) beers from one brewery all crammed into one box.
This Summer, there're plenty of packs on the shelves from a slew of great breweries. With the help of Zach Mack of ABC Beer Co., we break down the seven worth picking up right now:
Samuel Adams' Beers of Summer
The grandaddy of craft beer unleashes a 12-pack with Summer on its mind, including two beers that haven't been available for a little bit (Belgian Session, Blueberry Hill Lager), three that taste best when imbibed in the sunshine (Summer Ale, Porch Rocker, White Lantern), and one classic (Boston Lager).
Upslope Brewing Company's Mix Box
This Boulder, Colorado-based brewery has offered a 12-beer variety pack previously and filled it with their cans of Pale Ale, IPA, Brown Ale, and Lager, but this Summer's version has three cans of the exceptional Thai Style White IPA, a smooth and citrusy wonder of a beer. Sadly for the rest of the country, it's only available in-state. Though with Colorado turning into America's Amsterdam, certainly plenty of Americans will have the chance to try this.
Pyramid's Summer Variety
Some beer tastes better when it's hot outside, and Pyramid stacked their box only with beers that fit the bill: an Apricot Ale, a Wheaten Ale, the Blonde Summer seasonal Curve Ball, and an Indian Pale Lager called the IPL.
Golden Road's Summer of IPA
West Coast hopheads should look out for the LA brewery's nine-pack of IPA cans that are all conveniently pint-sized like Danny DeVito, albeit more difficult to sneak into a concert. You try hiding Danny DeVito in a messenger bag. The Wolf Among Weeds is a critical favorite of beer review nerds, with an 8% ABV, 80 IBUs, and "dank, earthy citrus notes".
Ipswich's Beach Basket Mix
If Jersey Boardwalk T-shirts are to be believed, life is "a beach" -- so it must hold that Ipswich is the beer you want in your life. Even though Mack states they're "not super-widely available", seek out the pack in New England for bottles of their Blonde Summer Ale, flagship Pale Ale, and Ipswich IPA that's a mix between American and English IPAs.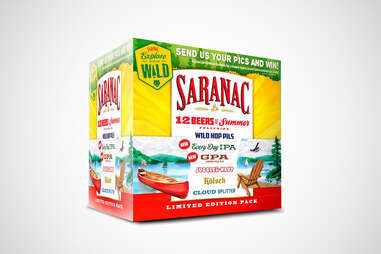 Saranac's 12 Beers of Summer
Zach Mack loves this pack because it's "fantastic and on the cheaper end" -- so pick up this wide variety of brews outta Utica, NY, like the new Session IPA and GPA (Ginger Pale Ale), the Jugglernaut wheat beer, a Wild Hop Pils, a Kölsch, and the Cloudsplitter, a hybrid IPA/Belgian White Ale.
Sierra Nevada's Beer Camp
This is an extraordinary variety pack for three reasons. One: each beer is a collaboration effort with some of the country's top breweries, like Russian River, 3 Floyds, Victory, New Glarus, Firestone Walker, and Ninkasi. Two: there are 10 bottles and two cans inside, one not surprisingly from the aluminum-obsessed Oskar Blues. Three: it's meant to tie in with their incredible Beer Camp festival roaming across the country this Summer. For a brewery that's been around since 1980, you've gotta give it up to them for keeping things fresh.
Lee Breslouer writes about food and drink for Thrillist, and nominates Upslope's Thai Style White IPA for beer of the Summer. Follow him at @LeeBreslouer, because you can't make up a name that good.