10 Beers You Need To Be Drinking in Summer 2021
Sip these in sunshine.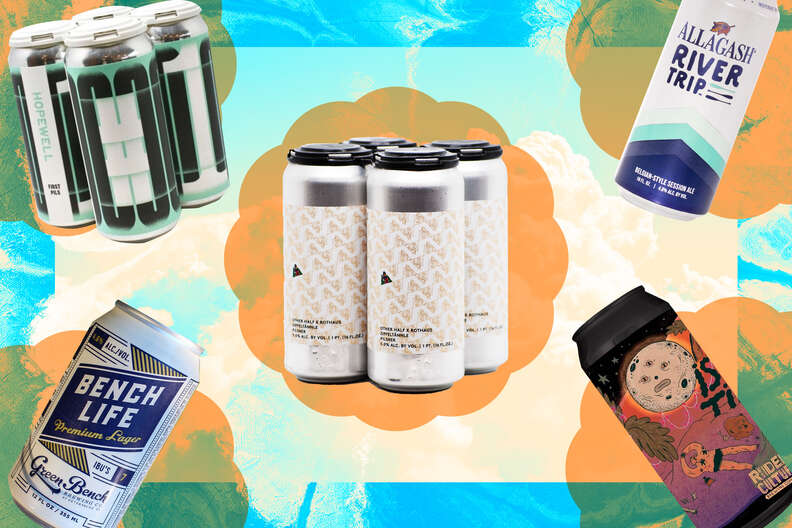 Design by Grace Han for Thrillist
If there were ever a summer in living memory to take the time out to enjoy a beer, it is undeniably this one. And while the past year hasn't exactly made things easy on the brewing industry, it's also ushered in an unprecedented era of widely available, diverse styles that suit all tastes. Since summer is arguably the most beer friendly season of the year, we've come up with some of our very favorites that we humbly recommend checking out among your own research.
As per usual with our beer roundups, we've done our best to spread the love out geographically so that you'll be more likely to actually be able to find these. But in what can be considered a molecule-wide silver lining to the events of the last year, many breweries have begun shipping their beers via mail throughout their states and across the country. There's a good chance you could get these cans brought right to your front door as long as they're still in stock. After the year we've had, the breweries could use your support.
Gose, 4.2%
Brooklyn, New York
Gose may not be the biggest style on the market yet, but it's certainly one of the fastest growing in terms of popularity. This is arguably because their unique flavor profile is incredibly refreshing, especially when they're made with fruit. Talea has proven itself to be a brewery that's especially at home with the style, using sweet cherry, raspberry, and Pink Himalayan sea salt in this release. And experts agree: "I am a sucker for gose like this in the summer," says Advanced Cicereone and beer educator Angela Steil. "That little hint of salt is just the perfect thing, especially after sweating all day."
Golden ale, 5%
Cuauhtemoc, Mexico
One of the worst mistakes that someone can make with picking a beer for summer is assuming that "refreshing" is interchangeable with "boring." Instead of going watery, go for something with bright, fruity notes that don't overpower the malt backbone and are finished with lemony, minty aromatics. Exactly like this golden ale made by Montruo De Agua. This beer is made with prickly pear from the nopal cactus, giving it an almost spa water-like cucumber flavor that makes it an ideal thirst quencher on a hot day.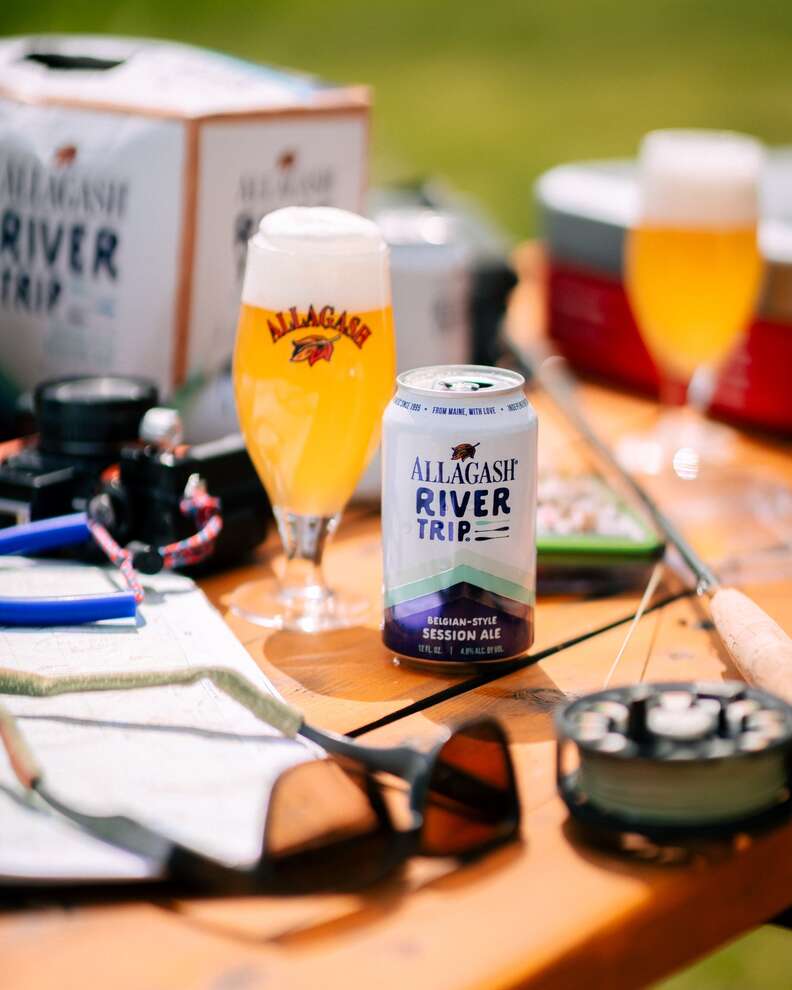 Belgian-style session ale, 4.8%
Portland, Maine
Summer might feel like a one-size-fits-all beer season, but in reality, it's a little more complicated than that. What if you're thirsty by the pool? What if you need a table beer for an outdoor dinner party? What if you've got a killer view at the end of a hike and you just want to relax? Like most beers they make, Allagash's River Trip manages to pull off being complex enough to stand out in a crowd while not sucking all the air out of the room. Bright, peppery Belgian yeast notes and strong effervescence over a medium-light body make it a fantastic between-meals beer, but also perfectly prime it to go side-by-side with summer grilling favorites.

German-style pilsner, 5%
Washington DC
We'll admit it: Picking this selection to be on a summer beer list is kind of cheating. On one side, you have one of the hottest breweries in America fine-tuning a style they don't get enough credit for making well. On the other, you have a storied German pilsner producer whose beer is gleefully passed around by brewers at their after-hours parties. But this supergroup of a collaboration is simply too good to pass up for a summer beverage choice, blending grains from Rothaus' world-famous malt supplier and their favorite local noble hop with Other Half's added twist of Wai-iti hops from New Zealand. The result is a stunningly good upgrade on a beer most never believed could get any better.
American light lager, 4.6%
St. Petersburg, Florida
The marketing tropes of condensation-dappled cans of beer on a hot day have stuck around for decades for a reason: When the temperature spikes, the vast majority of people just want to drink something that will make them feel good. So when it comes down to developing a perfect beer to beat the heat, it's not surprising that Florida's world-class Green Bench Brewing would come out with one of the most excellent options. Bench Life offers the easy-drinking, crisp flavor profile you crave with a low ABV and a dry finish that still offers a lot more than your typical light lager. It's also the kind of beer that can act as a perfect gateway brew for anyone who's still shy about dipping their toe into the craft beer waters.

Zwickel, 5.1%
Framingham, Massachusetts
It may surprise some people, but not all lagers have to be straw-colored. Historic styles like Zwickel are a great way to start wading into beers that manage to straddle the line between complex and outrageously drinkable. In the hands of a lager-only brewery like Jack's Abby, it's especially worth checking out. "It's so, so refreshing, but it completely takes you out of the New England IPA realm, which is a nice place to be if you've been surrounded by those all summer," Steil says. On the geeky side, she adds that this is a great way to learn about "what water adds to the equation" because this style lets its subtle components of subdued yeast and mellow hops shine through. "It's so clean and crisp that it allows me to focus on the main ingredients."
Pilsner, 5.1%
Chicago, Illinois
Chicago is the type of beer town that's so good, it knows it doesn't even have to leave its borders to prove that it's one of the best destinations in the country for brewing. But when Hopewell first began rolling its kegs and cans out to new markets, people outside the Windy City began to fall hard for the delicious IPAs, sours, and saisons that had made it a hometown hit. The First Pils, in particular, is the perfect example of a summer party beer. Putting this into the cooler will keep the beer geeks happy with its crisp, hoppy finish, while those who are simply looking to enjoy a can of something cold will love the bready malt profile that makes it much more remarkable than your typical light lager. It's a rare brew that's both perfect for starting the night or winding things down after sunset.
New England-style IPA, 7%
San Antonio, Texas
Of course, you don't have to travel all the way to Texas to drink New England IPAs. But in the case of Weathered Souls' SpottieOttieHopalicious, you should probably consider it. This hazy refresher of a beer is packed full of tropical fruit flavors that hit just right on a summer afternoon, with notes of pineapple, passion fruit, and lime zest floating atop a silky mouthfeel. It's a mellow crusher for a style that you know all of your beer geek friends will be reaching for all summer long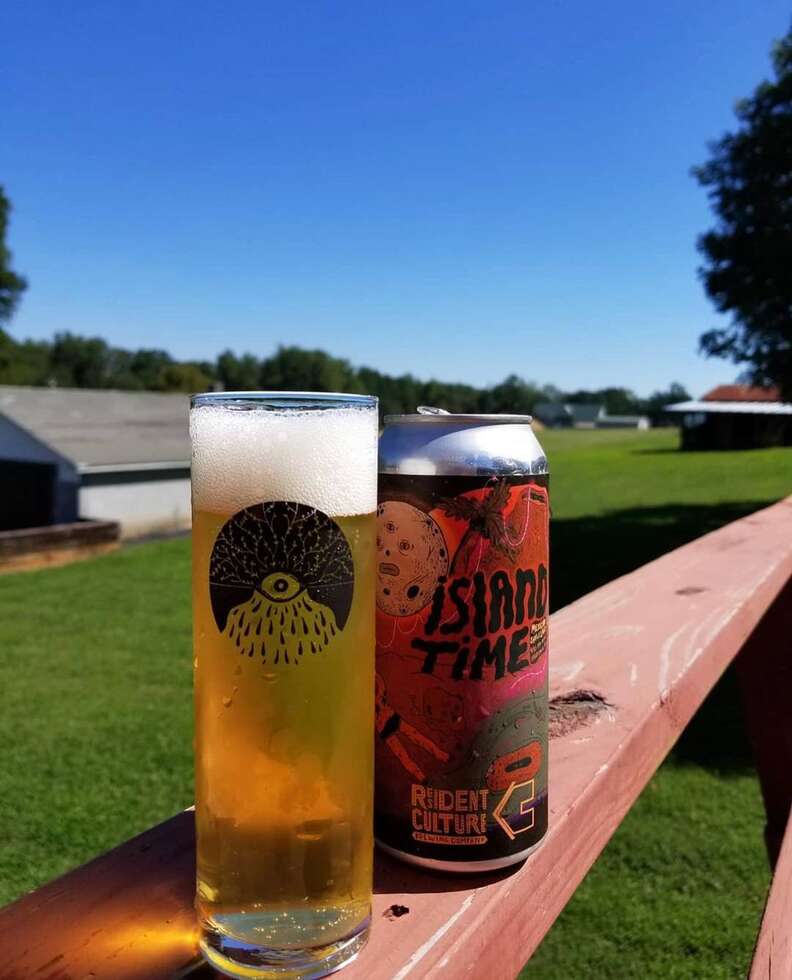 Mexican-style lager, 4.5%
Charlotte, North Carolina
Is it really summer if you don't drink at least one beer with a lime in it? If you're angling for that overtly citrusy experience, it's worth your while to pick up one that's made thoughtfully and can even save you the hassle of having to buy any fruit. Resident Culture's collaboration with Casita Brewing offers a fantastic Mexican-style lager experience sold with the lime already added right to the brew, offering that crisp, bright refreshment you're probably looking for as you hang out on the beach or at the pool. Needless to say, cans like this also pair exceptionally well with summery foods with bright ingredients like salads, grilled fish, or tacos.
Geuze lambic, 7%
Brussels, Belgium
Have you ever been drinking beer and thought to yourself, "I wish this were more like champagne?" It happens! You can have the best of both worlds with offerings like Gueuzerie Tilquin's lambics in the brewing world. Similar to winemaking, this style features a blend of three spontaneously fermented vintages that have been resting in barrels that are then bottle conditioned to create incredibly vivacious carbonation. To call this process an art form is an understatement, and to try even a sip of it is to understand why. The resulting beer is truly a global "best of the best," with bright fruit flavors, a medium body, and a dry finish that make it perfect for celebrations with friends—or just because you want to treat yourself after a pretty challenging year.