Tequila can be fickle. It's the liquor that often provides you with too much fun. We all have our stories. But still: We can't help but love tequila. Tequila, for the most part, is always insistent on showing us a good time.
So naturally, we can't help but love margaritas, too—they are tequila's natural vehicle, and they also happen to be America's favorite cocktail. But just as some experiences gel better with tequila than others, some tequila just meshes with margarita mix or lime juice just a little more smoothly.
Presented here are eight tequilas that, for their own distinct reasons, are perfect accompaniments to margarita mix.
First off, you'll probably notice a running theme here: Almost all of the tequilas listed here are blanco (or "silver"). That's because this more mellow counterpart tends to taste better inside margaritas than darker tequilas. They generally don't overwhelm the other components of the margarita—in many cases, the darker liquor is best-suited solo, to experience the bolder flavors in an unfiltered setting. Which brings us to Patrón Silver, which is basically the gold standard of tequila to mix with margs (despite being silver). You'll get notes of fruit and agave. You'll get a taste that goes down smooth. And most importantly, you'll get a liquor you know will reliably pair with almost any margarita mix. This is the true crowd-pleaser.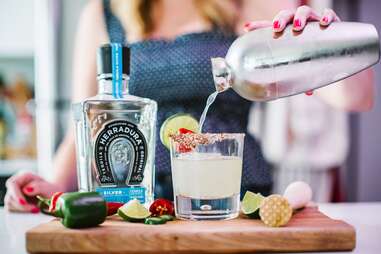 Herradura—like Patrón—is very well known, fairly pricey, and an extremely safe bet to pair with margarita mix. The brand's silver tequila is certainly rich and full enough to drink alone, on the rocks, but paired with triple sec and lime, the liquor's characteristic citrus, red pepper, and mint flavors are highlighted without overwhelming the rest of the drink. If you want a safe bet, but don't want Patrón, you might want to opt for Herradura.
Casa Noble Crystal is what you should opt for if want your margarita to taste a little...different. Don't worry! Sometimes different is good! The triple-distilled liquor touts itself as well-balanced and "smoother than glass." When mixed, the super savory, honey notes can definitely cut through the margarita's citrus, making the whole drink just seem a little more complex. This might be a good one if you want your friends to consider you to be master mixologist—when in reality all you have is a bottle of tequila, triple sec, and lime.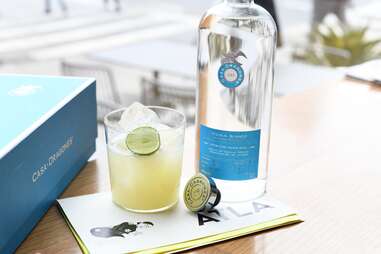 There's a lot going on inside this bottle. You have little hints of clove and mint, combined with a tartness reminiscent of Granny Smith apples, for better or worse. And, even though Casa Dragones touts itself as an excellent sipping tequila, pairing this complex blend with margarita mix really doesn't take anything away from the spirit. But, in our opinion, you probably want to make sure the margarita mix you use isn't too sweet or citrusy. That's a general note, but we're specifically emphasizing it in this case.
This tequila with the badass label is slightly cheaper than some of the others on this list—so it could be a good option if you want to mix margaritas on a budget. The quality of the spirit is not indicative of the price, and the taste is surprisingly nuanced. You have a little bit of vanilla, some notes of spicy pepper and sweet fruit, and an incredibly silky finish that rounds every sip out nicely. It's decidedly not a bad time.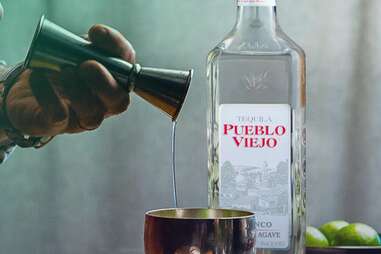 We'll be upfront: this is tequila on a budget budget. You can probably pick up a bottle for less than $20, no matter where you are. That being said, the spirit itself does not have that horrible, burning, "Oh God, what have I done?" taste that so many cheaper spirits— especially tequila—pack. Sure, Pueblo Viejo definitely has more of a bite, and its citrus flavor seems to be a little bit sharper, but it is certainly an acceptable tequila to pair with a margarita, especially if you are making a ton. And double-especially if most of the people drinking them won't really care or notice anyway.
1800 is known almost exclusively for its super-smooth taste. While notes of citrus and pepper can definitely shine through for experienced palates, the real plus here is how seamlessly the liquor gels with margarita mix. The tequila is delicate, but also refreshingly bright. This is a pretty safe bet. It's hard to mess 1800 up in almost any cocktail.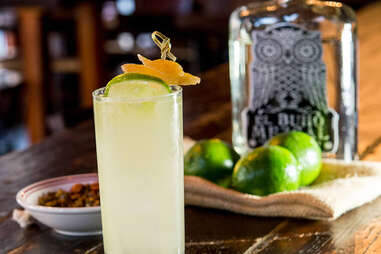 This is the wildcard. El Buho is not actually tequila, but a mezcal. Now, some purists might decry the use of mezcal in a margarita. But El Buho is relatively inexpensive and an excellent "beginner" mezcal in general. Adding this in lieu of regular tequila to your margarita will definitely be noticeable, as the spirit's trademark smokiness will certainly shine through. But you'll never know if you like it if you never try. At the very worst, you'll still have like, half a bottle of quality mezcal to sip on.
Wil Fulton is a senior development producer at Thrillist. Follow him @wilfulton. Or don't, it's cool.