The Best and Easiest Cocktails to Make on Thanksgiving
Because Thanksgivings involve family, and family time is more bearable with cocktails, we asked New York Times cocktail writer and author of 3-Ingredient Cocktails and his newest release, The Martini Cocktail, Robert Simonson, to give us some quick, simple easy cocktails to make for Turkey Day. And, because he's a nice fellow, he also threw in a bonus martini recipe, because, well, look it's a long day, okay?
(All recipes adapted from 3-Ingredient Cocktails and The Martini Cocktail book)
Jason Hoffman | Thrillist
Rob Roy
Simonson says: "I'm thinking in particular of a recipe from the London bartender Nick Strangeway. He served me the most memorable Rob Roy I've ever had, which was much lighter and airier in character than the standard Rob Roy, but either way it's a great autumnal drink. If you can find Oak Cross (from Compass Box whisky), it can really elevate the drink."
When to drink it: "As you're relaxing (or trying to relax) before you sit down."
Recipe:
2 oz blended Scotch (Oak Cross, if you can find, otherwise something like Famous Grouse is a good choice)
1 oz sweet vermouth (Simonson prefers Noilly Prat)
2 dashes Angostura bitters
Lemon Twist
Combine in ice-filled mixing glass, stir until chilled. Strain into chilled coupe (otherwise known as a Champagne coupe or saucer). Add lemon twist. Look cool.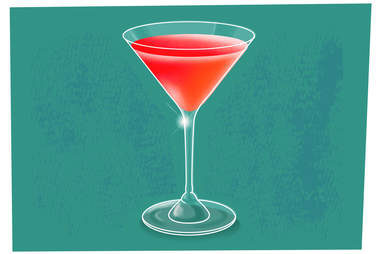 Jason Hoffman | Thrillist
Jack Rose
Simonson says: "There are so many harvest flavors that come to mind during Thanksgiving, and of course at the farmers markets you have apples, and on top of that, apple brandy is an intrinsically American spirit, served here since before the Revolution. So it's almost your patriotic duty to drink one of these, which I was first served by Boston bartender Jackson Cannon."
When to drink it: "Actually a great cocktail during your Thanksgiving meal, especially if you're tired of all of that wine."
Recipe:
2 oz Laird's Bonded Applejack
3/4 oz lemon juice
3/4 oz grenadine
Combine in a cocktail shaker with ice and shake 15 seconds. Strain into a chilled coupe. Drink while delicately avoiding political landmine conversations with your step uncle.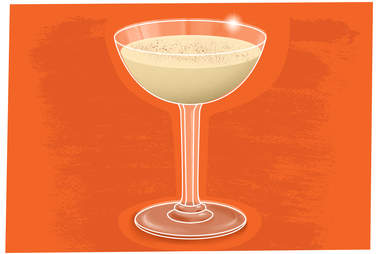 Jason Hoffman | Thrillist
Brandy Alexander
Simonson says: "I love championing the underdog cocktails, especially the ones no one really does anymore, and Brandy Alexander is certainly in that category. For this, you really need to have great creme de cacao and fresh whipped cream, but if you've got them, you can have a fantastic after dinner dessert drink that's actually not that heavy."
When to drink it: "You're going to have one, and it will be after dinner with dessert."
Recipe:
2 oz cognac
1 oz creme de cacao (Simonson very much prefers Tempus Fugit)
1 oz fresh whipped cream
Freshly grated nutmeg
Combine all ingredients (minus nutmeg) with ice in a cocktail shaker and shake 15 seconds. Strain into chilled coupe. Grate nutmeg over the top. Serve with a touch of nostalgia.
Jason Hoffman | Thrillist
Bonus Martini recipe!
Fitty-Fitty
Simonson says: "A lot of meals start with a round of martinis. And a 50/50 version is a good option for Thanksgiving because it doesn't have quite as much booze, so it won't do you in before the night even begins."
Recipe:
1 and 1/2 oz Plymouth dry gin
1 and 1/2 oz Dolin dry vermouth
1 dash Feegan's orange bitters (equal parts Fee Brother's and Regan's orange bitters)
Lemon twist
Combine liquid ingredients in an ice-filled mixing glass and stir for 30 seconds. Strain into a chilled cocktail glass. Twist lemon over surface and drop in cocktail. Look classy in front of your grandfather for once.
Sign up here for our daily Thrillist email, get Eatmail for more food coverage, and subscribe here for our YouTube channel to get your fix of the best in food/drink/fun.