These are the 17 best Tiki bars in America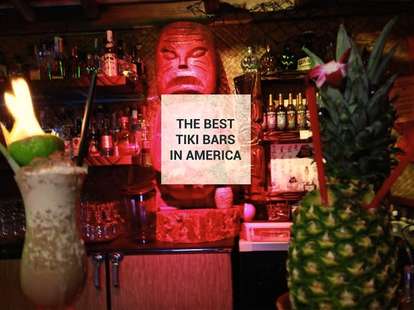 Since the day old Trader Vic and his boy Don the Beachcomber decided that bars were way cooler when they ceased to be grimy dens of sin and transformed into faux-tropical wonderlands, the Tiki bar has been embedded in American drink culture. They're places where men can be men... while drinking fruity drinks out of pineapples and wearing tacky floral shirts. Fewer bar scenes have as rabid a following as Tikis, and with the scene seeing an upswing in popularity, we've decided to track down 17 of the best Tiki temples in the U.S. Then we drank a lot of rum.
FORBIDDEN ISLAND (Alameda, CA)
The scene: For folks who like their drinks ablaze, their chairs wicker, and their ceilings covered in dollar bills and paper umbrellas, Forbidden Island is an essential destination. Dually committed to the old-school beach-bum feel and the new-school insistence on all-organic ingredients (this is the Bay Area, after all), the place has garnered universal praise for its huge variety of drinks and the fact that there's a waterfall on site in case you catch your beard on fire while drinking them.
What you're drinking: The Monkeypod, a Forbidden Island original loaded with coconut, lime, tamarind, and rum.
BURT'S TIKI (Albuquerque, NM)
The scene: A dark, moody (good moody, not Jets to Brazil moody) contrast to the expanse of New Mexican desert outside, Burt's is the dive bar reimagined as a Tiki haven, a place where live rock bands plug in amid a sea of hanging surfboards, oars, and tropical junk that seems to have washed up outside. Our editor described it as "like stepping into a TGI Friday's that married a dive bar in Oahu, then wandered off into the desert to raise their weird kids". And that's a compliment (he's a pretty weird dude).
What you're drinking: Skipper's Little Helper, loaded with enough lime and cherry rum to make you confuse Thurston Howell for Ginger.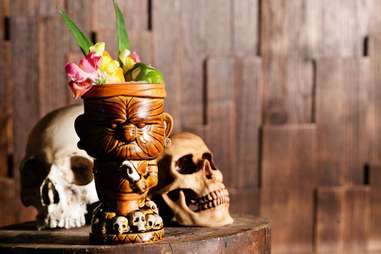 THREE DOTS AND A DASH (Chicago, IL)
The scene: With its thatch-roofed bar and 165-deep rum selection, this Chicago place is part Don Ho's living room, part speakeasy, and all sorts of awesome. That rum goes into a sea of cocktails served up in everything from normal glasses to clam shells, skulls, and treasure chests. Oh, and the treasure chest comes with a whole bottle of rum and a whole bottle of champagne, in case you wanted to buy Jimmy Buffett a quick pick-me-up.
What you're drinking: The place's namesake cocktail, which originated at Don the Beachcomber and comes loaded with rum, honey, falernum, pineapple, and cherry.
ADRIFT TIKI BAR(Denver, CO)
The scene: The Mile High's lone true Tiki bar is a bamboo-strewn reprieve from the Winter, where "Prohibition-era tropical libations" and island-worthy small plates float around a sea of carved heads, red leather booths, and portraits of tropical girls with ukeleles and even hanging off a vacationing Marlon Brando, though he's often associated with a much creepier kind of island populated by Val Kilmer, who probably LOVES yakisoba.
What you're drinking: The Macadamia Nut Chi Chi with nuts, vodka, and coconut.
MAI-KAI (Ft. Lauderdale, FL)
The scene: Like Medieval Times with more rum and fewer nerds, legendary Mai-Kai serves its authentic Polynesian food and cocktails with a side of spectacle, in the form of a luau-style floor show that includes fire dancers and hula. There's also a bikini-based dress code for bartenders, a ton of bamboo and thatch, and a plank bridge into the entrance. Also, rum and bikinis.
What you're drinking: The Black Magic, which takes its darkness from rum and coffee, then sweetens it up with fruit.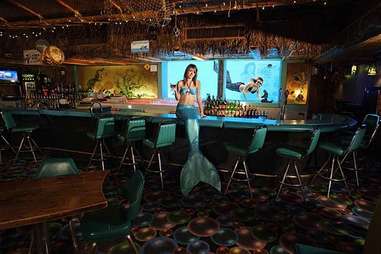 THE SIP 'N DIP (Great Falls, MT)
The scene: In a land known more for its rustic cowboys, this gigantic Tiki bar would be odd enough on its own. As it stands, it also has mermaids. That swim. Then serve you drinks. And while this might not be the classiest place out there, it was classy enough for Daryl Hannah to show up once, strap on a tail, and dive in. That alone makes this place legendary.
What you're drinking: A standard like a hurricane or a Hemingway daiquiri... anything but the mermaid water.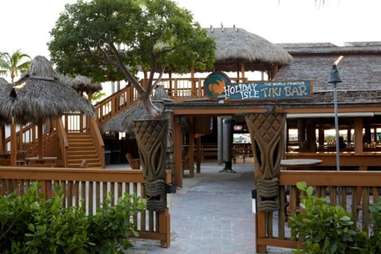 HOLIDAY ISLE TIKI BAR (Islamorda, FL)
The scene: A Tiki institution so legit it doesn't even bother with a clever name, this beachside joint at the Holiday Isle Postcard Inn is the place your liver can thank for its rapid deterioration because of too many rum runners. Story goes that in 1972, the bartender was tasked with the challenge of making use of the overstock bar items. A bunch of rum, banana liqueur, brandy, and grenadine later and history was made. Still not legit enough? Don Johnson hangs out here. So there's that.
What you're drinking: The Original Rum Runner. Because of course.
THE VOLCANO HOUSE(Kilauea, HI)
The Scene: Most Tiki bars try their damnedest to emulate the Hawaiian experience. This place puts them all to shame... not just because it's in Hawaii, but because there's an actual volcanic crater in its back yard. That means you can sit sipping cocktails while watching lava light up the steam from the fissures rising into the night. That beats the hell out of the glow of a puffer fish converted into a lamp any day.
What you're drinking:Polynesian Paralysis, a Tiki classic here made with an ancient Hawaiian liquor called okolehao.

FRANKIE'S TIKI ROOM(Las Vegas, NV)
The scene: Because in every man's life, there comes a time when you crave a hurricane at 4a, this Las Vegas oasis is open 24/7, but the ability to pull an all-nighter while gambling's just the tip of the volcano here. Designed by Bamboo Ben (basically the Frank Lloyd Wright of Tiki design), the off-the-strip joint features art by the best-known Tiki Picassos in the world, glowing blowfish (but no Hooties), shrunken heads, and gigantic wooden warriors that are even more intimidating at 530a with a head full of rum.
What you're drinking: The incendiary Lava Letch, loaded with rum, brandy, raspberry, and ginger.
TIKI-TI(Los Angeles, CA)
The scene: A five-decade LA institution, Tiki-Ti may be be the tiniest bar on the list (12 seats), but it more than makes up for it by being packed with more Hawaiian ephemera than Mike Love's house and a cocktail list with 92 different choices to rot your teeth. It'll make you forget that you're chilling in a divey joint off of Sunset Blvd... until some jackass starts gabbing at you about his screenplay, which isn't a remake of Blue Hawaii, so who cares.
What you're drinking:Ray's Mistake, made with passion fruit, a whole lot of dark rum, and a secret flavor pioneered by the late Ray Buhen, the joint's founder. Ray's mistake will inspire you to make your own.
PSYCHO SUZI'S MOTOR LOUNGE(Minneapolis, MN)
The scene: Proudly screaming its commitment to bad taste from atop its riverside patio, Suzi's is like another planet: A planet with three different bars under one roof, all of which are populated with tatted folks drinking froofy drinks and staring at an endless barrage of crap hanging from the ceiling. They've also got their own band, Exotik-A-Go-Go, which leads themed nights every weekend.
What you're drinking: The Shrunken Head, which will result in a shrunken liver due to all the rum, Leblon cachaça, and coconut.
HALE PELE(Portland, OR)
The scene: Making up for its lack of soccer skills by transforming what looks like a strip-mall storefront into Portland's tropical oasis -- indoor river and all -- Hale Pele's extensive cocktail menu pays tribute to classic Tiki places with drinks from Don the Beachcomber, Trader Vic's, and other godfathers of drink umbrellas. And lest you forget you're in Portland, there are simulated rainstorms.
What you're drinking:Sailor's Grog, a Hale Pele original concoction of over-proof rum, ginger beer, spices, and syrup.
THE ALIBI (Portland, OR)
The scene: Set up like the bastard child of a Honolulu dive bar and an off-the-strip Vegas lounge, the Alibi rocks one of the most insane karaoke scenes on the West Coast, with people flocking nightly to slaughter songs in a haze of Mai Tais. It helps that they sometimes push out a free Hawaiian buffet on weekend late-nights, so you can retreat into the island glow of the main bar area and fill up on kalua pork the third time that one dude sings "Don't Stop Believin'".
What you're drinking: The Kamonawannaleiya, which is the best watermelon-flavored cocktail you've had since you stopped putting Jolly Ranchers in your Zima.
BALI HAI (San Diego, CA)
The scene: This waterfront spot on SD's Shelter Island may look ultra modern -- as if some architect was obsessed with wooden layer cake -- but it's actually a six-decade-old, family run institution that was recently renovated to highlight the place's sophisticated, wood-obsessed interior and lava-like glow. It's a high-end answer to a lowbrow aesthetic, set up on its own island paradise.
What you're drinking: The place's signature and stiff Bali Hai Mai Tai.
THE TONGA ROOM (San Francisco, CA)
The scene: Located in the SF Fairmont, the insane, bustling Tonga Room is like Disneyland, if old Walt was a rum-soaked bamboo aficionado with a Parrothead tattoo. The centerpiece of the upscale paragon of taste is a restaurant-wide lagoon where a live band plays on a floating barge. We're not entirely sure, but we heard a rumor that you get banned if you jump in. And that the water's way colder than it looks. Not that we're sure...
What you're drinking: The Pineapple Royale, which is a bunch of brandy, rum, and Cointreau served up in a pineapple.

SMUGGLER'S COVE(San Francisco, CA)
The scene: Imagine walking aboard a ship where they keep all of the extra stuff for both the Pirates of the Caribbean Disney World ride, and the movie The Perfect Storm. All sorts of fishing ropes, and nets, and buoys surround you, and every once in a while you look up at a giant anchor, and pray this isn't the day they decide to drop it. In other words: it's pretty f***ing awesome.
What you're drinking: The Calibogus. Sure, you could go for one of the more traditional Tiki drinks, but this is from Martin Cate, one of the most decorated drink masters/rum collectors in the country, so this is the place to branch out. This pup is packed with Zirbenz Stone Pine Liqueur, seltzer, aged rum, molasses & (speaking of branches) spruce tincture, and tastes like Winter holidays and secrets.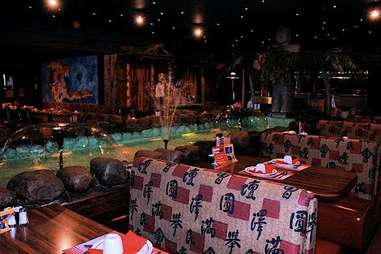 KOWLOON (Saugus, MA)
The scene: OK, so this place might have a bit of an identity crisis, what with it being a Tiki bar/Chinese restaurant/Thai joint/sushi place/comedy club, but the 1200-seat Boston-area institution definitely has its heart in the Tiki game, with a big indoor lagoon lorded over by a Tiki god. It's also reportedly the top-grossing Chinese joint in the US, and the top-grossing Tiki bar/Chinese restaurant/Thai joint/sushi place/comedy club in the universe.
What you're drinking: A Mai Thai for two, which you will drink by yourself out of the oversized glass and immediately forget that it doesn't taste quite right.
Andy Kryza is Thrillist's national eat/drink senior editor, and has proudly lived vegetable-free since 2001. Follow his adventures/slow decline via Twitter at @apkryza.