The Underrated Coffee Drinks You Should Be Ordering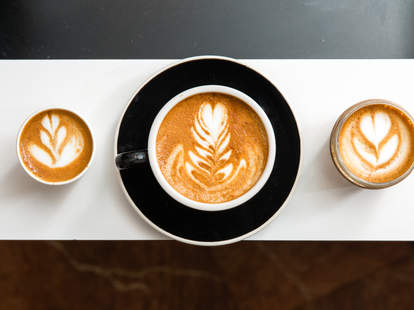 Hip coffee shops can be intimidating places. You have to order off a menu full of complicated words surrounded by judgey people wearing fancy-looking vests. And mustaches. There are so many dastardly looking mustaches you think you're in an old-school spy movie. It's also tough to remember the difference between a cappuccino and an Americano. But, you don't want to look like a fool when you approach the bar and there's not enough time to Google it. So you obviously order yourself a latte, the one drink you know, and then get the hell out of there. But that's a mistake.
We spoke to baristas from around the country to find out what you should be ordering but aren't. All of these underrated coffee drinks should be available at your local serious coffee shop. So read these, and walk in next time with a ton of confidence, mustachioed men be damned.
Miel latte
If you've ever watched a barista get tired from pumping syrup into your coffee, consider this as an alternative which is made with honey (or miel in French). "The miel latte is a great drink when you're craving sweetness but want to avoid sugar-based syrups, like in a vanilla latte," says owner Roland Baker of Miami's Vice City Bean. "It's a delicious combination of espresso, honey, cinnamon, and creamy milk. Our coffee shop makes miel lattes hot or iced." He also says it's tasty with almond milk, if you want to temporarily abandon liquid cow's gold.
Espresso and tonic
The drink is technically simple: It's just a shot of espresso mixed with a glass of tonic. But the flavors are more complex than you might think. Justin DeWaard, the manager of coffee quality at Nashville's Barista Parlor Golden Sound, likes "the sweetness of the tonic alongside the carbonation of the chilled tonic water, as it delivers the espresso in an effervescent and aromatic combination." And unlike some other drinks with tonic, you won't get fired for drinking one at work!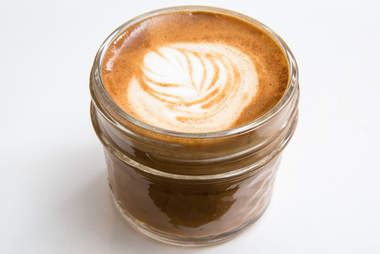 Cortado from Hole in the Wall

| Cole Saladino/Thrillist
Cortado (aka piccolo/Gibraltar)
While you might be used to toting around a Starbucks coffee cup the size of a human infant, there is something to be said for turning your attention to a much smaller drink like the cortado (which is usually around 4oz). "A cortado is essentially a small latte with roughly equal parts espresso and milk," explains Josh Taves, director of quality control and business development at Denver's Novo Coffee. "A drink this size allows the espresso to shine through with a lot of nuance while being complemented by the perfect amount of sweetness from the milk."
1+1
You learned in school that 1+1 = 2. But 1+1 can also mean that you're drinking a tasty coffee concoction you've probably never had before. Tyler King, owner of LA's Coffee Commissary, explains that the drink is a larger shot of espresso (40g vs. the standard 30g) that's split between two tumbler glasses. Then, steamed milk is added to one of the half shots, and the tumblers are served side by side. "We love this because you get to experience an espresso purely, and then as it relates to milk," he says. "Plus, you basically get two drinks for one."
Macchiato from Hole in the Wall

| Cole Saladino/Thrillist
Macchiato
The word "macchiato" literally means "marked" or "stained" in Italian, like your shirt with marinara sauce after you've had an Italian meal. Kevin Hoffman, a barista and store manager of Cleveland's Rising Star Coffee Roasters, digs the drink because of the small amount of dairy in it. He says that it sweetens the espresso and brings out the more subtle flavor notes in the coffee. Hoffman adds that it's a good next step if you've just been knocking back shots of plain espresso for a while.
Flat White from Hole in the Wall

| Cole Saladino/Thrillist
Flat white
While you might have first heard about this drink at Starbucks, it's actually from Australia -- or New Zealand depending on who you ask. The drink has two shots of espresso, 6oz of steamed milk, and microfoam on top. (Microfoam is the fancy-pants term baristas use for that aerated milk that makes for beautiful espresso art.) Barry Dry, the owner of NYC's Hole in the Wall, says that this drink is great for someone looking for a latte that has a stronger coffee flavor. "It has less milk than a latte, so you can taste the coffee a bit more."
Americano
There are just two ingredients in this drink -- espresso and water -- but don't let its simplicity fool you into thinking it's a boring drink. Andrew Timko, a coffee roaster at Blueprint in St. Louis, is a big fan of the Americano and thinks it's underappreciated. "All we're doing by adding water to the espresso is affecting the strength of the beverage. It provides a really nice extracted coffee." If you want a big espresso drink sans the dairy, this is the perfect drink for you.
Sign up here for our daily Thrillist email, and get your fix of the best in food/drink/fun.