The Best Affordable Wine for Every Occasion
As a grown-ass adult, you've probably come to realize that bringing a nice bottle of wine with you to a special occasion is pretty much the 21-and-over equivalent of bringing a pack of premium Pokemon cards to a grade school birthday party: it's sensible, fun, and classy as hell.
Unfortunately, there are quite literally thousands of varieties, and while perusing the different types of wine at your local store, you might find yourself grasping at straws... which in this case means random bottles you picked out because you thought the label was pretty.
Don't be ashamed. Some people dedicate their entire lives to studying the difference between wine varietals and figuring out the ideal wine to pair with all types of foods and any situation.
Luckily, we have such a person on hand: Mattie Jackson Selecman, owner and sommelier of Salt & Vine. She's a big believer in wine education, without pretension. And in that vein, she's agreed to help us single out an excellent wine choice that won't bust your budget, for nearly every situation. Even if you want to get a little tipsy with Mom.
A dinner that's heavy on the red meat:
If you know steak or other red meat is going to fill up most of your menu, you need to choose your wine accordingly -- as you certainly can mess this one up.
"Just for value, I'd go for a general red Bordeaux," Selecman said. "The entry versions are going to be generally merlot-based with some cab blended in. So, you'll get the savoriness and earthiness of a cab, with some of the merlot's softness blended in."
This will not only make the bottle less expensive than a straight-up cab, but it's also more versatile -- and crowd-pleasing for people with different preferences.
"And for an oddball choice that still works, I love sparkling rosé with red meat," Selecman said. "Quite frankly, it can drink like a red and a white at the same time. And the bubbles cut through the fat in the same way tannins do. If you can't do reds for allergy reasons, or if you prefer something chilled, sparkling cava rosé is awesome with red meat."
Going to a barbecue:
"I would veer specifically towards a malbec, or a syrah," Selecman said. "This means you are going to be looking for wines from Argentina, Australia, sometimes South Africa."
You want fruity, well-structured dry wines that aren't overly complex. They aren't going to fight heavily spiced or seasoned items, making them perfect for your next BBQ-sauce soaked cookout. Or if you just want to drink BBQ sauce with a wine chaser. No judgment.
For the vegan dinner party:
Pairing wine with vegan meals might seem like a daunting task... and that's because it kind of is. For this one, you're going to have to get a little niche.
"A grenache syrah blend, like Côtes du Rhône from the south of France is a good fit," Selecman said. "It's a bistro wine, super-accessible, light easy, and highly drinkable."
For a white, Selecman points toward a white Bordeaux, something sauvignon blanc-based. "This is a softer, more refined style than whites that hail from outside of France, and pairs very well with grain-based dishes," she said.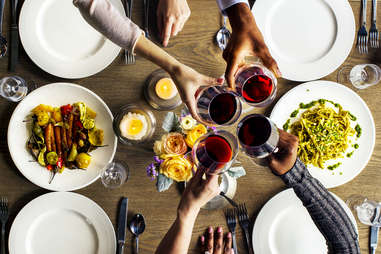 Eating pasta:
As far as amred that pairs well with pasta, Selecman recommends a barbera (a slightly lesser-known Italian varietal), especially with tomato-based dishes. Like a pinot noir, it's light and versatile -- but since it's Italian, it's an even more natural match for pasta. It was basically made to complement the dish.
"For white, any dry, basic pinot grigio would totally work," Selecman said. "One that I like, that's a little outside the box, is called gaby. It's from the same general area that Barbera is grown. It's going to be dry, easy to drink, and almost always under $20. It's a great table white wine."
The utility player... when you don't know what's for dinner:
So what if you're going to a dinner party, and you have no idea what's going to be on your plate?
"The most popular red grape in Spain is the tempranillo, and you can get bottles from all over the country. But historically, the best spot for it is Rioja," Selecman said. "If you can find a bottle from Rioja... I call it 'the girl next door wine.' People laugh, but it's a generally forgotten wine. It goes with everything. It's always available. And it's never expensive."
It can pair well with everything from charcuterie and cheese, to hearty stews, to vegetarian dishes. It works with everything. A true utility player.
If you want to bring something to a housewarming party:
Buying a bottle of wine as a present -- and not necessarily to pair with food -- can be an arduous decision, too. You need a crowd-pleaser. A safe bet.
"Pinot noir is comfortable. People know it. Most casual wine drinkers will have experience with the grape. They see it everywhere. But, it still has some clout. So, a pinot from Oregon could be a really solid choice here," Selecman said. You can get a really reputable producer between $30 and $40. I don't want to call this a total failsafe, because everyone's different, but with this in mind, you're going to get a really nice bottle of wine."
If you're on an afternoon picnic:
Bubbles are your friend. In general, and specifically here.
"Any sparkling is great and refreshing when you are drinking outside in the summer," Selecman said. "But I do particularly love a crémant, which is basically the French word for sparkling wine. But basically what you are getting is something that's a little more complex than a cava or prosecco, but a wine that's not at the level of a true Champagne. It's still from France, it's bubbly, but it's a little bit lighter in style... and price point."
For pregaming:
If you are tossing back a few glasses before you head out, you don't want something too strong, too filling... or anything that will coat your mouth with an awkward shade of purple. And you probably want something fun, too.
"I would definitely go back to a sparkling cava. It's inexpensive, low-alcohol, not that filling, it's not going to line your stomach with sugars, Selecman said, "Or, a Provence rosé. It's pink, it's fun, it's a party wine, and it's super dry."
For date night:
You can't just set the mood with a six-pack of Bud heavies.
"I always go white, especially if you aren't eating, or just having a snack," Selecman said, "In this case, I'd recommend a chenin blanc. It is a traditional French variety, but not one the public sees or acknowledges that often. Anyone who even kind of likes white wine will like this wine. It's inexpensive, and much more interesting than a pinot grigio, but also much lighter than a chardonnay. It's a nice middle ground."
And relationships are all about compromise.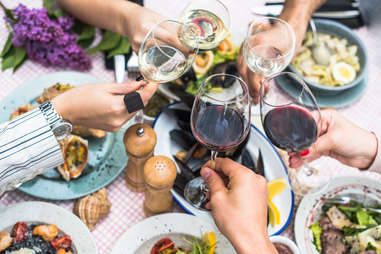 If you're having seafood:
We've got two options for you here:
"One would be the super-inexpensive choice, that pairs great with all shellfish, called muscat. It's only grown on the southern coast of France, and it just goes so well with oysters, anything with brininess," Selecman said. "Very seldom would you find one that costs more than $20."
"A Chablis chardonnay might make some people balk, they could be afraid of that buttery, oak flavor that inherent in chardonnay. But this one is clean, it's minimal, it's citrusy, and it's really just exquisite with any type of seafood," Selecman added.
To cure your hangover, a hair of the dog:
Sometimes after a night of heavy drinking... you kind of just want another drink with breakfast to cleanse your palate, so to speak.
"I'm going to go back to the Provence rosé for this one. But then, I'm always going toss out something else. People might laugh, but a good Moscato d'Asti won't cost more than $20, it's like 5% alcohol, and is almost like drinking a really good pear cider," Selecman said. "It will really help set your head back on straight, without putting you down for the count."
Drinking alone:
Sometimes, you are your own best company. And you should toast to that.
"I personally love sparkling, and I love white," Selecman said. "I'll often go for an unoaked chardonnay if they have it. It's just really clean and easy to drink. Or a sauvignon blanc."
But this one is highly subjective. So be the master of your own destiny, and pick whatever you want.
For pairing with a dessert:
"I think dessert wines, in general, are kind of misrepresented, a lot of people associated dessert wines with being overly sweet, and in turn poorly made, but my favorite is a 'rainwater' Madeira, from the island of Madeira off the coast of Portugal," Selecman said. "For the most part, it's very versatile. I call it the 'pecan pie' wine. It's nutty and a little salty, and not quite as overtly sweet as a port would be."
This can go with chocolate, cheese, fruit, or savory desserts... or, just drank on its own. Liquid dessert, right?
If you are knocking back a few glasses with Mom:
Sharing a bottle with Mom can be the only way to really get some of the family secrets out in the open. It can also be fun, too -- I guess.
"I hate to beat a dead horse, but Champagne. A 'real' Champagne. It's fun, it's sweet, and you should treat her. She's your mom."
Can't argue with that logic.
Sign up here for our daily Thrillist email and subscribe here for our YouTube channel to get your fix of the best in food/drink/fun.
Wil Fulton is a staff writer at Thrillist and a passionate doer of other stuff. For more info, you'll have to do a free background check.