Ultra-Hoppy West Coast IPAs That Deserve the Hype
Folks are quick to lash out at hop-obsessed American brewing, but that doesn't change the fact that IPAs are by far the most popular style of beer in this country. And nobody does mega-hopped beers like the folks in the region that invented them: the West Coast.

Naturally, the style's popularity has resulted in a seeming arms race to see who can make the hoppiest beer, and the results aren't always pretty. Bitterness in beer is often measured by a system called IBU (International Bittering Units), which uses a one-to-100 scale that's less "hard science" and more "educated guess," and can be very misleading. While some studies argue your palate may not be able to perceive more than 100 IBUs, that hasn't stopped folks from pushing the limits.
These beers brazenly attempt to summit Mount Humulus Lupulus and overtake that 100-IBU threshold (with one exception) and still manage to come out the other side tasting like some of the best IPAs you have ever had. Some even bridge the gap and once again become flavorful to the anti-hop-head's palate by veering closer to bittersweet fresh-squeezed juice, a cocktail, or good weed. These are the best of the West Coast's hoppiest beers.
Santa Rosa, CA
Named for the younger nephew of Pliny the Elder -- the Roman philosopher and naturalist who discovered hops and was killed in the explosion of Mt. Vesuvius in AD 79 -- Pliny the Younger is a fresher, more brash and emboldened little cousin to the more prevalent Elder. This beer is released just once a year and commands blocks-long lines outside of the brewery for weeks. It is perhaps the most sought-after beer on the planet. RR has been brewing it since 2005, and it is thought to be among the first triple IPAs. It's a mouth-watering, bitter-beer-face-inducing beast with a sinus-clearing pineyness that comes in at a bright 10.25% ABV. It's earned its legend.
Bend, OR
From Oregon's best-selling gearheads and masters of the IPA comes the latest triple IPA hop-bomb to launch out of Bend, the Beaver State's other beer haven. Notorious is stronger than Pliny at 11.5% ABV, and is bursting with hop aroma and swirling tropical and citrus flavors. Hopheads may be surprised that it's only about 80 IBUs, but this light-bodied crusher packs a wallop you won't forget. (IBUs are just a state of mind, man.) In a recent blind tasting of double and triple IPAs I helped put together, Boneyard Notorious was unanimously the favorite, ranking even over the infamous Pliny the Younger.
Escondido, CA
Stone Brewing Co.'s Enjoy By IPA was born not to last. It's like a decoded secret message set to self-destruct in five seconds, but in this case it's 30 days. In an effort to spread knowledge and enjoyment of the qualities of fresh beer -- especially India pale ales -- Stone created a beer that's shipped immediately and pulled from the shelves after a month. It's bursting with hop flavor, bitterness, and a freshness you rarely get except straight from the source. It's also an ingenious marketing move that has consumers scrambling to purchase the bottles and retailers urgent to push them before time runs out. That's not to say that at 100+ IBUs and 9.7% ABV it's exclusively a hop-head's delight; released regularly in 37-day intervals across Stone's distribution footprint, it's one of the few beers on this list that's bottled, and has even inspired spinoffs like Enjoy After IPA and Enjoy By Black IPA.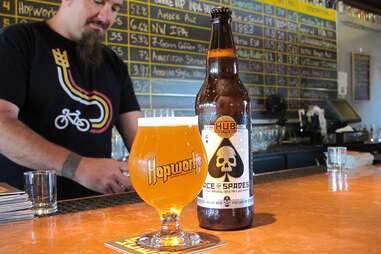 Portland, OR
Portland's HUB brewed Ace of Spades in honor of infamous rock god Lemmy -- a way more fitting tribute to the notoriously iron-livered rock god than having Johnny Depp and the dude from Aerosmith fumble through his songs. Originally brewed in '09 -- when Lemmy was still slaying with Motörhead -- the double IPA is even more relevant now. In its first year, it won gold at the Great American Beer Festival. Hopworks brewers add more hops at every turn in the brewing process to achieve maximum hops overdrive in their brashly abrasive 100+ IBU beer, but maintain a decidedly melodic interplay of ingredients to achieve a relatively low 8.6% ABV.
Baker City, OR
What once was a little-known brewpub just west of the Idaho border in a quiet little town called Baker City is now the stuff of brewing legend. Barley Brown's Brewpub has become one of the most decorated breweries in already medal-heavy Oregon. In recent years, the brewery has been truly dominant across the board, but especially when hops come into play, with medals for the IPA, pale ale, fresh hop, and Cascadian dark ale to prove it. The hoppiest nugget, though, is the Tank Slapper double IPA. At 9.2%, this war beast is stuffed with Chinook and Simcoe hops -- so stuffed, in fact, that you're consuming .5oz of hops per pint. Baker City is now a legit beer-tourism destination where you can hit the brewpub, then saunter across to the new production brewery with a tasting room and different beers on tap to get it the way it was meant to be consumed: fresh.
Jackson, WY
Perhaps the most unlikely success story on this list (and definitely the one straining the definition of "West Coast"), Melvin is also possibly the new reigning champion of hoppiness, coming straight outta… Jackson, WY. Brewers/owners Jeremy Tofte and Kirk McHale somehow crafted world-class IPAs from a three-barrel nanobrewery in the back of a Thai restaurant fittingly called Thai Me Up Brewery. Their most famous beer, 2x4 double IPA, has gone on to win gold at the Great American Beer Festival and World Beer Cup. Maybe even more telling of its modern-masterpiece status is that 2x4 won back-to-back championships (2012-2013) in the Alpha King Challenge, which is a blind tasting competition of only extreme hoppy beers. Now, Melvin's in its own 30bb production facility and last month hosted a national 2x4 Day celebration, giving those outside Wyoming a taste of its medicine.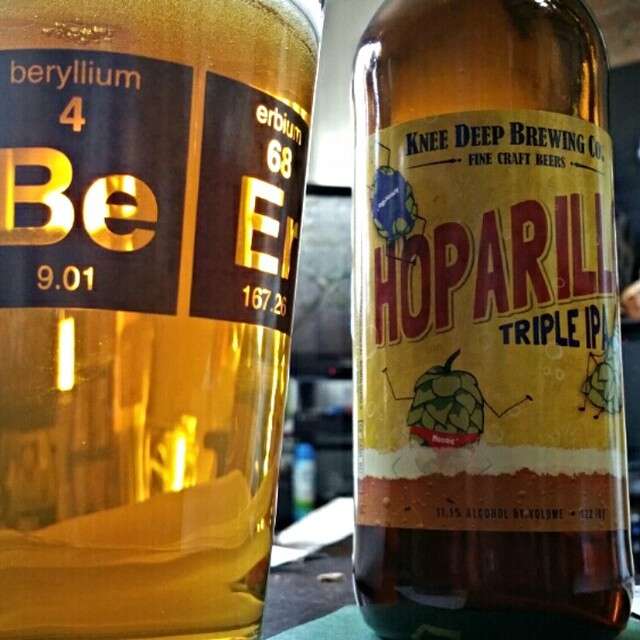 Auburn, CA
Auburn, CA-based Knee Deep Brewing stands out from the pack by brewing IPAs and other hoppy beers exclusively. As you can imagine, it dialed in its hop-bomb recipes pretty well. Tending toward a bolder, more bitter hop profile, the brewery's making crowd-pleasing favorites. Even more unique is that Knee Deep is one the few breweries that bottles a triple IPA, and pumps out a trifecta of them, all worth a taste… if you can find them.
Seattle, WA
After the aforementioned Russian River pulled distribution in Washington, it left beer geeks in the Evergreen State grief-stricken with hop cone-sized holes in their hearts. In the time of need, a champion rose: Seattle's Big Time Brewery stepped up to fill the void with its Whiny the Complainer, a triple IPA with just as much to complain about as the famed original. This beer is tapped just once a year, in February (around the same time of year that Pliny the Younger is released), and is a little different each year. The recently released 2016 Whiny vintage is full of pine notes and a little pineapple flavor from the hops, and finishes big at 11.1% ABV and 100 IBUs.
Cleveland, OH and Portland, OR
This double IPA has won the gold medal at the Great American Beer Festival twice (2013 & 2015), a feat that should earn any beer a place in history. The Cleveland, OH-based Fat Head's has certainly cemented its status as one of the best brewers of IPAs, from the equally acclaimed single IPA Head Hunter to the incredibly unique one-offs that brewer Mike Hunsaker is creating in the new Portland, OR brewpub, which finally transports the West Coast-influenced Midwestern mainstay to hops country. Hop JuJu combines the best of solid '90s hops like Chinook and Cascade with trendy new varieties like Simcoe and Citra for a lush and juicy hop profile of citrus, pine, and tropical fruit clocking in at a deceptively drinkable 9% ABV and 100 IBUs.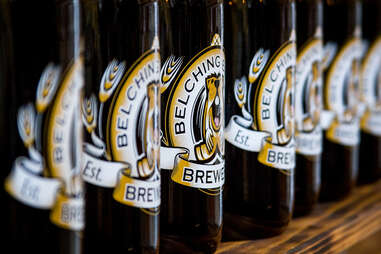 Vista, CA
Despite the kinda gross brewery name, Belching Beaver is quickly making a name for itself brewing beers for beer geeks and beer novices alike, from the Peanut Butter Milk Stout that will leave you questioning what beer is to the current challenger to the extreme hop crown: Pound Town triple IPA. With Pound Town, Belching Beaver is making a run for the current throne of extreme triple IPA greatness, having unseated two-time champ Melvin at the 2014 Alpha King Challenge. The 10.3% ABV, 100-IBU hops showcase includes a massive 5.5lb per barrel, and is loaded with all the new kids on the block like Mosaic, Citra, Amarillo, Nelson, and Simcoe. It's a beer you wouldn't forget, even if it didn't have a kinky name.
Sign up here for our daily Thrillist email, and get your fix of the best in food/drink/fun.
Ezra Johnson-Greenough founded the New School Beer blog, and is the man behind Portland Beer Week, the Portland Fruit Beer Festival, and the Portland Farmhouse & Wild Ale Fest.