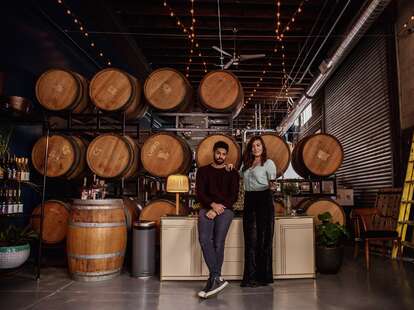 Courtesy of Mural City Cellars
Courtesy of Mural City Cellars
While some of the world's best wines come from picturesque vineyards in rural Italy and France, planning a trip to a far-flung wine country isn't always easy. Maybe you can't take time off work. Perhaps the airfare is too expensive, or it's a bit too ambitious to try to go to Burgundy for the weekend.
Fortunately, accessing wonderful wine closer to home has become a lot simpler. Urban wineries continue to open in cities across the country. Often set up in converted garages, warehouses, or production facilities, these operations are located in the heart of their cities. They may have a tasting room but no vineyards, sourcing grapes from growers in wine regions around the country. Best of all, many urban wineries produce not only some exciting wines, but also offer fun, interactive tasting experiences.
These are nine of the best urban wineries in America.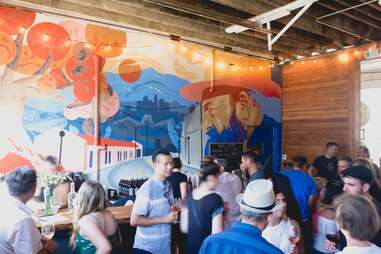 Los Angeles, California
Wine made from grapes sourced in Los Angeles County? You better believe it. California winemaking began in the early 1800s in Los Angeles, not in Northern California's Napa or Sonoma. This Downtown L.A. operation sits in the same area where those first California winemakers planted their vineyards.
Today, owners Jasper Dickson and Amy Lustig Viste work only with family-owned vineyards that practice organic or sustainable farming to make 100% vegan and natural wines, yielding about 1,500 cases each year. Varieties include California favorites like Zinfandel and Syrah as well as less widely planted grapes like Tannat, Graciano, Treixadura, Alicante Bouschet, Verdejo. Bottles and glasses of rosé, skin-contact white wines, chillable reds, and more are available to drink in their 1925 tasting room made from bricks from L.A.'s first City Hall. It's about a 15-minute walk from the Chinatown Metro station, a.k.a. the Gold Line, for which they named a skin-contact white wine. Pastoral wine country this is not, which makes it that much cooler.
Austin, Texas
Since 2014, Austin Winery founders Ross Mclauchlan and Cooper Anderson have partnered with farmers who use sustainable and regenerative practices at vineyards throughout Texas to create their wines. Wines served in their laid-back tasting room in South Austin's The Yard include a low-alcohol, canned piquette made from Picpol and Grenache as well as a citrusy Roussane fermented in a cement wine egg. Red wines include an oak-aged Malbec that's refermented with pressed Alicante Bouschet and Tempranillo skins, as well as a bright, juicy rosé made from Aglianico and Albariño.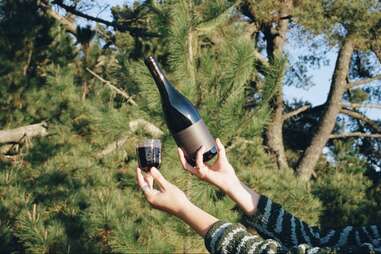 Berkeley, California
Set in Berkeley's industrial Gilman Corridor, blocks from the San Francisco Bay and nearby Donkey & Goat, another popular urban winery, Broc sources fruit from small, organically farmed California vineyards. The team picks grapes that were harvested early to highlight their acidity, and focuses on low-intervention winemaking.
Broc makes wines that owner Chris Brockaway himself likes to drink—lighter, fresher, and with lower alcohol. Those preferences show across his wines, including his flagship unfiltered Vine Starr Zinfandel; a native yeast-fermented Lagrein rosé; the slightly cloudy white blend comprised of five grapes including Marsanne, Grenache Blanc, and Picpoul; or a whole cluster-fermented Cabernet Franc that's aged for nine months in cement tanks.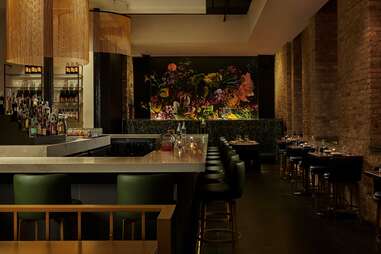 Chicago, Illinois
Opened in fall 2022, Chicago Winery is the newest project from First Batch Hospitality, the folks behind the Brooklyn Winery, which has been pouring in New York City since 2010.
Located in the heart of bustling River North, blocks from the Chicago River and the Loop, the complex includes a restaurant, Liva, plus a tasting bar, four-season rooftop, and glass-enclosed, 2,000-square-foot winemaking facility and barrel room. The wines are produced onsite but grapes come from around America, so you might get a Pinot Noir made from Sonoma grapes or a Riesling that hails from New York's Finger Lakes region. The team aims to produce 3,500 cases in the first year, from such varieties as Chardonnay, Malbec, Tempranillo, Cabernet Sauvignon, Sauvignon Blanc, and Mourvédre.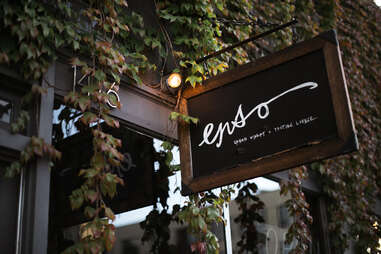 Portland, Oregon
In a place rich with urban wineries—Hip Chicks Do Wine, Teutonic Wine Company, and Division Wine Making Company are among the 30 within city limits—Enso presents like more of a cool wine bar than production facility. It just happens to make its own wine and serves those alongside other well-curated selections from around the world, as well as local beers and ciders.
Unlike many other urban wineries, you can only taste Enso's wines on site at its facility in a converted garage in Portland's Buckman neighborhood. Opened in 2011, the winery uses grapes sourced up and down the West Coast. You can get wines by the glass or bottle, plus flights featuring a Mourvédre rosé, a white blend of Pinot Gris, Muller-Thurgau and Gewurztraminer, a red blend with Petite Sirah and Malbec, or a full-bodied Cabernet Sauvignon. The wines change often, so there's often something new to experience each visit.
Brooklyn, New York
Alice Jun started homebrewing makgeolli, an unfiltered Korean rice wine, just as her father did while she was growing up. When it got too much for her New York apartment, she and business partner, John Limb, opened Hana in Brooklyn's Greenpoint neighborhood in 2020.
While some compare makgeolli to beer, Jun aligns it more with wine. Hana's offerings are made from organic rice, water, and a Korean fermentation starter called nuruk, and can ferment anywhere from 28-70 days, resulting in a range of flavors and levels of alcohol. The signature, Takju 16, clocks in at 16% ABV and is a cloudy, medium-bodied dry pour with melon and green apple notes. The clarified Yakju 14 goes through a five-stage brewing process before fermenting for at least 60 days, resulting in a light, dry-bodied wine with melon, citrus, and grain flavors. Hana ships nationwide, but the minimalist Brooklyn tasting room offers makgeolli by the glass, carafe, or mixed into cocktails alongside a variety of anju, or small plates meant to be had with alcohol, like pajeon (scallion and garlic chive pancake) or garibijang (soy-cured scallop crudo).
Denver, Colorado
One of the first U.S. wineries—urban or otherwise—to put wine in a can, Infinite Monkey Theorem (IMT) helped change the way Americans drink. Opened in 2008, and now located in Denver's RiNo Arts District, IMT now offers bottles and cans at its taproom and in restaurants and retailers in 18 states.
IMT sources its grapes primarily from Colorado vineyards, but recently branched out to include California, Oregon, and Washington fruit due to wildfires. You can visit the winery to partake in a range of activities—calligraphy classes, puppy yoga, meditation—while drinking a host of wines, including citrusy, floral Sauvignon Blanc, crisp Riesling, and elegant Cabernet Franc.
Philadelphia, Pennsylvania
In early 2021, partners Nicholas Ducos and Francesca Galarus launched this operation in a 1,200-square-foot garage in Philadelphia's Kensington neighborhood. Inspired by local farmers and artists, Mural City Cellars source its grapes from small growers within 300 miles of the city. Its range includes a lightly effervescent Riesling pét-nat, a skin-contact Vidal Blanc, barrel-fermented Chardonnay, and single-vineyard Merlot. Bottles feature labels designed by Philadelphia artists.
There are two types of clubs: community-supported winery members receive two bottles each month; while those in the cellar club get two monthly bottles of exclusive, limited-release wines. Otherwise, most of the wines are available to purchase online, in the lively tasting room, and in Mural City Cellars, a community-focused wine garden in the Fishtown neighborhood that features a refurbished 1948 PCC trolley car.
Brooklyn, New York
After working in the music industry and developing a passion for wine during stints in Napa Valley, Brooklyn native Mark Snyder moved home to open this waterfront urban winery in 2008. He and managing winemaker Christopher Nicolson tapped wine legends Robert Foley and Abe Schoener as consulting partners. Their broad lineup includes blends as well as varietal Cabernet Franc, Chardonnay, Merlot, Riesling, Petit Verdot, Syrah, and Sauvignon Blanc. While Red Hook doesn't have a flagship wine, each winemaker produces a reserve wine most vintages to reflect their style. "Our winery, by definition, seeks to connect people in New York to the agriculture of New York," Snyder says. It shows in each bottle.
Want more Thrillist? Follow us on Instagram, Twitter, Pinterest, YouTube, TikTok, and Snapchat.
Ari Bendersky is a Chicago-based lifestyle journalist who has contributed to
The New York Times
,
The Wall Street Journal Magazine
,
Men's Journal
,
Rolling Stone
, and many more. He is also the co-host of the
Overserved
podcast, featuring long-form conversations with food and beverage personalities. Follow him on
Twitter
and
Instagram
.