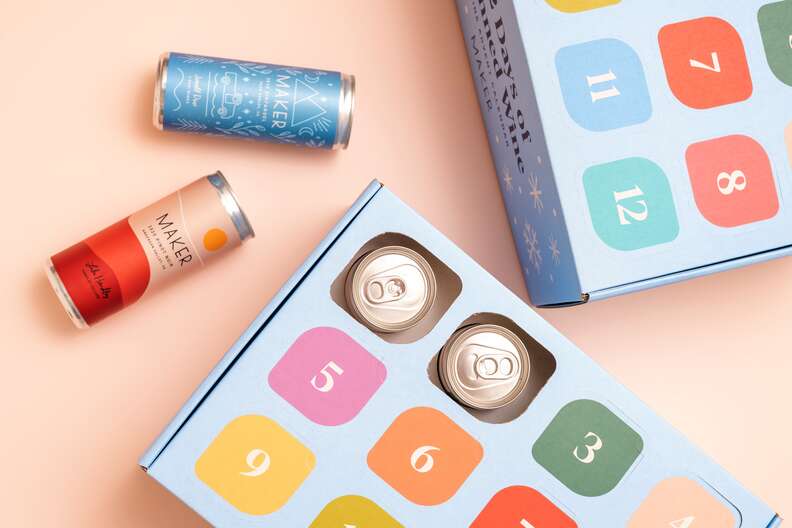 Photo by Clara Jones
Photo by Clara Jones
If there is any evidence that we're all adults hoping to recapture a little of the magic of childhood, it might be found in advent calendars. You may have gotten them as a kid, and now companies are filling them with booze so that you want to get them as an adult.
There are loads of booze and beer advent calendar options available this year. Some offer a variety of spirits. Others carry a deluge of wines. Others collect hard-to-find drams of spirits from across the globe. Whatever you're looking for, though, be sure to get on it early, because the best calendars tend to sell out quickly.
Here are the best wine and spirits advent calendars that can help you get in the holiday spirit.
Price: $260 ($240 preorder)
What's inside: Flaviar's whiskey advent calendar is one of the most sought-after boxes annually. It usually sells out before it starts shipping. The drams include rare and hard-to-find whiskies from all across the world. It also includes a tasting guide. It doesn't reveal where the whiskies are coming from before you crack open the box. It does, however, promise that it includes Scotch, bourbon, and rye varieties, as well as at least one each from Rieger's Kansas City Whiskey, Keeper's Heart Irish + American Whiskey, and Akashi Blended Malt.
Packaging: The packaging from Flaviar is annually among the best you'll find. The box comes with a well-designed tasting guide, a concrete coaster, and a Glencairn tasting glass.
Price: $129 for 12, $199 for 24
What's inside: Vinebox puts together a collection of wines in thin glass drams. It promises "crisp, bright, and vibrant wines" in its Holi-DAY box, while the 'Twas the Night box contains "bold, silky, and rich selections." Each year, Vinebox's calendar is one of the most stylish options for wine lovers. This year, in addition to its two versions containing 12 wines, it also has one with 24 wines.
Packaging: It's a beautifully designed box with thin glass bottles with screw-on caps. It has an elevated design that makes it a great gift. If you get it for yourself, you won't mind having it out on display.
Price: $140
What's inside: It's not cheap, but it's a step down from the Flaviar calendar. Instead of the rare whiskies Flaviar touts, you'll get good but not rare drams in tiny bottles here. You'll find releases from big distilleries like Jameson and Four Roses.
Packaging: Some of the bottles are plastic, some are glass. All are tucked inside a cardboard box with a faux-wood grain design sporting perforated doors on the top. It doesn't hold a candle to the more impressive design from Flaviar. But it's not out of line with other calendars in this price range or what you get in most beer advent calendars.
Price: $20
What's inside: Total wine offers this package with 12 50ml bottles of spirits, including flavored spirits like Mr. Stacks Butterscotch Schnapps, Large Bay Apple Spiced Rum, and more. It catters to some fun tastes rather than a ones that are focused on lovers of whiskey or other specific spirits.
Packaging: You'll find the spirits in a cardboard box with a festive design. Though, the box is pretty basic. It's not something notable in and of itself.
12 Days of Canned Wine Advent Calendar
Price: $139
What's inside: The 12 Days of Canned Wine Advent Calendar—put together by the female-founded Maker—brings 12 cans of reds, whites, and rosés from "diverse, small-batch" producers. Similar to last-year's batch, you can expect the wine in each can to be equivalent to $20-$50 bottles. Importantly, last year's box had some cans that would repeat. A representative tells Thrillist that all of the cans will be different this year.
Packaging: You're getting a sturdy cardboard box with perforated tops to pluck out your wine. It's similar to the packaging you see in the perennial favorite Give Them Beer box, which itself has expanded into offering spirits-based advent calendars this year.
Price: $300
What's inside: What is billed as the "only" sake advent calendar carries 23 180ml cups of sake, plus a full-size bottle to open on Christmas Eve. the package also contains a handbook written by Namazake Paul to get the background on each sake. It also contains a place to add your own tasting notes. It promises a cup for each day "representing every major style of sake," including Futsu-shu, Honjozo, Junmai, Ginjo, Daiginjo, Namachozo, Yamahai, Kimoto and Nigori.
Packaging: Each cup is glass with painted art on it. So you're getting reusable glasses. The outer package is cardboard with wintry designs.