If you're one of those people who "loves winter," congratulations! We're finally entering that magical time of year when the sun sets an hour and a half after lunch, the wind hurts your face, and most of your budget gets railroaded into parties, presents, and traveling to cater to both.

But it's also the time of year when some truly great beers are released, which seriously helps stymie that whole Scrooge thing. We've picked some of our favorite beers for winter drinking -- not just seasonals, since some beers deserve to be enjoyed all year-round (and since at least one brewer on the list only experiences one season anyway). Deck the halls! Mazel the tov! It's the holidays, and these beers give us every reason to celebrate.
Winter ale, 6.7%
Bend, OR
If you're in an area where Deschutes is available, it's very likely that the release of Jubelale in October is the pot-bellied adult equivalent of waking up on Christmas morning. Fruity, sweet, spicy, hoppy, and deeply satisfying, it's basically what you'd expect from one of Oregon's best breweries.

Red ale, 5.5% (in cans) or 6.5% (in 750ml bottles)
Pottstown and Phoenixville, PA
Even when radio stations begin jamming playlists full of Nat King Cole and decorations start popping up before Halloween, there is something to be said for beers that are able to wear their festiveness on their sleeve as well as this beer can. With packaging that flat out looks like a candy cane, you shouldn't be surprised that this is made with all of the spices you find around the holidays, including clove, allspice, cinnamon, nutmeg, and ginger. The bottled version packs a slightly bigger punch, but it's perfect for sharing, if you're into that kind of thing.

Specialty grain beer, 12%
Kansas City, MO
The first time I tried this beer, I picked up my phone and called -- not texted, called! -- my friend to tell him to get his hands on a bottle right away. But then again, what would you expect from a rye American strong ale aged in Templeton rye barrels? It's rich, incredibly oaky, and full-bodied with bourbon, vanilla, oak, and spicy rye flavors with a long, warm finish. This is a perfect pairing beer for rich, heavy foods if there was one. It also pairs well with It's a Wonderful Life.
Cascadian dark ale, 7.5%
Pacific City, OR
Pelican's an award-winning brewery that allows you to drink its beer while soaking up the sun right on the Pacific Ocean. Which is all good in the summer, before the Oregon coast turns into a rain-filled wind tunnel of misery. Which is to say, you can always trust brewers in such conditions to come up with a solid winter warmer. Bad Santa eschews the normally strong alcohol content of many of its brethren, allowing the mystery spices and malt to do the warming, resulting in a roasty, herbaceous pint that has earned anticipation level.

Porter, 6%
Lahaina, Maui, HI
Subtlety is the name of the game with this beer, so hold off on the preconceived notions. Just because this has coconut in the title does not mean it tastes like sunscreen or dessert; brewers here use natural toasted coconut, not sugary syrups or flavoring, so you're actually left with a perfect balance for the roasted coffee and chocolate flavors. It's all brought together with a silky texture that feels only like winter on a remote tropical island can. Try it alongside roasted chestnuts (which are really a thing!) or bûche de Noël, which is also a thing.

Winter ale, 8.3%
Akron, OH
For anyone looking to really take the plunge on festive beers, Thirsty Dog's winter seasonal is a top option. It falls just short of sweet, with the caramel malts and honey used in the recipe balanced out by cinnamon, ginger, and nutmeg spiciness. This makes it a clear go-to pairing with all those holiday desserts, including cookies and cakes. I give props to brewers who are gutsy enough to use the word "Christmas" or "Holiday" on a label, since no one will touch the bottles from December 26th onward, but this is the type of beer you could sit on and sip months later after the spices begin to die down. Perfect excuse for a Christmas in July party!
Saison, 6%
Greensboro Bend, VT
So, as far as we can tell on the interwebs, this collab between the mysterious Hill Farmstead and Anchorage doesn't actually exist… or at least hasn't since 2013. But we're pretty sure we didn't imagine this incredible saison, aged in oak tanks and with big Brett flavor. Mainly because we're looking at the bottle while we drink it, and it's amazing.

Barleywine, 13%
Paso Robles, CA
You didn't think you were going to make it through this entire list of beers that are perfect for winter drinking without coming across a barleywine, did you? Good! Because this is an top-notch example of a divisive style that most people will only touch when it's snowing sideways outside. Expect oak, dark cherry, vanilla, and tobacco flavors all wound together in one incredibly complex bottle of beer. The public opinion is strongly in favor of this, and it's not hard to see why. It's a nice replacement for your after-dinner bourbon. Or as a complement to it.

Double IPA, 9%
Chicago, IL
We're finally reaching a point in American brewing culture where double IPAs aren't simply an excuse to put out an unbalanced pine-tar bomb, and this is a very good thing. Hearing that Ninja vs. Unicorn is "brewed with over five pounds of hops per barrel" might have you thinking otherwise, but hot damn is this ever an easy drinker. Intense flavors of tangerine, papaya, and tropical fruit come through strongly with a slightly piney, dry finish that makes each sip easier than the first. If you're looking for something to impress your hophead relative when they come over for dinner, this is your beer.
Winter warmer, 5.5%
San Francisco, CA
Every year for the past 41, Anchor has changed the recipe for its Christmas Ale, which has an even more cultish following than Santa himself. Every year, beer fiends -- like snotty kids peeking in their parents' closets to see what's gonna end up underneath the tree -- try to figure it out. Is it juniper? Nuts? Frankincense and myrrh? Who gives a shit? While you're smacking your lips and taking notes, we're chilling under the mistletoe with one of our favorite holiday treats. Also, is that mistletoe we detect in the mix?

Winter ale, 7.2%
Lakewood, NY
At this point, it's basically as if Southern Tier has seemingly developed its seasonal release schedule to integrate weather changes, social calendars, and the right combination of flavors. Maybe this is the right way to do things in an area where the weather changes quickly, because it makes the transition from pumpkin spice-heavy beers into wintery old ales feel like a treat. Like you might expect from an old ale, this beer has comforting malt-driven flavors of caramel, dark fruit, and hazelnut, with a hoppy finish, which is relatively rare for this style. This is always the first beer I open with my dad when I make it home over the winter, paired up with a huge hunk of strong cheese.

Stout, 11.95%
Fort Bragg, CA
It almost feels like we're cheating by including this beer, as it's basically a take off on a widely beloved go-to favorite. But when you take a beer as terrific as Old Rasputin and add even more depth in complexity, with darker notes shrouded in silky whiskey and oak flavors, it must be shared. It's the ultimate warmer-upper beer, and sharing this with someone on a cold night isn't so much a cliche as it is just a perfect excuse to crack it open.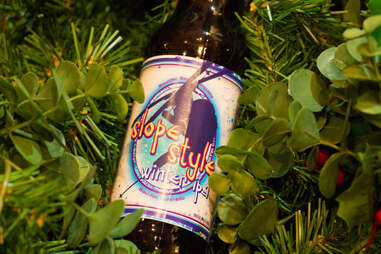 IPA, 6.4%
Boulder, CO
What's the difference between a summer IPA and a winter IPA? Well, the label, for one. But also a nice extra hit of pine on the back of the palate, courtesy of the Colorado stalwarts who know a thing or two about conifers. It gives you a wonderful taste of great beer and pine that you typically only get when you go off the ski slope and into the trees after too much time in the lodge.

Stout, 6.5%
Montreal, QC, Canada
Only a beer that comes from the Great White North could be as comforting in winter as this one. There are many thing Canadians are good at, but devising ways to cope with harsh winters is certainly near the top of that list. Aphrodisiaque -- or Aphrodite depending on where you are, since the government has banned the name Aphrodisiaque over feels that people think it's actually medicinal -- is the quintessential winter comfort beer. That being said, it's so good you probably wouldn't have a problem reaching for this any day of the year. Rich coffee and vanilla swirl with chocolate notes and a dry finish make an incredibly appealing, well-rounded stout that earns every bit of praise it gets. It makes for a great gateway brew for your IPA-obsessed friends who are scared of dark beers, too.

Pale ale, 5.5%
Freeport, ME
There are times in winter when the sun feels a little brighter and warmer than usual, and the wind doesn't hurt your face or numb your fingers. And on days like that, it's best to fantasize that we're not in the middle of a season where the sun sets at 4:30pm every day by drinking a fresh, citrusy beer like this. A Tiny Beautiful Something showcases El Dorado hops in all their piney, orange zest greatness with a rounded, medium body thanks to oats added to the grain bill. It's a superbly balanced beer to get through the chilly months.
Witbier, 6.5%
Anchorage, AK
Why, yes, this is a classic witbier, with a nice spice kick balanced out by a hint of citrus. Except that it's aged in chardonnay barrels and bottle-conditioned, which really makes the Brett go to town. So, yeah… it's not really a lot like other American witbiers.

Kottbusser, 5.3%
Chicago, IL
If you're looking to shake things up from imperial stouts and spiced beers, Off Color's Scurry is a safe bet. It's an obscure German style known as Kottbusser made with honey and molasses, which are present in the nose and on the front of the palate, but with a finish nowhere near as sweet as you might expect it to be. As the brewers say themselves, it's not an altbier, and it's not quite like anything else you've probably tried, which should be enough reason to give this one a test drive.

Double IPA, 8.8%
Portland, OR
For some people, there will never be a season when hop monsters are not appropriate, and winter is no exception. So if you're going to go big, you might as go where the big West Coast flavors prevail: grapefruit, pine needles, and citrus fruits dominate here, both on the nose and the palate. It's incredibly drinkable for an imperial IPA that masks its ABV better than most others. According to author Randy Mosher, this would also go great with some of Santa's chocolate chip cookies.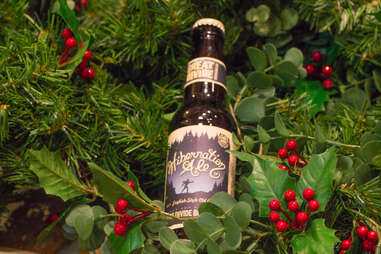 English-style old ale, 8.7%
Denver, CO
There isn't much about old ales that make them hard to drink during the winter, but there's something about the style that has made it hard for many American brewers to pull off well. Hibernation is one of the success stories: true to style, it's malt-driven with toffee, biscuit, some dark dried fruit, and tobacco flavors. This is that heartier beer that makes you feel like you've put on a sweater when you drink it. It's also ageable, if you're somehow unable to finish your stash this winter.

Belgian-style ale, 11%
Hershey, PA
Mad Elf has had a rabid fan base for years in the markets where it's available, and it's not hard to see why: anyone looking for a refreshing departure from a Christmas-themed beer will find plenty to love here. Brewers use a "spicy Belgian" yeast to make this one stand out a little more than your standard winter beer. It glows ruby red from your glass, with flavors of cherries, honey, and biscuity malt notes that round out with subtle spiciness and a warm finish. If you're the patient type, I have friends who swear this beer becomes even better when it sits around until the Fourth of July.

Winter spiced ale, 7.9%
San Francisco, CA
I've used Fireside Chat for years as a way to guide friends into drinking winter seasonals. It's a crowd-pleasing winter warmer made with the usual suspect spices and cocoa nibs brown sugar, with flavors like cinnamon, molasses, and candied plums that veer into just-short-of-sweet territory. This one is a great secret ingredient in cookies or chili... and it's got FDR on the can!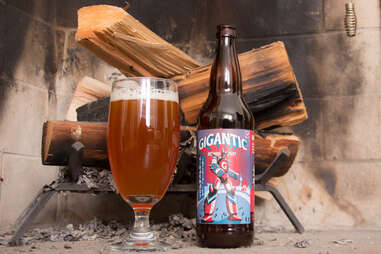 Imperial pumpkin ale, 9%
Eugene, OR
If you see regular, non-pumpkin Sleigh'r, by all means, grab it, because it's delicious. But this year, Ninkasi's R&D (Rare & Delicious) series decided that the regular ol' Sleigh'r could use a bigger brother, and this bad boy's tougher than Scut Farkus. The weird part, though, is how muted the pumpkin is, and how that gourd-y taste commingles with the brown sugar in the mix to create a beer that perfectly transitions you from fall-evoking pumpkin to winter warmer without losing any of the nuances of either.

Saison, 5%
Newcastle, ME
Welcome to the geeky end of the spectrum, folks! Saisons get left high and dry this time of year, and I feel it's my duty to recommend one that will knock your knit wool socks off. It's got a barnyard nose that dives into a beautifully creamy, fruity body with grassy, spicy flavors and that Brett funkiness on the finish for all you freaks out there. Bring this one in for the office secret Santa if you pull the resident beer nerd's name (or just drink it yourself).

Winter warmer, 8%
Clifton Park, NY
He'brew holds a special place in my heart for its tendency towards using punny beer names, but it also happens to be pretty great at making the stuff. It's become known for the single release Hanukkah beers it puts out each year, but even as a repeat release, this brew stands out. Eight malts and eight hops (of course!) are used in the recipe, and the result is date, molasses, chocolate, and cookie flavors with a relatively hoppy finish. Side note: if you can get your hands on one of He'Brew's rare "Chanukah in Kentucky" bottles, do yourself a favor and pick one up!

Wheat ale, 6.7%
Downingtown, PA
Wheat beer fans tend to suffer through the winter months as dark beers dominate the tap lines. But enjoying one during the colder months is by no means a crime, especially when it's this creamy, fragrant, well-balanced brew. It's full-bodied thanks to use of barley, wheat, and oats in the grain bill, and has all of the peppery, banana, clove, and spice notes you should expect from Bavarian yeast. This is the one to reach for as a holiday brunch beer alongside eggs or breakfast sandwiches, and is the best way to spread out the beer style options at your holiday party.

Sign up here for our daily Thrillist email, and get your fix of the best in food/drink/fun.

Zach Mack is Thrillist's contributing beer writer, the owner of Alphabet City Beer Co. in NYC, a newly minted cicerone, and nothing else. Follow him @zmack.

Thrillist senior editor Andy Kryza contributed some of the less-trustworthy recommendations to this list.