Four Winter Wines We're Loving Right Now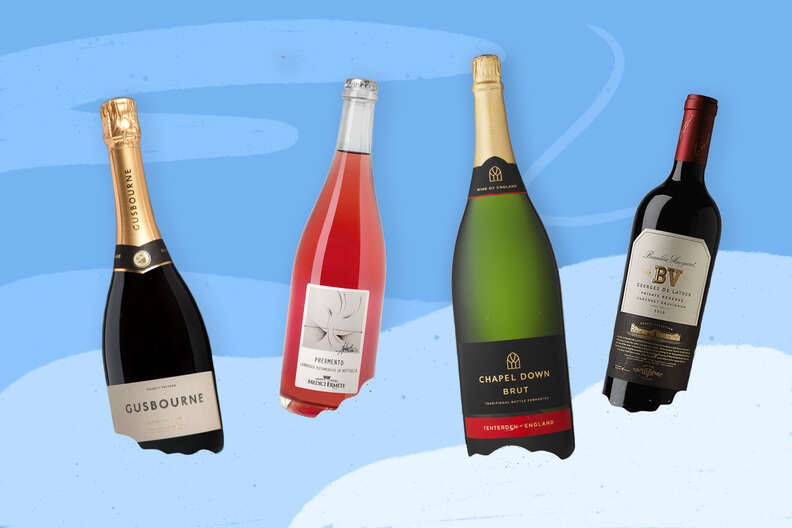 Emily Carpenter/Thrillist
Emily Carpenter/Thrillist
Kwame: Hey, did you see Parasite yet? I know the answer already—no. Your life is all about the couch and Netflix.
Me: Yep, nothing but Food Youtube, my bean club legumes simmer, and wine.
Kwame: What are you sipping on lately? I'm looking for suggestions to surprise my new boyfriend. You read that right. I need a bottle to impress, plus I'm looking to add a new dimension to my sparkling wine game.
Me: Here is the deal. Let me send you a few of my recent favorites at a range of price points.
Kwame: I trust you because you taste nothing but the goodness every month and take notes that appeal to the novice and seasoned vino lover.
Also, I'd like to have the bottles mailed to my apartment in Washington, DC, because I'm traveling like crazy.
Me: Here are my recommendations. You'll see English sparklers like Gusborne and Chapel Down (they both taste like royalty). The American wine is from the Napa Valley region. Lastly, I'm adding a Lambrusco for you to ponder. One of my most memorable pours of the winter has been this funky version, unlike any other I've ever tried. Let me know what you think and call me later.
English Sparkling
Gusbourne
Brut Reserve 2015
The bottle to drink to when you need to channel your inner Meghan Markle: In your face and classic, that's how I'd describe this bottle made in the United Kingdom. When I first encountered my unopened stash of "across the Channel" wine I had a thought bubble of question marks. I have the answers now: Gusbourne is crispy and full of acid. The makers are one of 160 winemakers changing the perception of libations made in the South Downs, claiming a Champagne-like appellation for England.
$57
Chapel Down
Classic Non-Vintage Brut
The conversation starter: My colleague, Adriana Velez, tasted this wine for me. Chapel Down is the largest producer in England and the Brits overwhelmingly make whites and pink wines. Located in Kent, they consider themselves a rival to the South Downs scene. "Ample, delicate bubbles" and a "teensy hint of Korean pear" are the notes on Adriana's notepad tearsheet. Show up with this at your boss's house party and drop wine knowledge. Don't forget to Instagram the gift exchange, though—always flex.
$35
Cabernet Sauvignon
Beaulieu Vineyard
Reserve
Only for the newbie collectors: Gasp! Yes, get ready to spend a grip on this bottle. Maybe you're that aspirational wine lover with an as-yet empty wine fridge--but you're definitely not a wine snob. Or, maybe you have a new boyfriend whose first post-college job is working the front of the house at a James Beard award-winning restaurant. Full of body and intricate notes at the back of your tongue describes this US wine. The initial balance of liquid flavors works well with a hearty garlicky red sauce pasta and a hunk of beef short rib.
$145
Lambrusco
Medici Ermete
Phermento Lambrusco di Modena Secco DOP 2019
For the natural wine lovers: After attending a Medici Ermete-hosted lunch at a SoHo, New York Italian restaurant, everything I believed about dry, red Lambruscos was flipped on its head. Sure, I've had sparkling and "still" versions from Italy's Emilia-Romagna region, but this clear bottle filled with cloudy pink wine made me take lots of notes. Plenty of acid but light, champagne quality. The makers use an "old-school" two-step fermentation to achieve its complex dry and fruity taste.
$29.99
Sign up here for our daily Thrillist email, get Eatmail for more food coverage, and subscribe here for our YouTube channel to get your fix of the best in food/drink/fun.