America's 50 Biggest Craft Breweries of 2015, Revealed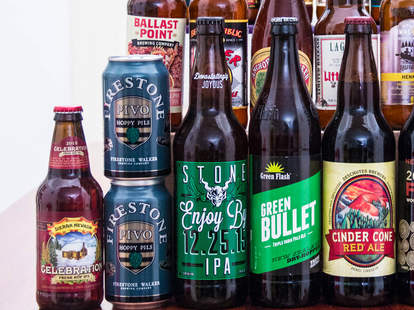 In beer, bigger isn't always better. But big can certainly be really, really tasty. Case in point: today, the Brewers Association released the rankings for America's top 50 favorite craft breweries based on 2015 beer sales volume, with some of the usual favorites, along with a few newcomers crashing the party. Let's get into the newbies, as well as which ones won't be on it next year (and why).
Yuengling is still the best-selling (craft) beer in the country
Yuengling
remains the largest craft brewery in America. It's hard to spell, but easy to drink. (Why isn't that their slogan, by the way?) In 2014, Yuengling was at the top as well, and it didn't give up the crown in 2015. And it's not just the Northeast that's drinking beer from America's oldest craft brewery from Pottsville, PA -- the company brews out of Tampa, FL, as well, so it's the entire Eastern half of the USA that's crazy about Black & Tans.
Along with industry stalwarts like Sierra Nevada (No. 3), Boston Beer (aka Sam Adams, No. 2), New Belgium (No. 4), and Bell's (No. 7), the top 10 also includes Minhas Craft Brewery (No. 9) out of Monroe, WI -- which brews inexpensive Simpler Times Lager and Pilsner for Trader Joe's -- and Shiner-makers Gambrinus (No. 5) out of San Antonio, TX.
Leighton Pope/Thrillist
For some brewers, this will be the last time on the list
A craft brewer owned by a macrobrewer is no longer considered a craft brewery, which is a little confusing when you think about it. But thems the rules, according to the BA! Because Lagunitas (No. 6) was purchased by Heineken, Ballast Point (No. 11) was snapped up by Constellation Brands, and Breckenridge Brewery (No. 47) and Four Peaks (No. 49) were bought by Anheuser-Busch in 2015, all of those breweries are not eligible to be on 2016's list. Consolidation is happening with more frequency in today's craft beer landscape, but if you ask us, it's not something to be concerned about. It's only
business puberty
.
Two new contenders emerged
Chicago's
Revolution Brewing
made it to No. 50 in this year's list, and it brews the popular Anti-Hero IPA -- a beer that Dogfish founder Sam Calagione's says is
his favorite IPA in the country
(other than his own). The only other newbie is Fort Bragg, CA's North Coast Brewing Co., which brews the Old Rasputin Russian Imperial Stout. Weirdly, that's
Calagione's favorite stout
. The man has good taste, obviously. Ditto for Jamie Floyd, the brewmaster of Ninkasi Brewing Co. (No. 36), who named it his favorite stout as well.
Middle America needs to step it up
The Brewer's Association also released a map
that shows where the top 50 breweries in the country are located. It should be no surprise to anyone who loves beer that California, Oregon, and the Northeast dominate things. But outside of Colorado and Boulevard in Kansas City (a brewery that gets lumped in with Duvel, its owner), the middle of the country is void of top breweries. And the South only has two breweries represented: SweetWater (No. 18) and Abita (No. 23).
Is the beer in CA and PA just better than everywhere else? Or is it because most people live in those states and are loyal to local beer? What you believe probably depends on what you think of Yuengling and Sierra Nevada.

The top 50 ranking for 2015
1. D. G. Yuengling and Son, Inc (
Pottsville, PA
)
2. Boston Beer Co (
Boston, MA
)
3. Sierra Nevada Brewing Co (
Chico, CA
)
4. New Belgium Brewing Co (
Fort Collins, CA
)
5. Gambrinus (
San Antonio, TX
)
6. Lagunitas Brewing Co (
Petaluma, CA
)
7. Bell's Brewery, Inc (
Comstock, MI)
8. Deschutes Brewery (
Bend, OR
)
9. Minhas Craft Brewery (
Monroe, WI
)
10. Stone Brewing Co (
Escondido
,
CA
)
11. Ballast Point Brewing & Spirits (
San Diego, CA
)
12. Brooklyn Brewery (
Brooklyn, NY
)
13. Firestone Walker Brewing Co (
Paso Robles, CA)
14. Oskar Blues Brewing Holding Co (
Longmont, CO
)
15. Duvel Moortgat USA (
Kansas City, MO & Cooperstown, NY
)
16. Dogfish Head Craft Brewery (
Milton, DE
)
17. Matt Brewing Co (
Utica, NY
)
18. SweetWater Brewing Co (
Atlanta, GA
)
19. Harpoon Brewery (
Boston, MA
)
20. New Glarus Brewing Co (
New Glarus, WI)
21. Great Lakes Brewing Co (
Cleveland, OH
)
22. Alaskan Brewing Co (
Juneau, AK
)
23. Abita Brewing Co (
Abita Springs, LA
)
24. Anchor Brewing Co (
San Francisco, CA
)
25. Stevens Point Brewery Co (
Stevens Point, WI
)
26. Victory Brewing Co (
Downingtown, PA
)
27. August Schell Brewing Co (
New Ulm, MN
)
28. Long Trail Brewing Co (
Bridgewater Corners, VT
)
29. Summit Brewing Co (
Saint Paul, MN
)
30. Shipyard Brewing Co (
Portland, ME
)
31. Full Sail Brewing Co (
Hood River, OR
)
32. Odell Brewing Co (
Fort Collins, CO
)
33. Southern Tier Brewing Co (
Lakewood, NY
)
34. Rogue Ales Brewery (
Newport, OR
)
35. 21st Amendment Brewery (
Bay Area, CA
)
36. Ninkasi Brewing Co (
Eugene, OR
)
37. Flying Dog Brewery (
Frederick, MD
)
38. Narragansett Brewing Co (
Providence, RI
)
39. Left Hand Brewing Co (
Longmont, CO
)
40. Uinta Brewing Co (
Salt Lake City, UT
)
41. Green Flash Brewing Co (
San Diego, CA
)
42. Allagash Brewing Co (
Portland, ME
)
43. Lost Coast Brewery (
Eureka, CA
)
44. Bear Republic Brewing Co (
Cloverdale, CA
)
45. Troegs Brewing Co (
Hershey, PA
)
46. Karl Strauss Brewing Co (
San Diego, CA
)
47. Breckenridge Brewery (
Littleton, CO
)
48. North Coast Brewing Co (
Fort Bragg, CA
)
49. Four Peaks Brewing Co (
Tempe, AZ
)
50. Revolution Brewing Co (
Chicago, IL
)
Sign up here for our daily Thrillist email, and get your fix of the best in food/drink/fun.
Lee Breslouer is a senior writer for Thrillist, and could go for a No. 18, a No. 4, and a No. 1 right now. Follow him to good beer choices: @LeeBreslouer.