Steven Clouse/Thrillist
Steven Clouse/Thrillist
In a mixed industrial neighborhood in Portland, OR, in the shadow of a "There IS evidence for GOD" billboard and a medical marijuana dispensary (503-384-WEED), sits a tiny pink shack with blue trim. This Barbie-doll shed of a building is home to Hot Bikini Brew, where owner and head barista, Mandy, can be found most weekdays, serving up espresso drinks in little more than lingerie and a smile.
"Want your yoosh?" Mandy asks a goateed man in a Ford F150. (Yoosh = usual.)
"You know it," the man says, dropping a buck and some change into a plastic tip bucket.
The kiosk is snug, thanks to a whirring space heater, and smells of espresso and Mandy's Love Addict body spray. The floors inside are elevated, and there are two fully functioning drive-thru windows, giving customers a clear view of the 29-year-old's tanned physique, sparkling belly chain, and pansy-and-ivy tramp stamp. While Mandy tamps the grounds, a steady stream of dudes casts mostly furtive glances at her flawless, practically bare buttocks. Less-coy customers gape openly, clearly appreciative of her way with the steam wand.
"Cold today," she says to Mr. Yoosh over her shoulder.
"Downright nippley," he replies.
"You have no idea how nasty people can be to clothed baristas. My customers here are really nice."
Bikini barista stands -- like bikini car washes and bikini landscaping services and bikini sushi spots before them -- are indeed a thing, and they're all over the Pacific Northwest, with the greatest concentrations in the Seattle, Portland, Tacoma, Spokane, and metro areas. One site, Bikini-Baristas.com, features locations for 56 separate businesses with a combined 123 locations. That's the low end.
With names like Twin Perks, Peek A-Brew, Sips Ahoy, Java Jigglers, and Hot Chick a Latte, these shacks-with-a-view are vying with Starbucks for their share of the grab-and-go coffee business. Think breastaurant, only with the kind of high-quality espresso people expect in a region known for its beans.
Think breastspresso.
"I've been doing this for three years, and at first it was a little weird, having men stare at me all day," Mandy told me that nippley day in early March, "but I'm used to it now. I don't even notice they're looking."
How could one not look? The day I shadowed her, Mandy wore a black bra, white hip-hugging panties, and purple UGG slippers. As the owner, it's up to her what she wears each day, and all she asks of her employees is that they keep it classy. Victoria's Secret classy. On my first visit to Hot Bikini Brew the week before, one of Mandy's baristas, a 20-something blonde, showed up for her shift in a bikini that exactly matched the kiosk itself -- hot pink with blue piping.
"Look at how devoted I am to my work!" she cooed.
Undress for success
Twenty miles west of Portland in the quiet suburb of Hillsboro, OR, 21-year-old Holly helms the morning shift at Dream Girl Espresso, a Seattle Seahawks-colored kiosk nestled between a gentleman's club and a Mexican restaurant. The dark-haired Portland Community College student -- she's majoring in biology, with plans to pursue micro-marine and oceanographic research -- has served as Dream Girl's manager since January.
"Before I came here, I worked as a barista at a clothed coffee place, and seriously, those customers were so rude," Holly says. "You have no idea how nasty people can be to clothed baristas. My customers here are really nice. And I make a lot more money than I did at the other place."
"People probably think anyone who comes here is a pervert. The view's nice, but I'm here for the coffee."
Bikini baristas show up to work in everything from actual two-piece bathing suits to pasties and thongs, though not all dress codes are the same (the owner of a stand in Yakima, WA said she prefers a PG-13 approach, and considers Dream Girl and Hot Bikini Brew to be R-rated). Costumes are common on major holidays like Halloween and Valentine's Day and, of course, St. Patrick's Day, which gave Portland's Twin Perks Espresso an excuse to plaster its Facebook wall with photos of baristas in four-leaf clover bras and green Mardi Gras beads.
Promotions can be fun -- "Saturday is Pasty Day around here!" Holly said -- but anyone who's ever perused a Victoria's Secret or Frederick's of Hollywood catalog knows lingerie is expensive. For that reason, Dream Girl had to deep-six its "Fantasy Fridays," which required Holly and her fellow baristas to purchase a lot of themed, elaborate outfits.
"It just cost too much," she said.
That hasn't stopped Dream Girl from hamming it up on social media. One Facebook post shows a young woman in nerd-girl glasses and booty-bearing panties balancing a coffee cup above her crack. The caption? "Come see our booty-full Shantel!" The post has 137 likes, one share, and this comment: "Wife and I got coffee there today, Shantel is an absolute sweetheart."
The social media aspect of the industry isn't exactly unlike that of other food & drink presences. The difference is, restaurants tend to post sexy pictures of the special of the day. With bikini coffee stands, the special is the barista and her outfit, and the girls will post selfies of their daily costumes.
For the stands' followers, getting a quick peek can easily get their coffee cravings percolating.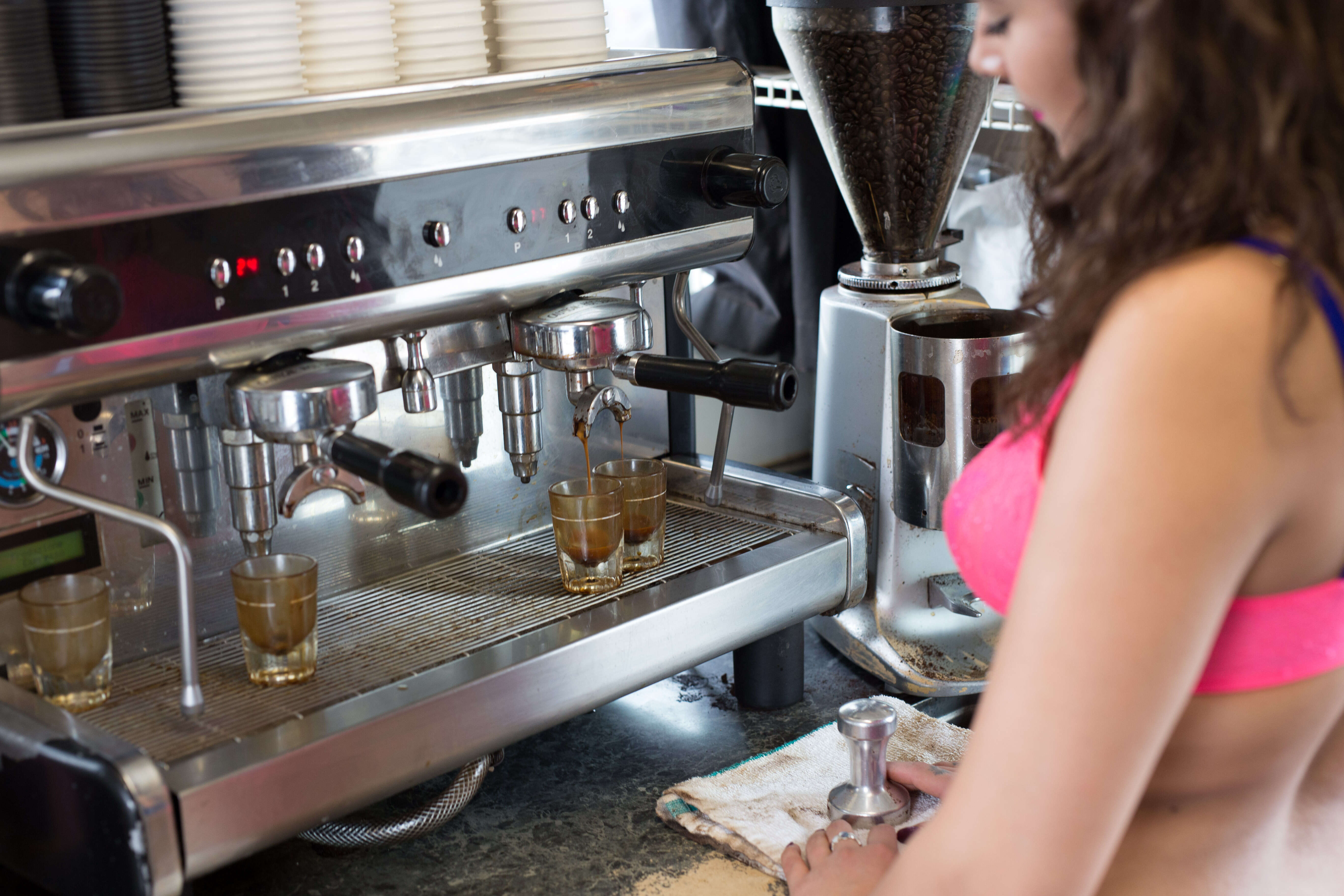 The customer is (almost) always right
For Mandy and Holly, making mochas while wearing next to nothing is no big deal, and their customers -- the vast majority regulars who come through at least once a week -- would agree.
"This is the closest coffee shop to my place," said a man whose Hot Bikini yoosh is a six-shot mocha. "People probably think anyone who comes here is a pervert. The view's nice, but I'm here for the coffee. If a shop without a bikini girl were closer, I'd probably go there."
His attitude is common among those who frequent bikini coffee stands. And those who frequent them come in all shapes and sizes, from commuters who roll up because it's the most convenient caffeine source on their routes to truckers looking to smile at something more than a pretty face. Mandy chats up a coy man with scratches all over his face about how he's adjusting to having a new kitten. Holly talks to a woman in a Prius about feminism. Men, women, even children are counted among the regulars.
"I'd say the ratio is 60% men, 40% women," Mandy said. "And I get couples, too, and families."
"It's not dirty or strange like a lot of people think."
It seems surreal that something as seemingly sexualized is so... normal. Sure, there are the occasional scumbags who whip out their junk, but the biggest surprise is how much these joints function like regular old coffee shops, right down to the rapport. People are weirdly comfortable with a barely clothed woman giving them a hot cup of joe.
"I love my job," Mandy said, making a latte for a man in a "Fuck Yeah" hat. "I get to hear people's stories, learn about the ins and outs of their daily lives. I just do it in half the clothing."
Bonding with customers is Holly's favorite part of the job, too. "I know my customers and they know me. It's fun. The uniform's comfortable. It's not dirty or strange like a lot of people think."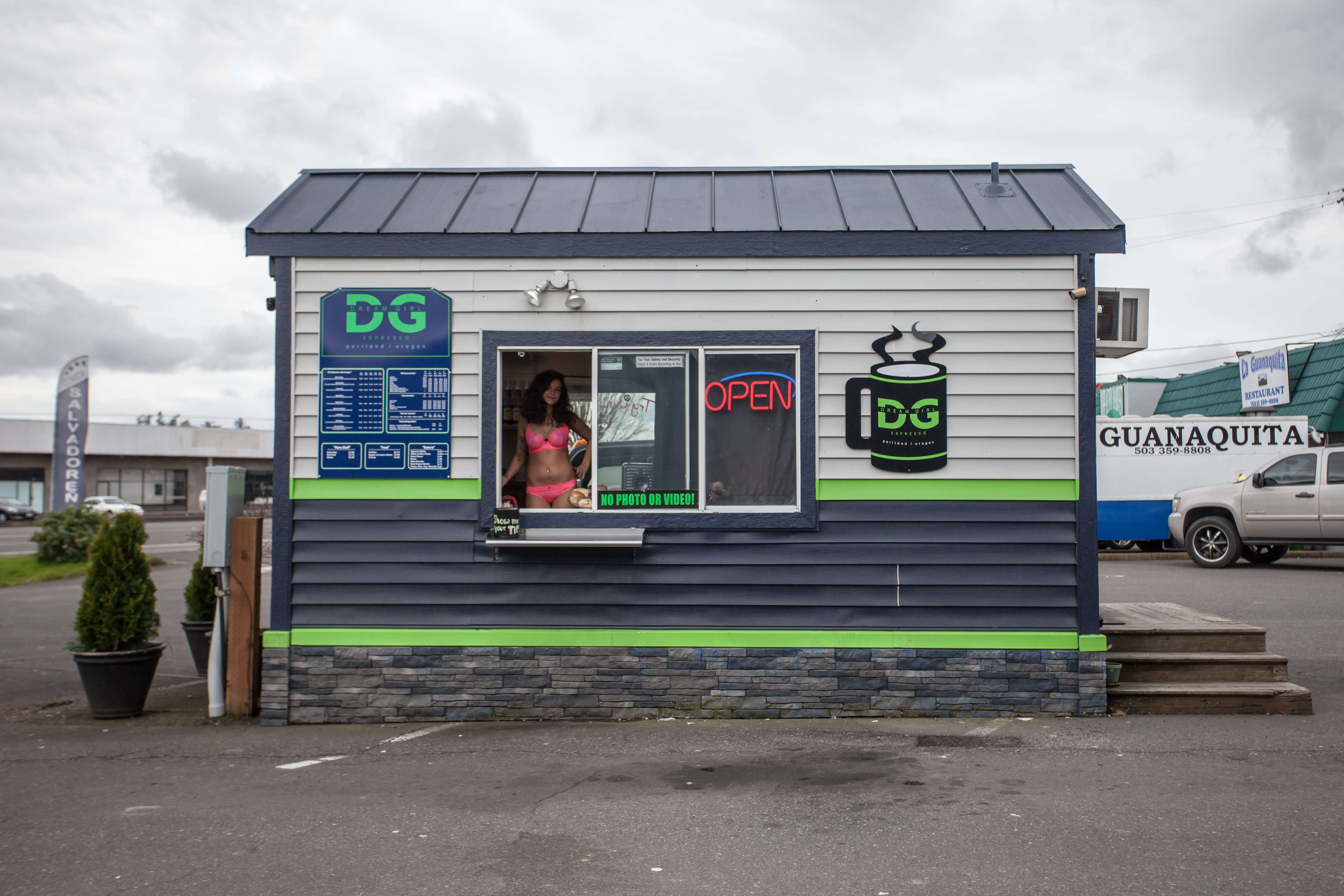 Made in the Northwest... but why?
Bikini barista stands got their start in Seattle in the late '90s and early aughts, and can now be found in a handful of American cities, including, not surprisingly, Las Vegas. But Oregon and Washington are home to the greatest concentration.
The appeal of bikini coffee in the Pacific Northwest is perhaps obvious to anyone who has lived through the region's relentlessly gray, SAD-inducing winters. Also to anyone who has spent some quality time on the area's blustery beaches, where bikinis are about as common as sunshine. Which is to say: not very.
So, is the idea that the caffeine wakes you up from your cloudy coma, while the bikini-clad barista reminds you of warmth, of sun, of better days gone by or yet to come?
"I've had tourists from Southern California come through and I've asked them, 'Why do you think bikini coffee shops aren't as common where you're from?'" Mandy said. "They tell me it's probably because you can see girls in bikinis there every day. Not here, though. It's just too cold."
"Some of my best friends are dancers. I love them. I just don't hire them."
It's probably not a coincidence that these stands are popular in a region where strip clubs are also the norm. Portland is the per-capita strip club capital of the United States, with 54 clubs serving 600,000 people. Seattle's not far behind, and the areas between are dotted with enough clubs to make outsiders blush. In a land where free-expression laws are historically lax, people have long been comfortable in their own skin... and gazing at others'. And with the full monty already the norm, most people barely bat an eye when a girl in a bikini offers them whipped cream.
That is not to say that bikini barista stands and strip clubs are easy bedfellows. Mandy of Hot Bikini Brew flat-out refuses to hire dancers. She has nothing against women who make a living at the pole and is not averse to frequenting strip clubs herself. She just worries that women already employed in the sex industry, even in the relatively innocent sphere of exotic dancing, might be tempted to push the envelope, and she can't afford to take chances.
"Some of my best friends are dancers," she said. "I love them. I just don't hire them."
Holly tells a similar story. Dream Girl has employed ex-strippers in the past, but dancers haven't lasted very long in a job with early mornings -- Holly opens at 4:50am -- and regular schedules.
"[Strippers] tend to be flakey," Holly said. "They want to work when they want and take time off when they don't. You can't count on them."
Scandal in the barista booth
Mandy and Holly might also be a little leery of bringing dancers onto the payroll thanks to a scandal that rocked the small Puget Sound city of Everett, WA in 2013. Former exotic dancer-turned-madam Carmela Panico made roughly $2 million running Twin Peaks and Java Juggs, brothels that masqueraded as bikini barista shops. An Everett police officer acted as a friend and informant to Panico, trading information on police activity in return for sexual favors.
And even before Java Jugg-Gate blew up, there was Bill Wheeler Sr. and his Washington chain of Grab-N-Go bikini coffee stands, where baristas received large tips for performing erotic acts for customers. Those customers included undercover cops, and soon the public -- and the court system -- was party to taped sex shows that included baristas licking whipped cream off each other.
A slightly less juicy controversy doomed Dream Girl Espresso in Forest Grove, a Rockwellian suburb 30 miles west of Portland. Dream Girl FG shuttered its windows for good after a multi-faceted smear campaign that included a Facebook page devoted to the cause, an onslaught of angry emails sent to city officials, and at least two concerned male citizens clandestinely snapping photos to prove that the baristas were not sufficiently covering their naughty bits. (It's a tough job, but some dude's gotta do it.)
The scandalous behavior isn't limited to inside the booths, either. Given that these stands are operated by nearly naked women, sexual harassment is a hazard of the job. Men have been known to drive up, pants down, mid-masturbation, expecting baristas to serve as live figures for their sexual fantasies. That's why most kiosks are equipped with live-streaming cameras, and baristas aren't shy about calling the cops on anyone who makes them feel threatened.
"The bad stories are really rare," Holly said. "I feel totally safe here."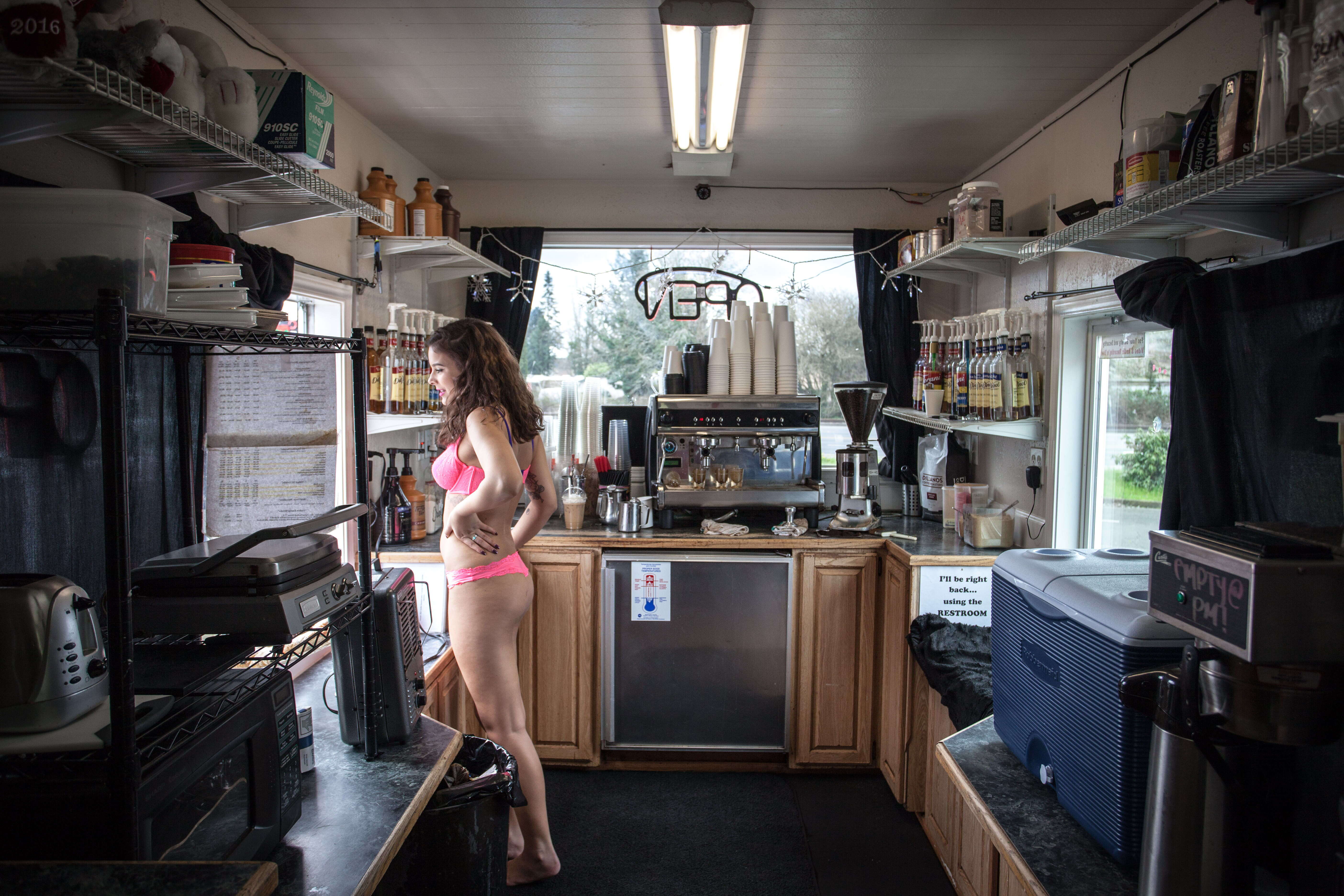 Girl power?
The bulk of bikini baristas -- probably 99.9% -- are women. (A notable exception is the Banana Hammock in Port Orchard, WA, where strapping shirtless men in tighty-whities do the steaming.) Many of the kiosks are owned and run by women as well, making such shops an arguably feminist endeavor.
Ladies doing it for themselves, in other words. And the majority of the shacks do above-board and scandal-free business every day. No prostitution, no money laundering, no dirty cops: just cups and cups of coffee with no G-strings attached.
But what about the fact that these stands offer one more venue for the objectification of women in a world already saturated with such opportunities? The debate about whether putting one's body on display is an act of empowerment or just one more win for the patriarchy will rage as long as Kim K and Bette Midler have Twitter accounts.
"The kids love me. The little girls especially."
But, for their part, folks like Mandy and Holly are united in their feeling that what they're doing is good for them and for their sex in general, because they get paid well to love their bodies and promote, employ, and celebrate other women.
Holly fields questions all the time from people worried she's sending the wrong message to young women. While we talked, a female customer in a Prius drove up and ordered a white chocolate mocha. I asked her why she chose to get her coffee at Dream Girl rather than at a "clothed" coffee kiosk down the street.
"It's a nice halfway point between home and work, and sometimes you just have to treat yourself, you know?" she said. "And I don't see my coming here as weird or anything. No one should be afraid to support a business just because a pretty girl is working there. Solidarity, sister, you know?"
Bikini barista-ing is, at the same time, a young woman's game. Now that she's pushing 30, Mandy is ready to hang up her bikini and work behind the scenes full time. She says she feels like a mama bear to her employees, both of whom are in their early 20s.
"I'm sort of ancient, really, but I do love the work and when I stop being a barista, I'll miss it."
That includes the customers. The men, sure, but also the families.
"The kids love me. The little girls especially. They get so excited. They're like, 'Wow, you are so pretty. I want to be pretty like you when I grow up.'"
Sign up here for our daily Thrillist email, and get your fix of the best in food/drink/fun.
Deborah Kennedy is a writer and editor in Portland, Oregon with a weakness for non-fat, two-pump, extra-shot vanilla lattes. She's had the same Target bikini since 2002. Follow her for all the feels: @fabulousdk.