Bill Murray Is Opening a 'Caddyshack' Bar in Chicago, so 2016 Doesn't Totally Suck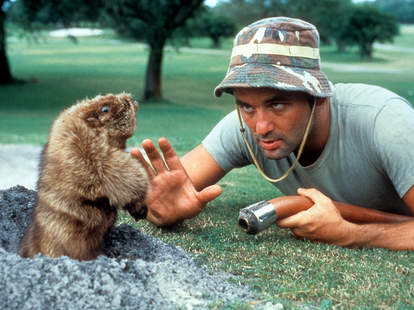 Courtesy of Orion Pictures
Things are looking up for Chicago. The Cubs broke their oppressive 100-plus-year World Series drought/goat-centric curse. The Saved by the Bell pop-up restaurant is sticking around. I'm pretty sure Mike Ditka is still alive -- and now, Bill Murray, the patron saint of all things Chicago, is opening up a Caddyshack-themed bar in the outskirts of the Second City.
According the Daily Herald, Murray and his family have a verbal agreement to lease out 11,000sqft of space in the Crowne Plaza Hotel in Rosemont, Illinois -- just outside of Chicago -- to open up a bar based on the cult-classic golf comedy.
The move isn't totally unprecedented, as Murray and his five brothers already own Murray Bros. Caddyshack in St. Augustine, Florida. This marks the second restaurant venture for the brothers Murray, a group that includes Bill (obviously) and fellow actor Brian Doyle-Murray (who you might remember as the boss from Christmas Vacation with a predilection for Jelly of the Month clubs).
The rest of the details (opening date, architectural plans, etc.) are unknown -- and we don't even have a name yet. But, we went ahead and came up with some suggestions, just to help Bill & Co. out:
Baby Ruth's Poo Switcheroo Saloon
Rat Fart's Bar & Grill
Cinderella Story
The Dali Llama's Deathbed
Be the Ball, Danny
The Duck Stepper Inn
Hey Everybody, We're All Gonna Get Laid!
Sign up here for our daily Thrillist email, and get your fix of the best in food/drink/fun.
Wil Fulton is a staff writer for Thrillist. He actually blames Gwyneth Paltrow for most of the world's problems. Follow him @wilfulton.