These Black-Owned Breweries Give Us Hope for the Future
Represent! Here are 20 Black brewers to know and support.
Emily Carpenter/Thrillist
A year ago I debuted my very own brew, Piano Keys Imperial Stout. It's made with Ugandan vanilla beans and Nicaraguan cocoa nibs with an ABV of 10%. I created it at the invitation of New Belgium when they invited me to be a consultant of their new diversity program. New Belgium not only loved the idea for my stout, they granted me creative control down to the Piano Keys name, concept, branding, and ingredients.
And not only was the collaboration successful, but every turnout for the draft-only releases throughout Atlanta, Asheville, and Fort Collins brought together the most diverse crowds each venue has ever hosted. We followed with a symposium in Atlanta featuring a panel of minority beer influencers and entrepreneurs alongside New Belgium's executives to strategize more progress in the industry.
This collaboration leads into a very important topic. I believe beer brings everyone together to whet the palate, and this New Belgium collaboration truly did that. Now let's talk about getting more Black breweries actually making and selling their own lagers and ales.
Within the past several years, the craft beer industry has flourished. It's produced a plethora of styles and has become a lot more accessible in bars, restaurants, and even airlines. But when it comes to the people who actually own the breweries, who produce the plethora of sours, pilsners, IPAs, stouts and other varietals, we're not seeing the same amount of diversity. African Americans own roughly one percent of the independent breweries throughout the US.
But there is progress. Every year, more Black brewers enter the market. So I reached out to a few Black brewery owners who are working on founding their own sites, to hear how they went from homebrewing to actually selling their beer. I asked them to share their future plans, and give us their thoughts on the industry as a whole. I also talked with burgeoning Black beer festival Fresh Fest co-founder Mike Potter, whose mission is to showcase the ales and lagers brewed by Black breweries for thousands to experience.
Hibiscus and contract brewing: Sankofa
Let's start with Sankofa, located in our nation's capital. Founders Kofi Meroe and Amado Carksy—childhood friends who were raised a good part of their lives in Nigeria, Ghana, and Benin collectively, before settling in Washington DC—became enthralled with ales and lagers during what they termed the "craft beer renaissance of the mid 2000s." From there, they began homebrewing in a small, one-bedroom apartment in Northwest DC, infusing their creations with ingredients from West Africa. Eventually, the duo realized they were on to something. Collaborating with a nanobrewery to produce their first beer, contract brewing—where a brewery with a higher capacity produces and packages another brewing company's product—became their way into the business.
"Our Hibiscus Pale Ale recipe caught the attention of a brewery in DC [Public Option] who allowed us to brew it on their system," Meroe says. "We celebrated the occasion with a launch party and that was pretty much the start of Sankofa. We felt not only did we have good recipes, but we were bringing a diverse perspective on craft beer culture that we found resonates with a lot of people from all backgrounds."
From there, Sankofa used contract brewing and crowdfunding to make their beer company official, but not without much contemplation.
"We settled on a contract brewing model to further explore the potential success of the Sankofa Beer brand," Meroe says. "Funding was also a big part of our decision, but we were able to run a successful Kickstarter campaign that really set the foundation for everything we've done over the last year and a half." Meroe and Carsky are leaning towards opening a taproom and future collaborations to further develop the Sankofa brand.
Building brand awareness in ATL: Khonso and Down Home Brewing
In Atlanta, two Black-owned breweries are gaining a lot of momentum. Kevin Downing, Corby Hannah, and William Teasley started Khonso Brewing in 2018. They currently contract brew and their kegs are distributed throughout the city; packaging for retail is in the planning stage.
Now in its third year, Down Home Brewing is still on the grind. Co-founder Chris Reeves reflects on it.
"Getting our foot in the door and people not understanding what the brand represented was the biggest challenge," Reeves says. "Now, we are dealing with building more brand awareness and getting our story out. In my opinion, you may be passionate about something and want to be successful, but it's a lot harder if you don't see much representation that looks like you."
Regardless of an adversities, Down Home is progressing with not only three canned varieties on the shelves—Georgia Hooch IPA, Down Right Hazy IPA, and their most popular, the T-Pom Pomegranate Wheat Ale—they're also actively looking throughout Georgia's capital for a location to set up shop.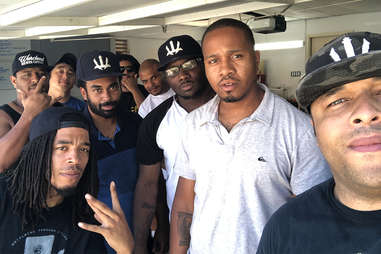 Don't ask for diversity, just own it: Warcloud
One emerging brewing company, Los Angeles-based Warcloud Brewing, is not only making an eclectic variety of inventive beers, but travels down an unbeaten path with captivating merchandise and branding honoring Black, Native American, and other war heroes of color. Their take on "diversity" is also extraordinary.
Warcloud co-founder and head brewer Justin Collins says, "Don't ask for diversity anymore, just own your brewery, your own your brand, and own your product. This goes for all creeds and people of color, gender, religion… whatever you want to call yourself in 2020. Black-owned breweries will have its resurgence once that type of mindset and enlightenment on its brewing history is realized. The hard work must be put in with proper education at the forefront."
Creating a blueprint for more
Some of that heavy lifting is being lightened by diversity-driven nonprofits such as Brewing Change Collaborative, which does advocacy, outreach, and education. Established beer companies are helping, too, by providing more talented minority brewers opportunities to take up the reins of their own brewhouses. New Belgium created the role of Diversity and Inclusion Specialist, currently filled by Colorado State University Business College doctoral candidate and lecturer Patrice M. Palmer. And Randolph College professor of communications and beer studies scholar Dr. J. Nikol Jackson-Beckham serves as an ambassador for the Brewers Association.
African-American beer experts, journalists, and other influencers are conceptualizing new beers in collaboration with (predominantly white-owned) breweries. And renowned rappers including the Nappy Roots, Tech N9ne, Del The Funky Homosapien, Run The Jewels, and Petey Pablo have partnered with brewing companies to launch special releases.
Mike Potter, the founder of Fresh Fest (now in its third year) has successfully created a blueprint to give new brewers a nationally revered platform to showcase their inventive libations. The festival includes workshops, a symposium, and podcasts. He shares a promising outlook regarding a more inclusive beer culture.
"The future is very bright for Black-owned breweries and the craft beer industry as a whole," Potter says. "So many people are making major moves to contribute to this movement for equity and the impact is measurable. Success stories of established breweries like Harlem Brew, Weathered Souls, Black Frog, Metier Brewery and Cajun Fire are serving as inspiration for those looking to make a business out of brewing beer."
He continues, "The drinking part of any festival is fun, but there is also the opportunity to learn more about the industry, the people making significant contributions, and the overall elements shaping it. With about 5,000 people anticipated to attend this year, the festival will be a four-block radius which will allow us to use different venues, add more vendors, host more programs, invite more musicians, and expand the overall footprint to deliver a more significant impact."
Cheers to that.
Black-owned breweries you should check out
Mid-Atlantic
Harlem BlueNew York, NY
Harlem Brewing Co. New York, NY
Mack Brewing Philadelphia, PA
Patuxent Waldorf, MD
Rhythm Brewing New Haven, CT
Sankofa Washington, DC
Soul MegaWashington, DC
Union Craft Baltimore, MD
Shout out to Brooklyn Brewery Brooklyn, NY, which is not black-owned but is helmed by trailblazing brewmaster Garrett Oliver
South
Cajun Fire New Orleans, LA
Dirtbag Ales Hope Mills, NC
Down Home Brewing Atlanta, GA
Green Bench St. Petersburg, FL
Khonso Brewing Atlanta, GA
Spaceway Rocky Mount, NC
Weathered Souls San Antonio, TX
Sign up here for our daily Thrillist email and subscribe here for our YouTube channel to get your fix of the best in food/drink/fun.