See how much your state drinks, how hungover it is, and more with these maps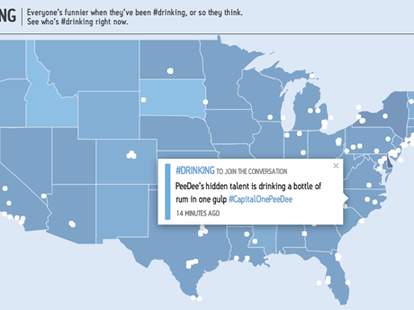 The Blowfish that's not associated with Hootie is an over-the-counter hangover remedy (that at least one of our editors is legitimately addicted to). So naturally they want people to get, like, mad hungover
They apparently also want to pit the 50 US states against each other in a hangover deathmatch, and so compiled tons of cool stats on drinking in America, which they distilled into a slick set of interactive drinking maps that let you know exactly how your homestate parties
Click on the first tab on the Intoxication Nation page (shown above) and you'll see a bunch of tweets from people who are #drinking. That map's actually pretty sparse at the moment for some reason, but hey, at least we know what PeeDee's up to.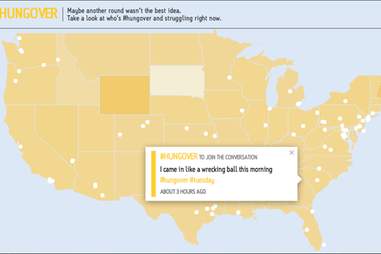 Same deal with the second tab, which monitors boozers who are #hungover. Not a ton of stuff yet, but give it a weekend and this atlas will likely be poppin'.
Things get really interesting in the "Drinks by State" section, which breaks down each state's favorite beer, cocktail, and shot along with a boozy fun fact and overall drinking and hangover ranks. Some stuff learned? Vikings fans are wusses at tailgates and the people of Connecticut are big old bar sluts.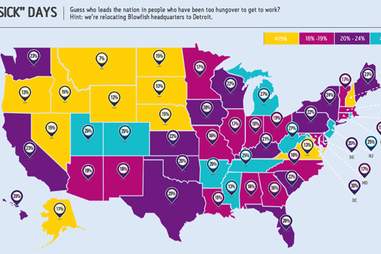 Find out just how much your neighbors are faking the flu so they can recalibrate their livers with the "Sick Days" tab. And then never take an executive position in Michigan, because your employees are all liars.
And we saved the most depressing for last. Behold your states' preferred beers. Once you've recovered from your deep shame, head over to Intoxication Nation to click around and learn some essential intel.