This Kwanzaa-Inspired Bourbon Cocktail Celebrates the Fruits of the Harvest
Toast to Black history with this festive drink.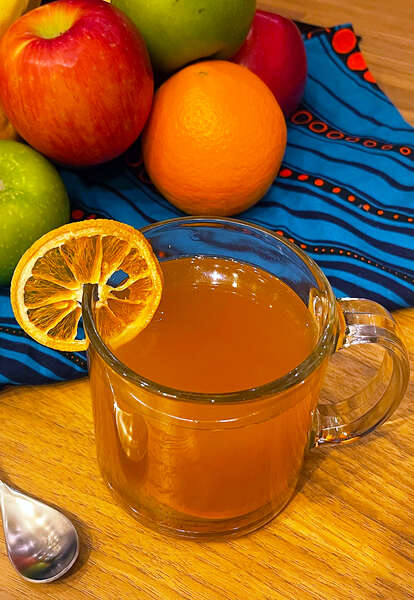 Do It For The Cocktail Culture is a brand that shares Black history through cocktails. We have united with Thrillist and world-traveling cocktail enthusiast Ashlee Tuck to celebrate the meaning behind some key elements of Kwanzaa with the flavorful and festive First Fruits cocktail.
Kwanzaa is a week-long celebration spotlighting the best aspects of humanity through a culturally rich Pan-African lens. Founded in 1966 by Dr. Maulana Karenga, Kwanzaa was the professor's reaction to the infamous 1965 Watts Race Riots in the predominantly Black Los Angeles neighborhood. Born out of the ashes of the burnt-down district, Kwanzaa arose as a way for the global Black community to unify through its common roots. The holiday captures the spirit of "mambo yote mazuri," or "all things beautiful," by invoking goodwill towards oneself, humanity, and the environment.
This Harvest Festival includes colorful elements rich in symbolism like the kinara: a seven-branched candelabra that holds a mix of red, black, and green candles, which pays homage to the "Black Liberation" flag created in 1920 by the groundbreaking leader of the Black Nationalist Movement Marcus Garvey. Lighting the kinara recreates the sun's light, honoring the life-giving source to the earth. The warmth of our spiced hot toddy reflects this candle lighting ceremony held each night of the seven-day festival.
Kwanzaa is a time for joyful gathering with friends, family, and community. On the Kwanzaa table, you will find an abundance of vegetables, fruits, and nuts known as mazao (or "the crops") to signify the fruits of collective work and planning. Kwanzaa was formed by Karenga in order to cherry-pick the "best of African thought and practice" from various ancient and living traditions and named the holiday after a Swahili phrase meaning "first fruits of the harvest." Most essential is an ear of corn. Two ears set the table to emphasize the importance of nurturing the children in the family and those within the community.
"The warmth of our spiced hot toddy reflects this candle lighting ceremony held each night of the seven-day festival."
Our First Fruits cocktail incorporates spiced rooibos tea, orange liqueur, and the almond-based syrup orgeat: all made from crops that flourish on the African continent. (We made this recipe using triple sec, but feel free to experiment with your favorite orange liqueur!) Highlighting the "it takes a village to raise a child" symbolism, we celebrate the concept of selflessly passing down guidance to uplift future generations by using corn-based liquor bourbon in this "cocktale."
Strong moral fiber builds the foundation of Kwanzaa and can be seen throughout its seven principles. One principle called Ujamaa or "cooperative economics" points to building businesses that profit and provide for one's community. In honor of Ujamaa, we recommend using Black-owned brands such as Brough Brothers Bourbon and Just Add Honey's Rooibos Chai when crafting this cocktail.
During Kwanzaa, spirits are raised figuratively and literally. At the Karamu feast on the sixth day, a libation ritual occurs in which water, wine, or juice is poured into a wooden "Unity Cup" that is passed around for each guest to drink from. This ritual promotes unity (Umoja), the first of the seven principles of Kwanzaa.
Poet and activist Dr. Maya Angelou declared that, "while the first principle of Umoja brings us closer and harnesses our strength, the last principle, Imani [Faith], inspires us and sustains our togetherness. Let us have faith in…knowing that we are more than keepers of our brothers and sisters, we are our brothers and sisters."
Let this idea inspire you as you join in the spirit of Kwanzaa, this year from December 26-January 1. Toast the holiday and Black history with the First Fruits cocktail.
The First Fruits Cocktail
Ingredients:
• 1½-2 ounces bourbon or whiskey (we recommend using a Black-owned brand)
• 1 ounces Orgeat
• ½ ounce orange liqueur
• ¾ cup of hot chai rooibos tea (we recommend using a Black-owned brand)
• Orange wheel for garnish
Directions:
1. Fill an 8-12 ounce heat-resistant glass or mug with ¾ cup of hot water.
2. Add 1 chai tea bag to the glass and steep for 5-7 minutes, then squeeze the excess water out of the bag.
3. Add remaining ingredients to glass and stir for 30 seconds
4. Garnish with an orange wheel and enjoy!
LaShana Daniels is a native New Yorker, entrepreneur, and events manager with more than 10 years of hospitality experience. She launched Do It For The Cocktail Culture as a way to explore Black culture through the lens of the liquor industry and to promotes Black stories in celebratory ways
.
Ashlee Tuck is the founder and editor-in-chief of Will Drink For Travel, a website dedicated to all things travel and mixology. She considers herself a cocktail enthusiast with a heart for highlighting Black-owned spirits
.