Each month, you're assaulted with tons of exciting brewery news from across the nation, and honestly, it gets hard to keep up with who's producing which moon rock beer. A Dogfish Head moon-based brewery cannot be far behind

To help, we rounded up the 12 most crucial developments that every beer poindexter needs to know. Catch up on 67.5% ABV beers and the first 'Murican Trappist brewery below.
The Great American Beer Festival went down on the October 10-12 weekend, and even though Triumph the Insult Comic Dog found plenty of beer snobs to poop on, most people were stoked to sample the nation's finest suds. (Some people even waited 20min for their Pliny the Elder.) Over 4000 entries were sloshed around Denver, and 252 medals were dished out by Sunday. Wanna see if your favorite brew won the coveted "Other Strong Beer" category? See the whole list of winners.
Because we are a nation of winners, America is about to become the fourth country EVER to score a Trappist brewery. It's going to be stationed at the Saint Joseph's Abbey in Spencer, Massachusetts and it will be awesome.
Why stop at a 16oz pint when you can have a 32oz "cannon" of Mission Brewery's finest? The San Diego brewmasters supersized their cans with ones that're so big, you basically have your own personal pitcher. Two beers are on shelves now: El Conquistador Pale Ale and Shipwrecked Double IPA, the latter of which might push you off the plank at a 9.25% ABV.
Paying rent is overrated anyways, so instead you should totally spring for Hair of the Dog's barleywine Dave, which will now cost you an even $2000. The stuff's always been pricey thanks to its high ABV -- 29%, son! -- and limited supply, but this year's auction marked the highest asking price ever for the Portland brewers. Set aside an extra thou for next year's batch, just in case.
Simmer down, Deadheads, this stuff doesn't contain weed. But the new Grateful Dead beer from Dogfish Head does contain granola, as suggested by one contest-winning fan. That ingredient beat out 1499 other suggestions, so you know it's good, and it's just one part of the 9% ABV IPA. Get the beer in 750mL bottles (or on tap) in all 27 Dogfish-carrying states.
Those crazy innovators at Dogfish Head also paired up with NYC's La Birreria to bring you Garlic Breadth. The stuff is brewed with dried black garlic -- or, as the mischievous brewers call it, "black crack" -- plus dark malts, making for a porter that'll ward off bloodsuckers AND leave you with the best breath ever for that first date.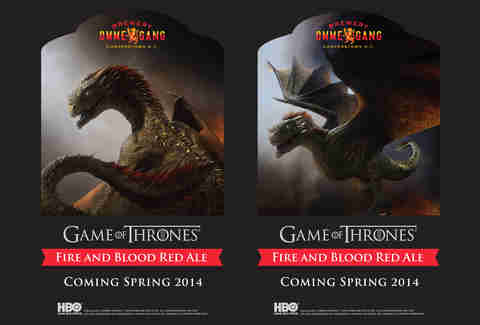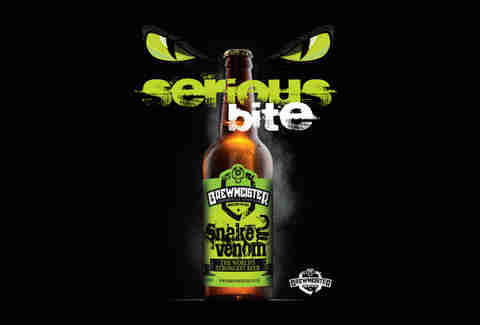 The champ is here! At 67.5% ABV, Snake Venom is unquestionably the world's most potent (and most terrifying) beer. This comes from the Scotsmen at Brewmeister, who also held the previous "strongest beer" title with their 65% Armaggedon brew. But this new offering is better, faster, stronger, AND deadlier.
More pious than a cloistered nun (but significantly more fun -- we've got rhymes!), Clown Shoes' Hammer of the Holy stout contains actual holy water. Yes, real holy water. From the 100% real shopping destination Discount Catholic Products. Not surprisingly, the whole backstory is crazy weird.
Sit down Inigo Montoya, 'cause this totally does mean what you think this means: Elevation has concocted a Princess Bride beer, and this barrel-aged double IPA is not messing around. Like your beers with "wood and vanilla character", plus etchings of irate Sicilians? Then check Inconceivable out.
Budweiser debuted three "ZIP code beers" as part of a crowd-sourced contest called Project 12, which challenged area Bud breweries to produce original beers built around the Budweiser yeast strain. Last year, LA's winning Batch 91406 proved so popular it was re-released as Black Crown. This year's hopefuls include Batch 94534 (Fairfield, CA), Batch 23185 (Williamsburg, VA), and Batch 43229 (Columbus, OH).
After a 20yr absence, Yuengling is looking to move back into Mass. The PA-based brewery abandoned its MA children in '93 after the demand grew too high for its out-of-state operations, but the Yuengling brass has been meeting with retailers and distributors this month to prep for a relaunch. That screaming lager eagle is set to fly into Boston bars next spring.