10 Famous Brewmasters Name Their Favorite IPA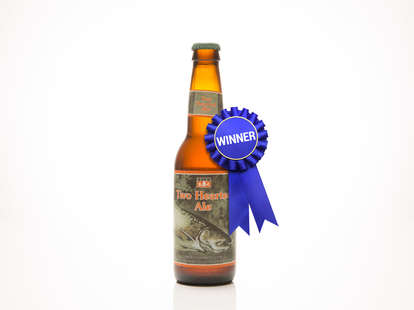 Shutterstock / Drew Swantak & Jennifer Bui
Everyone has a favorite IPA -- except for maybe this guy. But his opinion doesn't matter! All that matters to us is that it's a favorite style of brewmasters across the country. That's why we rounded up a few of our favorite beer makers and asked them which IPA they want to drink more than any other.
To make things interesting, we gave them a few rules for selecting a beer. It couldn't be from their own brewery and it had to be available outside of the town it's brewed in. Because really, it's about giving back to you, friends. So, without further ado, here are their favorite IPAs.
Revolution Brewing Anti-Hero IPA
"Have to mention my friends at Revolution. I have great respect for them, and it's just an awesome, pungently aromatic, fairly strong IPA." - Sam Calagione, Dogfish Head Brewery

AleSmith Brewing Company AleSmith IPA
"An extremely well-balanced IPA -- not just bitter. Plenty of aroma and flavor hops. The high(er) ABV suits it well and adds to the complexity. The Mother of American IPAs."
- Jeppe Jarnit-Bjergsø, Evil Twin Brewing
Firestone Walker Brewing Co. Union Jack IPA
"Like their other hop-driven beers, it's very well-balanced." - Phil Leinhart, Brewery Ommegang

Fat Head's Brewery Head Hunter IPA
"Head Hunter IPA has won multiple GABF medals in the American IPA category. It's one of the first real 'West Coast' IPA recipes brewed East of the Mississippi, and it has a wonderful, intense, citrusy, and tropical fruit hop character, with substantial balanced bitterness. I have a lot of favorite IPAs, but this one is brewed by a very good friend of mine, Matt Cole, and that's also probably part of it." - Mitch Steele, Stone Brewing Co.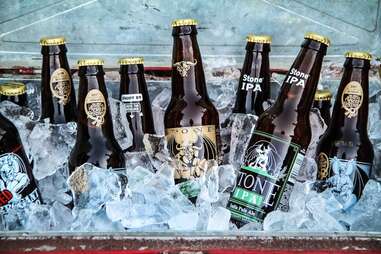 Stone Brewing Co. Stone IPA & Stone Go To IPA
"I have plenty of favorite IPAs! It's almost easier to pick a favorite from each brewery. When I'm on Big Island, I like [Big Island Brewhaus] Overboard IPA, on Maui, there's [Maui Brewing Co.] Big Swell. Nationwide, my go-to would have to be Stone IPA.
I like the balance. I like a hoppier IPA with a moderate to light body. Some Pacific Northwest IPAs can be pretty full-bodied in contrast -- probably has something to do with the weather. This is just personal preference of course, but I drink a lot of IPAs, and in warmer climes as much as possible. In addition, Stone Brewing has a very clear best-by date that is set at three months from bottling, I believe. If I buy a bottle within code, I know I'm getting a fresh beer. Old IPA... er, um, how to say this... sucks big time."
- Ron Jeffries, Jolly Pumpkin Artisan Ales
"Stone Go To IPA has all the great hop-forward character of a modern, West Coast IPA, but with a lower 4.5% ABV so that I can go back for more." - Jesse Houck, Golden Road Brewing

The Brew Kettle Brewery White Rajah IPA
"My favorite IPA is constantly changing, but right now I would have to go with 'White Rajah' -- a beer made by The Brew Kettle in Strongsville, OH. I picked this beer because of its crisp, pleasantly dry body with a kick of fruity and floral hops." - Ethan Osborne, Great Divide Brewing Company
Bell's Brewery Two Hearted Ale
"It's the beer that really got me appreciating hops. It's not too bitter -- it's balanced by just enough malt sweetness, but the hops are definitely showcased in the flavor and aroma."
- Jeremy Kosmicki, Founders Brewing Co.
"This beer pops. It's my favorite because it accentuates a skillful use of hops to give it a nice, soft, floral and citrus hop bouquet." - Tom Kehoe, Yards Brewing Company

Track 7 Brewing Co. Panic IPA
"My go-to favorite IPA is brewed by Track 7 Brewing Co. right here in Sacramento. It's an amazing example of a West Coast IPA. Loaded with citrus and dank aromas, and it finishes super dry." - AJ Tendick, Bike Dog Brewing Co.
Lee Breslouer writes about food and drink for Thrillist, and his favorite IPA is anything wet-hopped. Follow him to hop-scented tweets: @LeeBreslouer.