Brewmasters Pick the One Beer They Crave on a Really Hot Day
GeorgePeters/Collection/Getty Images
If Budweiser can rename its iconic beer "America," we're going to rename the summer "Easy-Drinking Beer Time," because there's nothing like drinking a cold, refreshing beer on a hot day. And few people know that better than America's brewmasters, who recommended to us some of the best beers to drink when you're out mowing the lawn, at the beach, or sitting in an air-conditioned room looking at Instagrams of your friends mowing the lawn or at the beach.
Pilsner, 5.3%
Paso Robles, CA
"The entire staff at Cellarmaker is very into Firestone Walker's Pivo Pils on a hot day. Great hop character, spicy and fruity hop aroma, supremely crisp, and absolutely crushable." -- Connor Casey, Cellarmaker Brewing Co. (San Francisco, CA)
Cream ale, 5.4%
Pacific City, OR
"It's one of those rare beers that you can nerd out on for its subtle balance and nuances, or you can just as easily crush a bottle of it without thinking. In my mind, any beer that can be technically perfect and bring such unadulterated pleasure is basically perfect." -- Ben Edmunds, Breakside Brewery (Portland, OR)
Pale lager, 4.5%
Mexico
"My favorite hot day beer is a cold can of Tecate with a squeeze of lime and a pinch of salt. It's like a DIY gose. It's even better if you dress it up with a bit of Crystal hot sauce." -- Mike Schnebeck, Fort Point Beer Co. (San Francisco, CA)
"Light, crisp, and good with lime and salt (or without), it reminds me of my parents and carne asada BBQs in sunny California." -- Veronica Vega, Deschutes Brewery (Portland, OR)
Gose, 4.2%
Boonville, CA
"Our go-to beer on the sailboat or at Burning Man is Anderson Valley's The Kimmie, The Yink & The Holy Gose. It's low ABV, light, tart, and refreshing. There's even some salt for electrolytic balance to help you stay hydrated. And it's in cans -- not bottles -- for maximum portability." -- John Zirinsky, Old Bus Tavern (San Francisco, CA)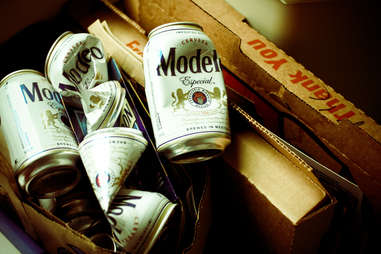 Pale lager, 4.5%
Mexico
"On a​ hot Colorado afternoon there's nothing better than posting up near a mountain stream with a 12 pack of Modelo Especial and a stack of fresh limes! Unlike that other Mexican beer, Modelo has the perfect combination of flavor and refreshment to make me believe I'm back in my beloved Jalisco." -- Riley Finnigan, Avery Brewing Co. (Boulder, CO)
IPA, 8.1%
Kailua, HI
"When the temps start to angle upwards, I look to grabbing a bomber or two of Moku Imperial IPA. Warm climate breweries just know how to make refreshing beers. This IPA is brewed with Pikake botanicals to give a fresh light floral aroma. Perfect for summer!" -- Phil Cutti, Headlands Brewing Co. (Mill Valley, CA)
Golden ale, 4.5%
Fort Collins, CO
"As the weather turns, I get really excited to enjoy the many great session IPAs and other session-strength beers out there. The one I find myself looking forward to enjoying the most is Odell Loose Leaf Session Ale. It is so ridiculously good; enough hop character without being disjointed, and amazing depth of flavor for a 4.5% beer. Odell makes my favorite IPA in the state, so I am not surprised at my love of this beer. It's also available just about everywhere, and the one I like to bring to BBQs or parties when I know there is an opportunity to convert non-craft beer drinkers." -- Scott Witsoe, Wit's End Brewing (Denver, CO)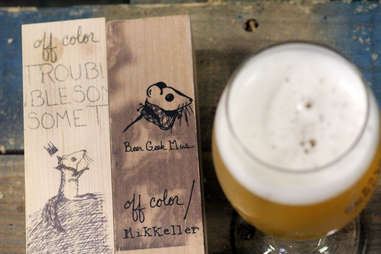 Gose, 4.3%
Chicago, IL
"It's a gose, and its tartness immediately makes your mouth water in that unquenchable-thirst-that's-just-been-quenched sort of way. It also reminds me of the sticky, salty summer air on the coasts." -- Peter Rock Ternes, Middle Brow Beer Co. (Chicago, IL)
Lager, 4.7%
Milwaukee, WI
"​It's a lager with a nice hop character and enough fizz that makes it lovely for downing more than a few. Plus, it's been canned since cans were first a thing, and it's one of the best things Minnesota has given to the world, right up there with Bob Dylan." -- Bernardo Alatorre, Avery Brewing Co. (Boulder, CO)
Belgian pale ale, 4.5%
Brussels, Belgium
"Super dry and mineraly. Hop, malt, and yeast character are all perfectly balanced and congruent. It's a brewer's beer; one of those where if you don't get it, you don't get it." -- John Laffler, Off Color Brewing (Chicago, IL)
IPA, 4.5%
San Diego, CA
"[PONTO is] low in alcohol, but packed with a huge kick of hop flavor and aroma. It's a juicy and tropical-tasting beer that finishes extremely dry. And in a 16oz can, it's the perfect hot day beer." -- Michael V. Sardina, Societe Brewing Co. (San Diego, CA)
Lager, 5.2%
Durango, CO
"First, it's available in a can, and typically on a hot summer day, you can find me enjoying this beer in one Colorado's many bodies of water, which is usually a baby pool in a backyard. The light body, and crisp refreshing finish is money, and I love Saaz hops -- that's the icing on the cake!" -- Ethan Osborne, Great Divide Brewing Co. (Denver, CO)
Pale ale, 6.6%
Boston, MA
"Smoothest, most juicy pale ale I've ever had. A 750ml just slides down. Perfect for quenching your thirst on a hot summer day, like a glass of tropical juice." -- Jeppe Jarnit-Bjergsø, Evil Twin Brewing (Brooklyn, NY)
Sour, 6%
Oudenaarde, Belgium
"This is a no-brainer for me. When I'm looking for pure refreshment on a 'hot' Teton Valley day (usually in the 80s, with no humidity, so does that even count as hot?), I go straight for the sours, and my favorite is Liefmans Kriek-Brut. It's light-bodied, with lively carbonation, tart, and refreshing, with rich, dark-cherry flavors that take me back to the magical summers of childhood, sharing a cherry soda with my best friend after a long bike ride to the swimmin' hole." -- Rob Mullin, Grand Teton Brewing Company (Victor, ID)
Fruit beer, 5.4%
Boulder, CO
"The passionfruit burst and the lively acidity transport you to the Islands even if you're landlocked. I love it in the can with a thick coozie." -- Phil Meeker, Triple Voodoo Brewery (San Francisco, CA)
Wild ale, 6.5%
San Francisco, CA
"On a hot day, I like to wake up my palate with something bright and fruity. Tangerine de Brettaville from Almanac satisfies that thirst while also including the complexity you'd expect from an experimental American craft beer. Oak barrel-aged with tangerines and oranges, and dry-hopped to feed my hop addiction." -- David Szamborksi, Speakeasy Ales & Lagers (San Francisco, CA)
Doppelbock, 6.7%
Aying, Germany
"There's nothing better on a hot summer day than a warm Celebrator Doppelbock! Fear the Goat Collector!"-- Gerrit Lewis, Pipeworks Brewing Co. (Chicago, IL)
Pilsner, 4.5%
Memphis, TN
"Pilsners are often overlooked as just fizzy yellow beer, but Tiny Bomb is light, refreshing, and so full of flavor -- [that's why it's] my go to beer on a hot humid day." -- Kevin Blodger, Union Craft Brewing (Baltimore, MD)
Sign up here for our daily Thrillist email, and get your fix of the best in food/drink/fun.

Lee Breslouer is a senior writer for Thrillist, and has Liliko'i Kepolo in his fridge... for now. Follow him to tropical island beers: @LeeBreslouer.