This Bright Red Gin Is an Ode to the Native Plants of Vietnam
Sip this Sông Cái Distillery spirit like it's a dram of amaro.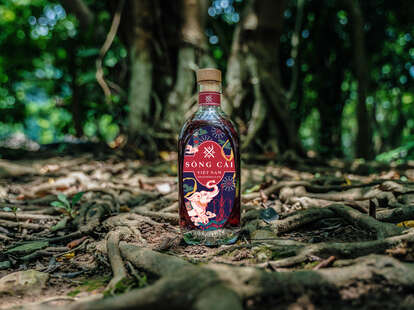 Spiced roselle gin

| Photo courtesy of Sông Cái Distillery
Spiced roselle gin

| Photo courtesy of Sông Cái Distillery
Some people maneuver themselves into the world of spirit-making from positions in the service industry. Or some stock their bar carts by taking inspiration from their favorite celebrity. Others, like Daniel Nguyen, have taken a road much less traveled—or, in this case, a field.
There was a time when Nguyen worked in agroforestry, databasing native crops and seeds in places like Louisiana. "When you work with farmers," explains Nguyen, the founder of Sông Cái Distillery, "a common thread…is that you find that alcohol often tends to be the end result of agriculture when you have enough bounty surplus."
Motivated by his desire to preserve indigenous plants—rather than, say, merely document their demise—Nguyen launched Sông Cái in 2018 in Hanoi, making it Vietnam's first dedicated gin producer.
Located closer to the farmers and ingredients with which Sông Cái's gin is made, results in a spirit that is of Vietnam in so many ways. "We wanted to have a product that was made in Vietnam," says Nguyen. "You can grow like a French rose or Damascus rose in Vietnam and call it a local product—but we're trying to choose native or heirloom varietals and support farmers directly in that way."
This intentionality doesn't stop at the plants. Sông Cái works closely with communities, like the Red Dao in the Central Highlands of Vietnam. It went from sourcing and paying for natural materials "to us investing into a facility that's co-owned by the community or owned entirely by a community."
All this to answer the abstract and ever-open-ended question of what a Vietnamese gin is supposed to be.
It's a query that Nguyen is still parsing out five years into producing spirits, but so far it's birthed three gins: Sông Cái's Dry Gin, Floral Gin, and Spice Roselle. The latter is an amaro-like style—"an homage to a traditional Vietnamese fruit liqueur combined with a little bit of a nod to Vietnamese herbal liqueurs," says Nguyen. The distillery macerates rose myrtle berries and roselle buds for over a year in the gin base. The outcome is a bright red drink perfect for sipping as you would an aperitif. There's spice alongside floral, tropical aromas with a woody and earthy finish.
The vibrant ruby hue is also an auspicious color for Lunar New Year, or Tết as they call it in Vietnam. Family altars offerings also frequently include some form of alcohol for thirsty loved ones who've since passed away. If you don't want to quaff the gin neat, as Nguyen suggests, he also recommends topping it with some ginger ale or beer and finishing with a fresh lime or mint.
"It's really a time to celebrate, bring in good luck for the next year—a part of that inevitably is drinking," says Nguyen.
Rosin Saez is the senior editor of Food & Drink at Thrillist.