Britain and Ireland's Greatest Contributions to Beer
OREN AKS/Thrillist
OREN AKS/Thrillist
The British have given the world many great things, among them the Stones, 007, Dickens, and Monty Python. Oh, and a little country called the US of A. More importantly, the Queen's country has a long history with beer… in fact, the nation can lay claim to some of the most influential contributions to fill a (proper) pint history. When you combine this with the historically huge styles brought to you by the Irish, you have a brewing culture as big as the Beatles and U2 combined.
You don't even have to fumble through learning a whole new language to explore Britain and Ireland's contributions to the beer world (unless you consider a thick Scottish brogue to be a foreign language… which, well, we don't blame you). Following the guidelines of the prestigious Beer Judge Certification Program, we've got the complete lowdown on the most influential British and Irish styles on the market.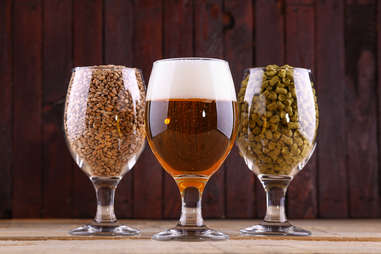 Strong bitter/ESB/English pale ale
Booze factor: Moderately light to moderate (4.6-6.2%)
How's it taste? It's showtime for maltiness here: think biscuits and bread with a hint of a caramel and earthy, floral hops.
What you should know: In the US, many craft brewers have adopted the term "ESB" (or "extra special bitter") to refer to this style, while in England the term's been trademarked by Fuller's, meaning nobody else can use it, even though they're sticking to the style. To confuse things even more, some Americans refer to these as English pale ales. Sometimes, you just need to stop thinking about it and drink one.
What you should eat with it: Standard pub fare like fish & chips goes together with ESB like Drake and Toronto. For a more Americanized pairing, try fried chicken with mac & cheese.
Prime examples: Fuller's ESB, Southern Tier Harvest Ale, Left Hand Sawtooth Nitro, SweetWater Motor Boat
English IPA
Booze factor: Moderate to moderately strong (5-7.5%)
How's it taste? None of the piney flavors of American hops that define American IPAs are here: the flavor profile is quintessentially English, with floral, earthy, and grassy notes working alongside a bready malt base.
What you should know: The (purported) story about the invention of India pale ale has become most beer geeks' go-to trivia to blurt out at bars. Legend claims that in order for pale ales to make the long voyage from England to thirsty British troops in India, brewers pumped their wares full of hops and upped the booze to help prevent skunking during the long voyage. The style wasn't very popular domestically (except with old people and invalids), and it all but died out during WWII. It stayed relatively dead until American craft brewers' interest in the style picked up in the '80s.
What you should eat with it: True to its name, the aromatics in India pale ale play well with Indian curries. They also play nicely with fragrant soups like pho.
Prime examples: Samuel Smith's India Ale, Thornbridge Brewery Jaipur, Harviestoun Bitter & Twisted, McNeill's Dead Horse IPA, Shipyard Monkey Fist IPA
British brown ale
Booze factor: Light to moderate (4.2-5.4%)
How's it taste? Toffee, biscuit, and toasty flavors abound in these malt vehicles, sometimes with a gentle kiss of sweetness and almost no noticeable hoppiness at all.
What you should know: The style of brown ales we drink today is relatively young on the British beer scene. The defining versions were developed in Northern England in the 1920s as a response to the popularity of pale ales, where beers like Newcastle Brown Ale (still considered to be a gold standard of the style) became super popular with coal miners and the thirsty blue-collar crowd. WWII did a number on a lot of the higher-alcohol versions made across the pond, but there has been a resurgence in both the UK and the US in production of the style (even if the American versions are drier and hoppier).
What you should eat with it: Dark malty flavors call for roasted, hearty foods like pernil (roasted pork), London broil, or grilled arctic char.
Prime examples: Newcastle Brown Ale, Samuel Smith's Nut Brown Ale, Sixpoint Brownstone, Ithaca Beer Nut Brown
English porter
Booze factor: Light to moderate (4-5.4%)
How's it taste? These dark beers are known for their upfront flavors of roasted coffee beans, chocolate, and caramel.
What you should know: It's technically legend, but many claim this beer got its name in the 18th century from its popularity with the hardworking porters of London, who delivered goods from market to businesses. Traditionally, it was a blend of three beers behind the bar that were mixed together (known as "three threads") to help mask spoilage and liven up flavors. Thanks to the timeliness of the Industrial Revolution, special processes and machines were developed that streamlined production and removed the need for blending, changing the way modern porters look and taste. Besides this muddled history, defining porters can still even confuse brewers, especially when trying to differentiate them between stouts (which were born out of the porter family). The main difference between the two is the use of roasted, unmalted barley instead of just dark patent malts.
What you should eat with it: Like Guy Fieri, porter will easily handle any amount of BBQ you throw its way. Bacon-wrapped anything also goes well, but greener options are still on the table: grilled veggies, especially zucchini or (notoriously impossible-to-pair) asparagus, taste amazing with porter.
Prime examples: Harviestoun Old Engine Oil, Mayflower Brewing Co. Mayflower Porter, Greenport Harbor Black Duck, Heavy Seas Deep Six, Boulevard Bully! Porter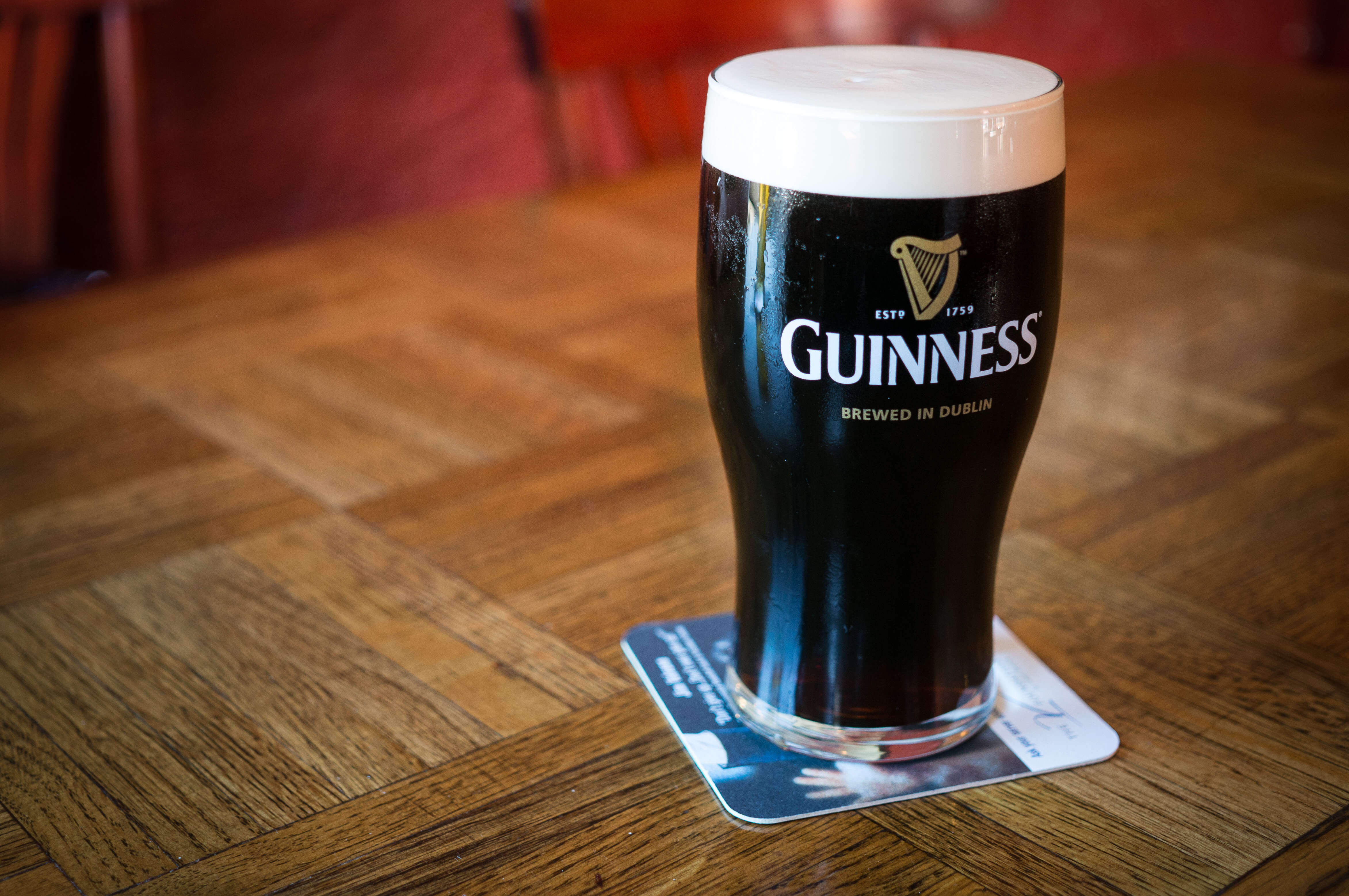 Irish stout
Booze factor: Light to moderately light (4-4.5%)
How's it taste? Stouts are roasty like your morning cup of coffee and dark like a bite of unsweetened chocolate, but with a much lighter body than appearances might suggest and a dry finish.
What you should know: The origin of stouts is as confusing as it gets, but we do know that they were birthed out of the porter craze of the 18th century. There are more than a few branches on the stout family tree, but what makes Irish stouts stand out is that they're often made using roasted, unmalted barley. This gives them a drier finish than other dark beers that use traditional patent malts (aka super-roasted barley) to get their dark color and toasted flavors.
What you should eat with it: Similar to porter, stout goes well with anything grilled or roasted, whether it's lamb or ham. And never forget that they're an incredible chaser for raw oysters, despite everything the Champagne cabal will tell you.
Prime examples: Guinness Draught, Sly Fox O'Reilly's Irish Stout, Harpoon Boston Irish Stout, Brooklyn Dry Irish Stout
Imperial stout/Russian imperial stout
Booze factor: Strong like bull (8-12%)
How's it taste? The flavors here are unmistakably bold: dark, rich, and roasty with notes of coffee and chocolate buoyed by a full-bodied mouthfeel and an alcoholic warmth.
What you should know: Even though this style was invented in Britain as an export-strength porter to ship to Russia (hence the nickname), it's now a huge part of the craft movement in the US. Barrel aging the style has added a new dynamic to the beer (oak being the most common), and its alcoholic strength and dark flavor profile make it a popular option for cellaring.
What you should eat with it: If you have never tried a strong blue cheese (like Stilton or Cashel Blue) alongside a bold imperial stout, you are seriously missing out. Likewise, rich desserts like chocolate lava cake should always be accompanied by beers like these.
Prime examples: North Coast Old Rasputin, Sierra Nevada Narwhal, Oskar Blues Ten Fidy, Thirsty Dog Siberian Night imperial stout, Firestone Walker Parabola
Irish red ale
Booze factor: Light to moderately light (3.8-5%)
How's it taste? Somewhere between a pale ale and less biscuity brown ale, this malt-driven style has a low hop profile and a dry finish (even though some mass-produced commercial examples have a toffee sweetness to them).
What you should know: This style might be the perfect example of a beer who has seen its identity molded by massive beer conglomerate marketing over the past few decades: what was historically a drier, amber-colored ale became a mass-produced lager that tends to be on the sweeter side. Luckily for purists (and for anyone who likes good beer), these days have seen Ireland's impressive craft beer movement revitalizing the style and producing more examples of the easy-drinking, style-appropriate versions.
What you should eat with it: Irish red ales are like a perfectly timed Springsteen song: you'll never go wrong pairing them with good, simple bar food. They're also perfect with turkey subs and fried chicken sandwiches.
Prime examples: Smithwick's Imported Premium Irish Ale, Toppling Goliath Murph's Irish Red, Harpoon Celtic Ale, Saranac Irish Red Ale
"Wee Heavy"/strong Scotch ale
Booze factor: Moderately strong to "That's a big lad!" (6.5-10%)
How's it taste? Like a brooding Scotsman with a deeply personal vendetta, these beers are flavor powerhouses: they're malty AF, with bullying caramel notes that usually dominate any perceived hoppiness, sometimes with notes of dark fruit like plums or raisins. You can expect them to be slightly sweeter and noticeably higher in alcohol.
What you should know: Don't let the name fool you: any overt peat or smokiness in a strong Scotch ale is not technically correct to style. If you want a single malt, we suggest you order a whisky instead.
What you should eat with it: Just like the spirit that bears its name, Scotch ales make for excellent after-dinner drinks, and sip nicely alongside any desserts incorporating caramel or dark fruits.
Prime examples: Founders Dirty Bastard, Arcadia Loch Down Scotch ale, Big Sky Heavy Horse Scotch ale, Great Divide Claymore Scotch ale, Oskar Blues Old Chub
Sign up here for our daily Thrillist email, and get your fix of the best in food/drink/fun.