Whatever, USA: I went to Bud Light's sudsy, magical fake town
It was a drone, a little four-propeller job, and it whirred effortlessly through the piercingly blue Colorado sky with an even-bluer stadium bottle of Bud Light dangling from a tether 6ft below. On the street, a swarthy dude in his late 20s wearing a beach tank and a marching band shako stretched his hand skyward, and somehow -- magic, magnets, good ol' marketing, or maybe a bit of all three -- the drone floated lower until the brew was in his grasp.
That's how I remember it, anyway. I may not be quite accurate. I was at Whatever, USA, and I'd been drinking.
***
Two weeks ago, I was aimlessly staggering through my inbox when I got an email from my editor. Bud Light had invited Thrillist to tag-along on its weekend-long end-of-summer soiree in the Rockies on September 5th-7th. "Whatever, USA." explained my editor, rueful that he wasn't available to go himself. "They've been running commercials about it all summer." Could I cover the proceedings?
My calendar, packed as it was with Netflix marathons and not-exercising in that park by my apartment in Brooklyn, had a glorious opening on those very days. Personal information was exchanged, travel arrangements were made, and barely 10 days later, as I boarded a charter flight from Denver International Airport, a flight attendant in a royal blue polo shirt pressed a chilly can of Bud Light into my palm. (Disclosure: Bud Light paid for travel, food & drink, and accommodations for me and Jesse, another Thrillist employee.)
Our next stop was Gunnison, Colorado, a one-time mining/railroad junction just down the valley from Crested Butte, the usually sleepy ski town that had agreed to host Bud Light's weekend menagerie. By the time we got there, though, the town would be not so much sleepy anymore.
"So it's like... a big party?"
Even by beer industry standards, Whatever, USA promised to be a leviathan. Part contest payoff, part crowd-sourced beer commercial, part music festival, the "whole-town takeover" cost Bud Light a $500,000 "donation" to the municipality (according to The New York Times), which unlocked temporary ordinances, access to public resources, and carte-blanche to transform the alpine burgh into an invite-only, azure-hued adult amusement park.
On top of that, the brand -- AB InBev's flagship -- spent an untold-but-certainly-enormous sum flying out & putting up the 1,000 contestants who uploaded adequately eccentric YouTube video responses to branded prompts.
Don't forget all the traditional TV advertising, either. Since late 2013, the Whatever campaign had been churning out occasionally viral ad spots with a bevvy of not-cheap celebrity talent. Minka Kelly, Don Cheadle, and Reggie Watts all played ball with the brand. Arnold Schwarzenegger, who is, by this point, a living meme amongst the 20-somethings and, therefore, tirelessly courted by beer brands, played actual ping-pong and appeared to be average at it.
By spring 2014, if you'd watched even one episode of Below Deck (it's actually pretty good, guys), you'd probably seen commercials including the Mayor of Whatever, a fictitious haircut/public official played by actor George Basil.
The ads were everywhere, but they didn't reveal much about what Whatever was. The spots were so ambiguous, in fact, that when I got tapped to attend the event, I couldn't really describe to my girlfriend where I was headed. "So it's like... a big party?" she asked quizzically. Sort of. Maybe?

TL;DR: Bud Light such long-term planning much $$ very suspense.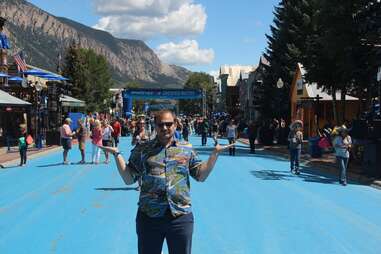 Welcome to Whatever
Fast-forward to last Friday, when we exited fully branded coach buses and set foot on Whatever's sovereign soil. An army of contractors had been hard at work painting the town Bud Light blue both figuratively (art installations, stacks & stacks of sapphire beer cases), and literally: Crested Butte's main drag had been splashed curb-to-curb with a coat of aquamarine acrylic. Ditto the Victorian-era lamp posts that flanked it.
A King Kong sculpture wearing Bud Light bling towered skyward next to a 30ft-tall cowboy boot. Down the road, this Paul Bunyan-sized director's chair loomed over the entrance like a ghoulish bouncer at some Last Picture Show theme party.
Crested Butte -- permanent population: 1,500 -- had been thoroughly Whatevered.
Drinks on the house (no matter which house)
We dropped our bags at the hotel -- located not in the Whatever area, but 10 minutes up the mountain at the ski resort -- strapped on BL-blue weekend wristbands, and got a briefing from our PR contact. "So everything in town is free with the wristband," she explained matter-of-factly. "Walk into any restaurant or bar and you can order anything they're serving."
She nonchalantly showed us an iPhone video of the time she hugged Putin.
When we got to town, coworker Jesse and I discovered that this wasn't much of an exaggeration. The brand had contracted with ~25 local bars & restaurants to throw wide their doors for Whatever "residents", and, this being night one, they were crawling with giddy, free-drinking masses.
We sidled up to the bar at the Wooden Nickel. Discovery No. 2: "anything they're serving" included Bud Light, Bud Light, and... uh, more Bud Light.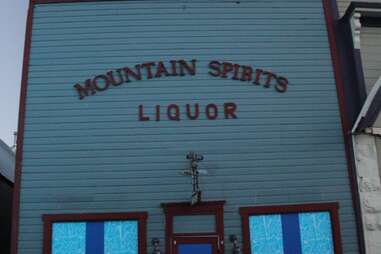 It was a surreal feeling, being surrounded on every side by America's favorite light lager. Bud Light wouldn't release information on the quantity of brew it planned to serve over the weekend, but you do the math: 1,000 winners, another few hundred locals, miscellaneous hangers-on, bar & restaurant employees on break, spillage... there was a lot of free beer in Whatever.
(Seriously, you do the math. I'm terrible at math.)
"Just have my prime rib, dude"
When it came time for dinner on Friday night, we made Discovery No.3: our blue wristbands were different than those issued to the locals. We found this out when we elegantly tumbled into a booth at the Wooden Nickel helmed by three middle-aged couples wearing orange bracelets.
Super-friendly and funny as hell, these Crested Butte residents were about to buy their dinners (like, with money) when Jesse and I sat down. Their passes got them free beer, but no food. Ours, on the other hand, commanded it all... and we had already eaten. The solution was obvious, but the Coloradans were too polite. We insisted. "Just have my prime rib, dude." Friendship: forged.
"Or should I just call you BABEraham Lincoln?"
Over dinner, the talk turned to the town's layout. "This whole area is called the 'Bar-muda Triangle,'" said one of the guys, delineating the not-really-triangular area between the Nickel, Kochevars, and Talk of the Town. "That, or 'the Liver of Crested Butte', although that doesn't really make sense, does it?"
He looked to the woman at the head of the table, a doctor who led the US Olympic Team's medical unit in Sochi. Earlier, she'd nonchalantly showed us an iPhone video of her hugging Putin, as though he wasn't, you know... Putin. She shook her head. "Not really."

Existential bacon
The company was great and the Nickel's prime rib was damn good, but we actually reached Whatever's culinary crescendo the following day at Bacon Appreciation. This hour-long tasting brunch was held at Soupçon, a fine-dining French eatery unassumingly tucked away on a low-slung side street.
There, we gorged through four pork belly preparations, each paired with a different Bud Light beverage -- the flagship, Platinum, Raz-Ber-Rita, and Lime. As I feasted, I was struck with a flurry of thoughts:
This is probably the most expensive food I've had all summer.
I am in a beer commercial.
What series of decisions has led me to this moment?
Should I feel shame? Because I don't.
For all the "surprises" Whatever delivered, it was this existential one that startled me the most.
Day + Party = Darty
It may sound weird, but I actually didn't drink as much as you might've imagined a 26-year-old surrounded by 25 open bars would drink. Reason being, Whatever had a staggering battery of indoor & outdoor fun-tivities to partake in, and by some divine providence/temporary ordinance, Crested Butte's open-container laws had been temporarily suspended.
So instead of posting up in a bar, we walked about, casually sipping from stadium bottles, and surveyed the scene.
We saw:
Soapbox derby down Elk Avenue!
This enormous monster truck! It rolled up to the base area and unfurled a giant American flag. I see what you're doing Bud Light, I said to myself. And I LIKES it.
The beer-delivery drone! It was real!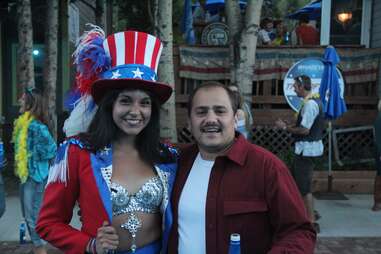 This patriotic lass. Are you Uncle Sam's wife, Aunt Samantha? Or should I just call you BABEraham Lincoln? (I'll show myself out.)
Vanilla Ice handing out vanilla ice cream. It's when Robert Van Winkle himself rolled up in this custom-wrapped dairy truck that I realized Bud Light was not messing around. He later took the stage to deliver arguably the weekend's best performance, pausing briefly between his unrecognizable new tracks ("Yes, that's right guys: I have new music!") to plug his home improvement show on DIY Network.
Vanilla Ice wasn't messing around either, you guys.
Darkness falls
The day parties were fun, but when the sun sunk below the jagged edges of the hulking mountains above, Whatever hit a different gear. There was a full slate of music performances both nights by acts like Alesso, Lil Jon, Cold War Kids, and Holy Ghost!
Here's what it looked like after dark: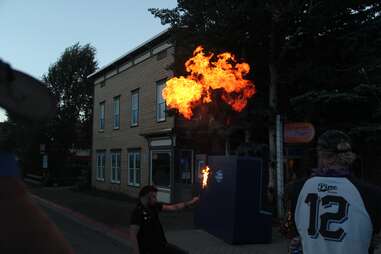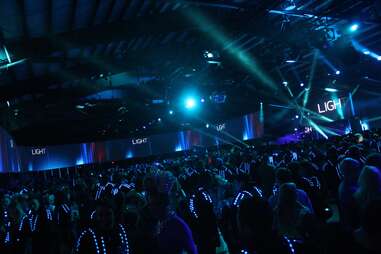 LED sexy-party-rave-time-thing! Staff members handed out 1,300 LED "jackets" to winners headed to Alesso's Light the Night show, turning the massive pavilion into an incredibly disorienting Lite-Brite cavern.
Master Chief! Is that you?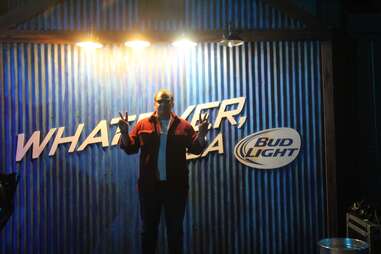 Around 11pm, we wandered into Talk of the Town. The low-ceiling dive is a local favorite, and even though there were signs that Bud Light's bottle crew had swept the place, they were serving for-money liquor drinks alongside the usual blue bottles. After six hours of beer, my stomach had never been happier to see a Cuba Libre.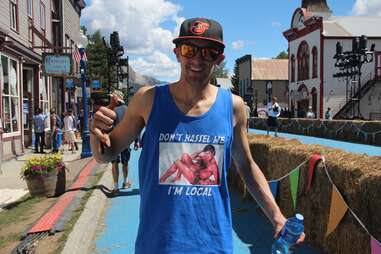 Local pride, and few problems
Much had been made of the conflict between the townspeople, its government, and Bud Light. I caught a New York Times report on the way out, and it sounded like trouble was brewing. When I got to Whatever, though, the locals I met were mostly pretty tolerant of the circus that'd come to town.
"This is slow season for us, man," a barmate told me at Kochevars. "If [Bud Light's event didn't] happen, there's no one in these places until ski season." This sentiment was echoed back amongst most of the dozen locals I spoke with, and despite a couple issues (Crested Butte residents alleged Bud Light hadn't issued the proper number of wristbands on Friday night, excluding them from the event), the Coloradans didn't seem to be as hopping-mad as they'd been portrayed.
The mellow local mood may've had something to do with mountain hospitality, or all the free beer, or Colorado's marijuana tolerance, or some combination thereof.
Whatever's bros were... well, bros
The attendees were excited, excitable 20- and 30-somethings from all four corners of the country. Male & female, most of 'em were exactly the sort of people you'd envision making audition tapes for a flyaway weekend fueled by Bud Light.
You know: Bros. And whatever the female equivalent is.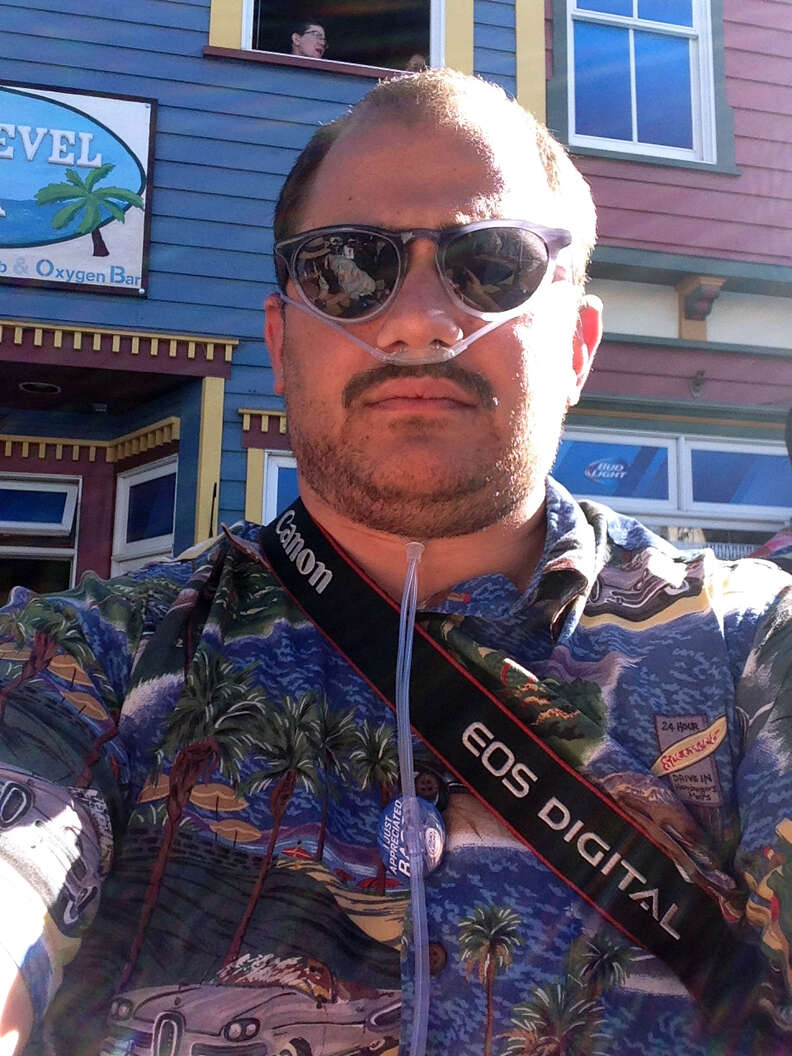 Whatever: the Exodus
As is so often the problem with bros and weed, Whatever's constituency of backwards-hat wearers and Colorado's cannabis code proved to be our downfall. How? I'll tell you.
Sunday morning rolled around, and with it, our cue to pack up and put Whatever, USA in the rearview. Not being a big smoker of "the pot" (SEE I WAS LISTENING, MOM!) I gave away the free nug I'd received from the locals at the Nickel, and headed for security. I had no use for it, and besides -- you can't fly a controlled substance across state lines. This, I thought, was common knowledge.
Of course, I thought wrong. To facilitate the movement of 1,000 bodies through the tiny Gunnison airport, Bud Light had hired a private, TS-certified company to do security. In the first five random bag checks they did, a security team member told me later, they turned up smuggled bags of Colorado medical marijuana.
Goddamned bros.
Because of those mouth-breathing George Jung wannabes, security slowed to a snail's pace, and everything went sorta haywire. Jesse and I ended up getting rescheduled on the redeye out of Denver, and I walked into work the following Monday morning on no sleep.
Despite the agonizing snafu in Whatever's third act, I'd do it again. Not surprising, I guess: Crested Butte is beautiful, and the Bud Light was cold, and everything was completely and utterly free, after all. But it's more than that, man. I saw Vanilla Ice serve vanilla ice cream out of a truck, and beer float down from the heavens to the waiting hands of a thirsty bandleader in a shako, and that just doesn't happen in Brooklyn all that often.
Dave Infante is a senior writer for Thrillist Food & Drink. He's still trying to catch his breath after a few days at altitude. Follow him on the Twitter machine if you dare: @dinfontay.