Budweiser Wants to Buy Miller to Create One Global Beer Giant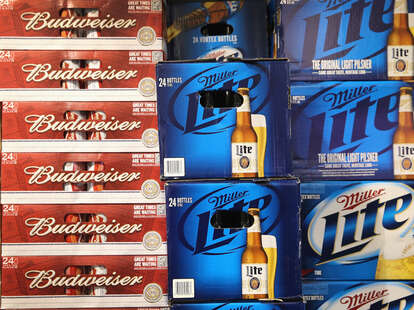 The next time you open your local beer cooler, there's a good chance one company will be running its contents like Microsoft ran computers in the 90s, as the world's largest brewer, Anheuser-Busch InBev wants to buy its rivals at SABMiller to create one beer goliath worth a cool $275 billion dollars. For those unfamiliar with the massive parent companies, Anheuser-Busch InBev and SABMiller are responsible for basically every mainstream beer: Budweiser, Corona, Stella Artois, Blue Moon, Coors Light, Foster's, Leinenkugel, Miller High Life, Peroni, and so many more.
According to CNN, the merger would create a "'super brewery' with nine of the world's top 20 beers by volume, and annual sales of $55 billion," accounting for 75% of the US beer market, and 30% of the global beer market. What does that mean for us regular beer-drinkin' folks? Three words: Bud High Life.
While an official offer hasn't been made public yet, this mega-brewery union looks like it could really happen, pending government approval. AB InBev is currently the world's largest brewer, while SABMiller is the second-largest. Hear that kids? Mommy and daddy are gettin' married!

Sign up here for our daily Thrillist email, and get your fix of the best in food/drink/fun.

Jeremy Glass is a writer for Thrillist and likes his beer like he likes his parents: together forever.