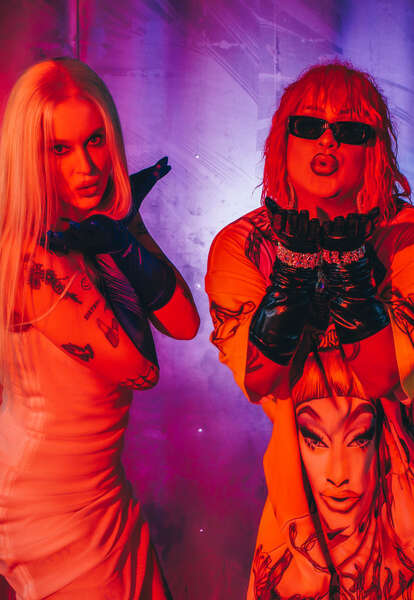 Bushwig co-founders, from left, Babes LaBeija and Horrorchata

| Photo by Cole Saladino for Thrillist
Bushwig co-founders, from left, Babes LaBeija and Horrorchata

| Photo by Cole Saladino for Thrillist
Despite being a card-carrying lover of all things drag, my first experience at Bushwig—the Brooklyn drag festival founded over 10 years ago by Horrorchata and Babes LaBeija—was only last year.
Ahead of this year's festival on September 10-11, I tracked down this globe-hopping duo (Horrochata called in from Stockholm, Babes from Brooklyn) for a kinetic video chat about how the festival came to be and where it's going.
Thrillist: What's the superhero origin story for Bushwig?
Horrorchata: I came up with the name, first of all. I was thinking of this idea, this huge party and Babes was like, "Hey girl. I love this idea. Let's make it into a festival and make it cute." She was just like, "Make it even bigger." And I was like, work. Right, Babes?
Babes LaBeija: Yeah, she came up with the name and I think basically, for me, Bushwig came from my experience of the queer community. Wigstock of course, like, watching the documentary and having a big nostalgia for that kind of moment in New York, and realizing that there was nothing like that now. And then also I have a lot of experience doing anarchist queer festivals in Europe and that played into my vision for the festival.
HC: So Babes was doing her thing and I was doing my thing and we met in New York and we were pretty much like, let's take over the world, and that's kind of what we're doing. [Laughs]
Obviously the festival's gotten a lot bigger since you started. How has it evolved?
BLB: It just kind of grew. We would still be doing it even if it hadn't grown. When we got more budget and started to book more headliners, that's when we got a lot of interest from the media because it's such a colorful and beautiful event and it grew naturally.
HC: Within the years since we started, it's always showcasing new talent and upcoming performers: kings, queens, everyone. There's always been a rollercoaster of performers and this year we're getting the babies that started in the pandemic. I've been going to a lot of these shows and seeing their talent and it's, like, mind blowing how amazing. These kids are really cool.
BLB: As the festival grew, we got more and more people who wanted to perform. So then we had to figure that out.
HC: That's the hard part. I'm just like, oh my god, who is going where?
How do you even decide?
HC: If you did Bushwig for three years in a row, we're going to be like maybe sit this one out and we're going to get someone who's never done it before. That's the vibe we're giving this year.
BLB: We made a conscious decision this year to book very new talent and, in my mind, we were kind of getting back to our roots. Get the weirdos that are really pushing the boundaries of drag and performance art and uplifting them more. We think now is the right time for us to bring the new wave of talent and focus on the freaks.
And it sucks because, at the end of the day, we are community and family-oriented so it is hurtful when we tell friends, "Hey maybe you can't do it this year." And it sucks, but we have to continue showcasing new talent. This year we had over 700 applications.
HC: We've had the most applications this year than in the whole decade that we've been doing this.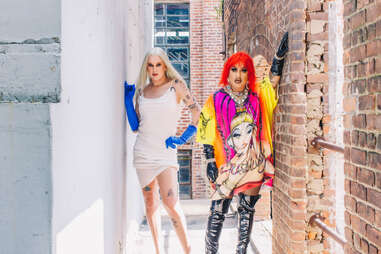 Last year there was a big New York Times feature—with great photos by the way—where there was some talk about performer pay. How do you make that all work? What are some of the things you've done to address that critique?
BLB: Straight after Bushwig, we had a community meeting and we agreed to implement changes going forward.
HC: We heard people's side of what happened, what goes on that we don't see. Including pay as well, but what goes on backstage? This year is completely different. Everyone has the same base pay; everyone's getting paid. Everyone's going to have an hour before in the green room and then 30 minutes after. We usually pack in 200 performers but this year we're at 125 because we're giving 15 minutes for each performer. And there's going to be a lot of group numbers—if they have a house or want to do a number with friends.
BLB: This year we're also actually employing managers because before it was a really small team. We have to hire outside our family because we're so fucking dysfunctional and it was like, we need this help to make everything ok.
HC: At the end of the day, we're still punk rock bitches. We're not corporate; I don't think we'll ever do that. We keep it punk, but now we're trying to hire people.
It seemed pretty well run when I was there last year.
BLB: It does seem very seamless but if you only knew what was going on behind the scenes…carnage. [Laughs]
What's next for Bushwig?
BLB: We're focusing on doing the festival in New York and we've started our spinoff series Bushwig Presents where we did a show with Fatboy Slim, Hercules and Love Affair, and Carry Nation. Also working on another one to happen early next year that, I can't say which artists are performing but it's legendary. Bushwig Presents is more dance oriented, rave vibes.
We're also adding a third stage at Bushwig this year. We're incorporating a lot more music. I feel like our position, seeing the future of the festival I see it becoming this all-encompassing queer festival that people can come to and be exposed to new culture, and offer the opportunities to the young kids for them to just slay.
Styling for Babes La Beija: Outfit: Dion Lee, Makeup: Brazier Ray, Hair: John Novotny
John deBary is a drinks expert and writer. His first cocktail book,
Drink What You Want
, is available now, and his next book,
Saved by the Bellini
, is expected in early 2023. He is also the co-founder and president of the
Restaurant Workers' Community Foundation
, which is dedicated to improving the lives of hospitality industry professionals through advocacy, grant making, and impact investing.