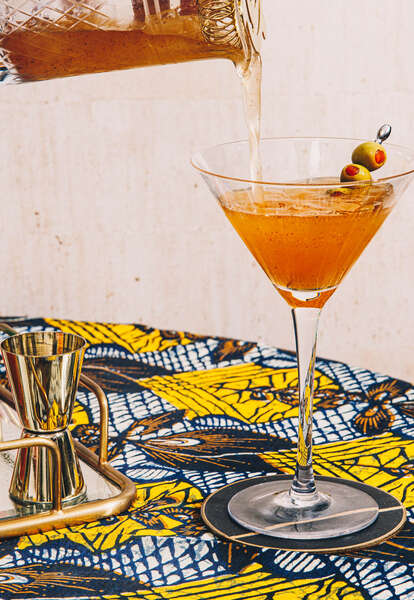 Tiffanie Barriere, otherwise known as The Drinking Coach, is a bartender turned beverage influencer-educator. Some know her best from her days gliding cocktails to weary travelers in Concourse E at the Atlanta International Airport's One Flew South. Today, you can catch her leading virtual cocktail classes, judging competitions, and sharing her recipes and boozy adventures on Instagram. And right now, we're making her Cajun-spiced Et Toi martini.
The recipe, spurred on by a team-up with seasoning company Tony Chachere's, was a "no-brainer" for Barriere. "I love putting spices in spirits because we always think sweets and effervescent but we never think savory for cocktails," she says. Tony Chachere's also hails from the Opelousas-Lafayette area. "That's where I grew up, that's where my family grew up… So it was really nice for me to share my culture, how I grew up and that Creole-Cajun, south central part of Louisiana that people kind of overlook in the cocktail world," Barriere adds.
Barriere is here to point to other parts of Louisiana, not just New Orleans, when it comes to fine cocktail culture. "Nothing against New Orleans—great city, such a vibe, such history—but there's other surrounding cities and neighborhoods and techniques and traditions that happen outside of it."
While she has a cocktail book in the works, she's collaborating with other notable voices in the Black culinary world like Jubilee author-historian Toni Tipton-Martin for her upcoming book, Juke Joints, Jazz Clubs, and Juice: Cocktails from Two Centuries of African American Mixology. "We're talking about that African American culture—everything from pre-prohibition to juke joints to slave kitchens."
For Barriere, it's not enough to merely put ingredients and booze in a glass and call it a day. "At this level of my career, my craft is all about sharing cocktails and culture," she says. "If I can bring in some nostalgia of childhood or, you know, college, high school memories, I'm going to do that because it connects with people right now." This spice-kissed martini is a great example of that. (And the familiar-to-many Tony Chachere's is bound to conjure some comfort food memories.)
As for which spirit you should use in Barriere's recipe, that's up to you. The never-ending vodka or gin martini debate rages on and Barriere recognizes that it's your martini, after all, so make it as you please. That said, Barriere is team gin. "Gin has that flavor profile we're looking for…gin brings out so much flavor because of all the botanicals," she notes.
You can garnish with the classic, the expected olive. "But ​​I thought about what other briny things you can have in the fridge and I love capers," says Barriere, who adorns her Cajun-spiced Et Toi martini with those green, pickled buds. "Capers—they're smaller, they're cuter, and they've got a little bit of saltiness."
Et Toi Martini
Cajun Syrup
Ingredients:
• 2 ounces white sugar
• 2 ounces water
• 1 tablespoon Tony Chachere More Spice
• 1 bar spoon cider vinegar
• 1 bar spoon lemon juice
Directions:
1. Combine all ingredients in a small saucepan and heat over medium until simmering and sugar is dissolved. Let cool. Transfer to a separate container and refrigerate.
2. Use in Et Toi Martini (below) or spice up lemonade or Bloody Marys. Get creative!
Et Toi Martini
Ingredients:
• 2 ounces gin or vodka (Barriere prefers gin)
• 1 ounce Cajun Syrup
• Garnish such as olives or capers, optional
Directions:
1. Shaken or stirred cold for 15 seconds.
2. Garnish with anything pickled or salty. I used capers.
Rosin Saez is the senior editor of Food & Drink at Thrillist.