The Cake Boys in New York City

| Cole Saladino for Thrillist
The Cake Boys in New York City

| Cole Saladino for Thrillist
Welcome to
We're Out Here
, your year-round hub for LGBTQ+ travel and experiences! Here, you'll find everything you need to plan your next great gaycation, including queer-centric travel stories, nightlife guides, profiles, pride event roundups, and ways to give back to local queer communities.
To call what The Cake Boys do "drag" would be a gross oversimplification. A staple of the NYC scene for years, the drag king collective includes Muscles Monty, Senerio, Richard, and Sweaty Eddie; and their work incorporates music, stop-motion animation, and all manners of visual and performance art.
We caught up with the group recently for a giggle-filled chat about pandemic silver linings, the challenges of performing alternative drag, and the chaotic way they got their name.
Thrillist: How long have you been performing as a group under pandemic conditions? What's that been like?
Muscles Monty: January 2020 was our first show, so that gave us a lot of amazing leeway before the pandemic started. We started with the intent of having drag shows that were a little bit larger than life and went beyond your normal Thursday night at a gay bar. The unfortunate silver lining to the pandemic is that we were able to expand on that. We all come in with amazing talents that go beyond the drag stage. Sweaty is a phenomenal animator, Senerio is a phenomenal musician, Richard is a phenomenal graphic designer—and I'm a good help with all of that, I guess [laughs]. The pandemic allowed us to grow into what we've become now, unfortunately, but fortunately.
Sweaty Eddie: I've always been interested in combining multimedia forms with live performance. When I individually started doing drag, I was interacting with video and things like that, but that's hard to sustain from venue to venue. Having time to work on things remotely forced us to work collaboratively in a way that really utilized what everyone's capabilities are.
It also allowed people to be a part of what we were doing whether watching from afar or participating from afar, and we curated it into this cohesive experience. Our first show during quarantine was Cake Night Show, and it incorporated some specific moments that were filmed for the show as well as individual people from our network sending in digital pieces. It allowed us to be a bit more expansive than something we would have done for an in-person show.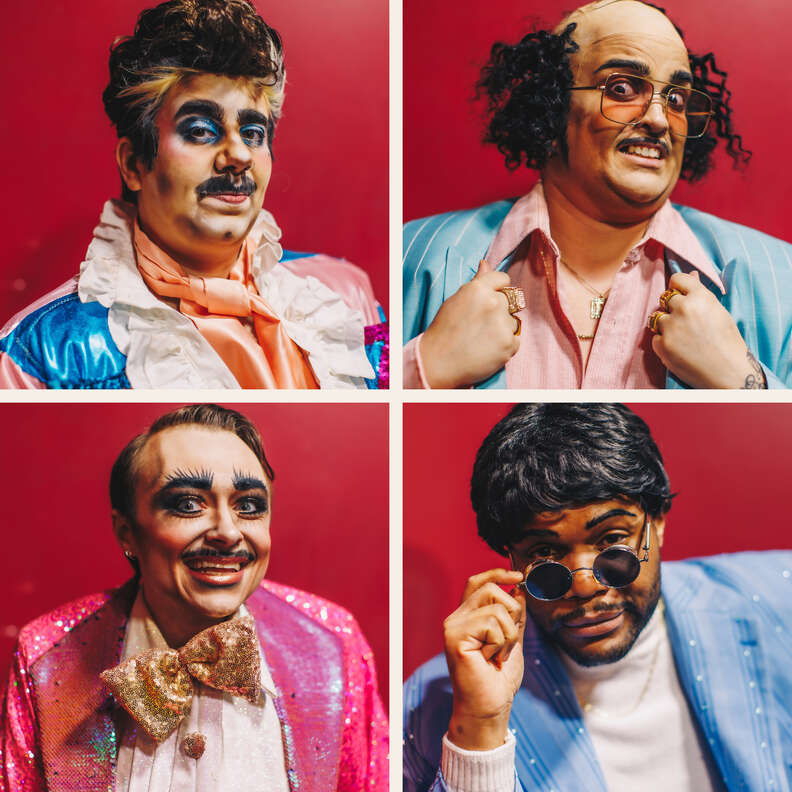 Were you all performing individually before becoming the Cake Boys?
Richard: Initially, yeah, we were all individual performers, and the lack of drag kings in the scene made us want to start something like this. I remember sliding in Muscles' DMs being like, 'Do you wanna do this?' And Sweaty Eddie is my partner, and Senerio came in and was part of our second show, The Dude Network, and we just all clicked and it made sense. It's been a wild ride.
When we first started, we just wanted to create a platform to highlight drag kings and drag things and alternative types of performers. So we just kept going and now we're here.
Senerio: The Cake Night show really took it to that next level. I have been calling it out since I came in: There's nobody, literally nobody in the local scene, doing what we're doing between the four of us, who have all these skills under one roof. And there's plenty more where that came from! It's a seemingly endless creation that's happening right now, and it's such a delight.
Sweaty: Our intention was always to create an ensemble performance that gave everybody space. [It's] this other-worldly space where people bring a wide variety of drag and it all sort of feels cohesive and it doesn't require to change what they're doing to fit in. So much of the Cake Boys isn't the four of us, it's this world where the kind of drag that we want to see makes sense, as much as "making sense" is not really our top priority. We're all about chaos.
Senerio: It reveals how much new talent there is when you come to a Cake Boys show. There are a lot of people who were able to do things that they haven't been able to do on stage. And it excites me because I just want to see more of that at this point.
How did you come up with the name?
Senerio: We got fat asses! [laughs]
Richard: I put a lot of trust in fate and the universe telling me what to do. So I went on Urban Dictionary and hit shuffle, and "cake boy" came up, and the meaning of it is a feminine man, and it made sense.
Muscles: I mean, besides the fact that we all have great asses, it's got some subconscious fun connections to drag kings in the '90s at Cake Bar. And also, we always get confused for a bakery in Brooklyn.
The conception of what is "drag" can sometimes be narrow. What do you wish more people knew about being drag kings?
Sweaty: As evidenced by how prominent drag has become, drag has never been more popular, but at the same time many people have the idea that drag has to mirror what's on TV. Playing within the limitations of what masculine drag can look like and playing with the expectations of that is very much at the core of what I'm interested in.
Muscles: I definitely feel more comfortable performing now than when we started. But there's pressure to fit into a box and appeal to a large audience. We're seeing more shows produced by drag kings but I wish more people knew that there can be two of us in a room and there's no cosmic explosion.
Richard: People still refer to Richard as "she." Out of drag, I use any pronoun, but in drag it feels like an insult almost. A lot of times, even after performing for so long, we're still offered lower rates than queens.
What's on deck for 2023?
Muscles: We're in the middle of a huge drag competition and January 29 is our big finale.
Sweaty: It's called Takes the Cake and, to our knowledge, it's the first drag king competition in New York. Is that true?
Muscles: They used to do them in the 90s but ours is the first in 30 years. This is definitely one of the biggest drag king competitions in a while.
Richard: We had 86 people sign up for it, and we only had 40 spots. It made me sad to have to tell people no, but we had people applying from all over—Germany and South Carolina… People are excited about it. We have some exciting ideas of what we want to do in the future, but they're still in the baby beginning phase. People will have to follow us on Instagram.

Want more Thrillist? Follow us on Instagram, Twitter, Pinterest, YouTube, TikTok, and Snapchat.
John deBary is a drinks expert and writer. His first cocktail book,
Drink What You Want
, is available now, and his next book,
Saved by the Bellini
, is expected in early 2023. He is also the co-founder and president of the
Restaurant Workers' Community Foundation
, which is dedicated to improving the lives of hospitality industry professionals through advocacy, grant making, and impact investing.