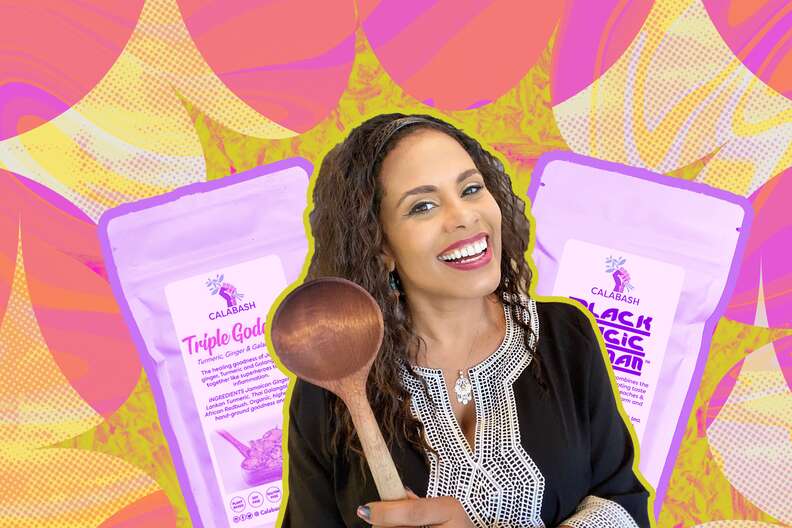 Design by Chineme Elobuike for Thrillist
Sunyatta Amen has given herself some playful titles. Depending on the day, she's the tea-E-O or head witch-in-charge at Calabash Tea and Tonic. But her mission behind the DC-based company is serious: to return modern people to indigenous ways of healing and decolonize the way people think about their drinks.
As a fifth-generation master herbalist, Amen opened Calabash in 2015 to impart knowledge she learned through her Syrian-Jamaican and Cuban roots. Originally from New York, Amen grew up behind the counter of her dad's Harlem stores, Pyramid Tea and Herbal, just a few doors down from the Apollo Theater. A child of two islands, Manhattan and Jamaica, she was raised vegan and then returned to that lifestyle later in life.
"My path to being an herbalist and healer in general has everything to do with my initial reluctance as a young person to learn those things," she says. "Now I see it and we've created an entire business out of it."
Calabash sells teas, spices, tonics, and light vegan food and (depending on COVID protocols) hosts events like art shows and tarot card readings. Through her business, Amen is aiming to flip the script of crunchy hippie health food stores and, instead, center the rich history of veganism and healing back onto Black and brown communities.
Amen opened a second Calabash location in Brookland on Juneteenth in 2019 and is well on her way to cementing that legacy through her work of decolonizing people's tongues, using food and drink recipes passed down through previous generations.
"Let's flip the script on our language from 'That's so spicy or whoa! That's so bitter!' into 'This is a new but ancestravel for me," she says. "Tastes like I need that healing in my life."
In her newest venture, Amen partnered with TRYB, a Black-owned beverage retailer, to bottle seven of her more than 100 teas in an effort to make them more accessible to the general public. Flavors include Harriet's Gun Lemonade, which contains gunpowder green tea for energy, pepper seeds for blood circulation, and Jamaican ginger and spices to wake you up.
"This energizes you to move forward and never backward, the way Harriet Tubman was able to lead many to freedom," she explains.
In addition, there is Panther Par-Tea with Assam black tea inspired by the Black Panther Party, Jamaican Ginger Sorrel with detoxifying hibiscus, Triple Goddess Lemonade with South African bush tea to fight inflammation, Love Potion #10 Chai that is her grandmother's recipe, and My Last Good Nerve with lavender and passionflower to ease anxiety.
"Almost everyone has frazzled nerves, anxiety, sometimes depression, because the highs are highs and the lows are low," Amen says. "The number one thing people come in for? Nervous system and sleep. These two are very related and are opposite sides of the same coin."
Some simple tips she gives out to customers include recommending less caffeine during the beginning part of the day so it's easier to wind down during the latter part of the day.
"My job, which TRYB makes easier, is to take healing, to take wellness out of Birkenstocks and put it in stilettos," she says. "It's got to be sexy. And our bottle service needs to be something that people are drinking, remembering their humanity and their connection to the earth and plants and nature, in the middle of a concrete jungle."
In an effort to spread Calabash's message of natural healing and wellness, Amen hopes to expand her business with a franchise model. She says confidently, "If McDonald's and Starbucks can be everywhere, so can we."
Ashlee Tuck is the founder and editor-in-chief of
Will Drink For Travel
, a website dedicated to all things travel and mixology. She considers herself a cocktail enthusiast with a heart for highlighting Black-owned spirits.