O Canada, why do the only beers anyone knows from you all start with an "M" or end in "Blue"? To put an end to that, I took a trip to Toronto and talked to a bunch of brewmasters about their favorite Canuck beers at The Roundhouse Craft Beer Festival, hosted by the pilsner-obsessed folks at Steam Whistle. The rules for their picks were that they had to be currently available in bottles or cans, and that they couldn't be from their own brewery. Let's drink.
Pale Ale; 5%
Montreal, Quebec
"There are many reasons why I love this beer. To begin with, it has a real nostalgic tug at my heartstrings by virtue of being one of those classic ales from that first wave of the Canadian craft beer revolution. This well-balanced pale ale is a true hybrid of the British and North American styles. An abundance of fruity esters from the Ringwood yeast synergize with the moderate bitterness, minerality in the mouthfeel, and the zesty, orange-like flavor and aroma of American hops. This beer is a true exemplar of the bridge between tradition and innovation that is the hallmark of craft brewing."
-- Matthew O'Hara, Beau's All Natural Brewing Company
 
IPA; 6. 5%
Charlottetown, Prince Edward Island
"It's just a nice easy drinking IPA -- nice bitterness, but not palate-wrecking. And at a 6.5% ABV, there's an enjoyable malt presence to balance the hops."
-- Ron Keefe, Granite Brewery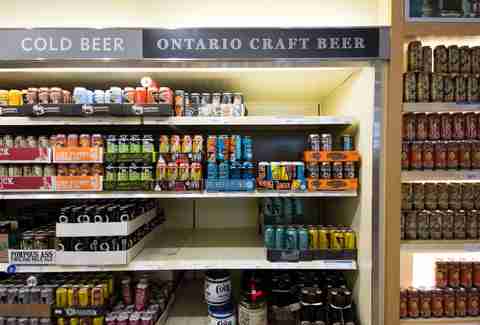 American IPA, 7%
Burlington, Ontario
"It's a beer that's well worth trying, but because of the graphics [on the can's design previously] I think people overlooked it -- it had a psychedelic-looking can. [The beer has] very tropical fruit and citrus notes. It's a high IBU IPA definitely worth trying."
-- Eric Dornan, Underdog's Brewhouse
 
American IPA; 6. 5%
Gravenhurst, Ontario
"It's a versatile beer, as it's not aggressively hopped to having a high IBU. It's mid-range, so if I want a bit of hop character, I've got it, and if I want it sessionable, I've got it. It's the same beer."
-- Rod Daigle, Brimstone Brewing Company
 
Imperial IPA; 8%
Etobicoke, Ontario
"It's a well balanced, delightful drink. It's got a nice balance between the hop and malt flavors, and the bitterness is appropriately aggressive without being harsh."
-- Paul Dickey, Double Trouble Brewing Co.
Sign up here for our daily Thrillist email, and get your fix of the best in food/drink/fun.
Lee Breslouer is a senior writer for Thrillist and is now a fan of Canadian beer. Follow him to high IBUs at: @LeeBreslouer.