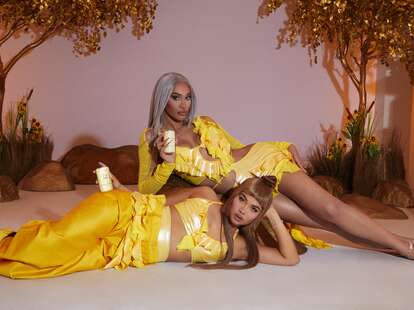 Hayley Kiyoko and Kerri Colby

| Photo courtesy of Cann Social Tonics
Hayley Kiyoko and Kerri Colby

| Photo courtesy of Cann Social Tonics
Of the many rainbow-colored collabs and queer-centric cannabis campaigns kicking off this June, none was louder, prouder and more star-studded than Cann and Weedmap's promotional music video featuring original song, "Taste So Good."
The ad had it all: group choreography; triumphant, titillating lyrics brimming with double entendres; cameos from Sarah Michelle Gellar and a latex-clad Patricia Arquette; Kesha and Hayley Kiyoko singing and strutting alongside RuPaul's Drag Race stars Kornbread and Willow Pill—and that's just within the first minute of the song.
It's a chaotic, colorful celebration of self-expression, the full spectrum of sexuality and full spectrum, low-dose cannabis beverages. The music video was promoting Cann Lite—the queer-founded cannabis beverage company's new line of infused sodas featuring no added sugar—and it was a novel moment for the entire cannabis community.
To bring Cann's vision to life, co-founders Luke Anderson and Jake Bullock tapped renowned production company London Alley to steer the ship, as well as the queer talents of Jake Wilson to direct and creative collective House of Avalon to style. Wilson understood their "Lady Marmalade" inspiration, and, as someone who held Britney Spears' iconic Pepsi commercial close to his heart, he picked up what Cann was putting down.
When it came to the song itself, co-founder Anderson reached out to record producer Leland (who has produced for Troye Sivan, Selena Gomez, and others).
"I have been fangirling over Leland as a musician and songwriter for a long time," Anderson says. "At the advice Jake, I just reached out cold and said, 'Hey, wanna do a jingle for my weed soda?'"
Anderson reached out to music artist and friend, VINCINT, to sing the demo and ultimately join the video's cast, as well as Juanjo Feijoo, Weedmaps' CMO, to see if the cannabis education and shopping platform would be willing to partner up to make this major production possible, who he'd met at a Super Bowl party back in February.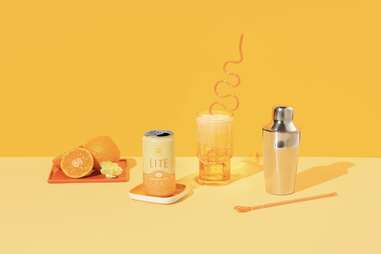 "When Cann approached us with this unique and fun idea, it was an easy yes," Feijoo says. "We are always on the lookout for innovative ways to educate and change attitudes through creative content, particularly given the myriad restrictions that exist in doing cannabis marketing, so we really loved this idea of a music video."
As a popular destination for consumers looking for information on products, cannabis news, and dispensaries near them—and a delivery platform, in some states—Weedmaps has a better grasp than most of what consumers are looking for, and, according to Feijoo, the company increasingly cares about supporting queer cannabis companies.
"Despite being such a critical catalyst in the early stages of this industry in the '90s in San Francisco and beyond, the LGBTQIA+ community continues to be underrepresented in the cannabis industry," Feijoo says. Cannabis in America data reports showed that 37% of cannabis consumers want to support LGBTQ+ owned cannabis businesses. "We aim to elevate their presence in the cannabis marketplace and encourage consumers to learn more about these communities' presence throughout cannabis culture."
For Cann, being able to execute this music video at this level was as much about celebrating being gay and enjoying weed at one's own pace as it is the manifestation of their truest, zero-shame, pure pride fantasies.
"Being queer is a big part of my identity, but it's always been a struggle," Anderson explains. "When I was straight-leaning, I was 'too gay,' and when I started hooking up with guys, I wasn't "gay enough." The us vs. them mentality in marginalized communities breeds toxicity and can lead to self-destructive behavior like over-drinking alcohol. Cann is about radically inclusive, spectrum-like thinking when it comes to who you are and what you drink."
When thinking of the enduring stigma not only against cannabis, but cannabis in advertising, and cannabis in drinkable forms—the song's chorus of "a little different Cann taste so good" works on multiple levels.
Cann is no small fish, but that beverage segment of the cannabis market remains a slim part of the pie. Cannabis beverages represent about 3% of all purchases at dispensaries in California, Colorado, Massachusetts, Michigan, Nevada, Oregon, and Washington. Consumers are still wrapping their heads around the idea of drinking weed, and there's still a lot of work to do normalizing weed beverages as consistent, trustworthy, delicious vehicles for cannabis.
That's why this campaign matters to the industry at large—it shows that cannabis is worthy of legitimate celebrity endorsement, is more than high-THC dabs, and there are cool, potentially profoundly empowering things happening in cannabis that people should know about.
"I love that we get to show through music and film that cannabis is not what it's been portrayed as in the past, but something to be enjoyed and shared," VINCINT says. "I get to be a part of helping someone feel better, on top of making them smile."
Lauren Yoshiko is a freelance writer and editor based in Portland, Oregon. She writes
The Broccoli Report
, a bi-weekly newsletter for creative cannabis entrepreneurs.