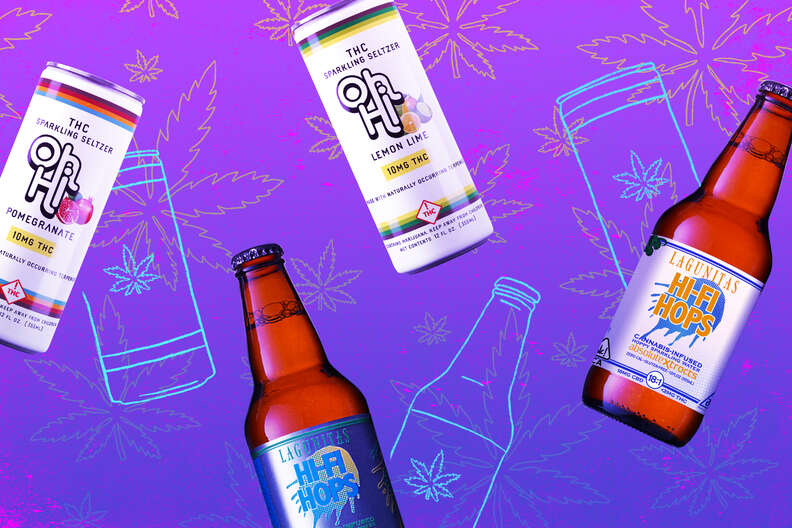 Emily Carpenter/Thrillist
Emily Carpenter/Thrillist
Say 'Hi' to the New Sparkling Cannabis Drinks
What if your White Claw came with cannabis?
As consumers continue to look for new and innovative ways to consume cannabis, the Age of Weed Claws has begun.
And by "weed claws," I mean any of the new, cannabis-infused sparkling beverages recently entering the market (none of which are related to the White Claw brand, by the way). So what brought us to this current level of hype around these concoctions? Well, the data says cannabis beverages have generally been trending upward since their earliest days, but new cannabis infusion technology is changing the game.
People always expected infused drinks to be big business. Just look at the $4 billion Corona owners Constellation Brands bet on Canadian company Canopy. Despite a delay in debuting its beverage line and burning through cash, investors still think there is a lot of upside left for Canopy once their beverages hit the market. It's easy to see why, once you take a look at the data.

According to the analysts at Headset, the last two years have seen steady growth in the cannabis beverage sector. The overall market share rose 0.22 percent, going from a just-under $1.5 million to almost $3 million. In previous years, pot sodas like Keef Cola have reigned supreme. The sugary syrup is a solid carrier for THC. Many of these syrup-based drinks are, eh, not so tasty, and yet the market for them has doubled in size. This suggests that Weed Claw-type beverages that actually taste good have enormous potential.
Sure enough, Keef Brands released the first water-soluble cannabis formulation in early 2017. And then last year, Heineken-backed Lagunitas, in collaboration with California cannabis producer and distribution company Cannacraft, introduced their Hi-Fi Hops line with three products. Right about the same time, Oh Hi beverages started making waves in Colorado with their own infused seltzer.
"It's clean. It doesn't feel so sedative."
And now? "These low-calorie, low-sugar beverages are becoming more and more popular," Cannacraft founder Dennis Hunter told Thrillist. "They are starting to take market share from some of the other [cannabis] beverages."
Hunter says that since HiFi Hops has zero carbs and calories, it's appealing to a wide range of consumers. But some discerning palates are finding a special kind of affection for its hoppy flavor, especially since it's produced in the heart of California Wine Country's booming craft beer scene.
It's the new technology around nanoemulsions that makes THC extremely bioavailable, he says. The easier it is for your body to absorb the cannabis, the faster you feel the effects. In addition to that fast onset, Hunter says the effects from water-soluble THC don't really linger like they do from edibles. "It's clean. It doesn't feel so sedative," he says.
The team at Cannacraft spent about six months developing the nanoemulsion process. A lot of the test batches came out too bitter. They eventually dialed it in and have begun transferring the tech over to more traditional products like gummies and chocolate too.
Lagunitas is right down the road from Cannacraft, and Hunter believes the companies share a very similar culture. The collaboration originally started with Cannacraft extracting the flavor profiles from hops. They'd eventually put cannabis terpenes in beer, but got a firm telling off from federal regulators.
"Then we were like, let's get the alcohol out," Hunter said, "They were already working on their hop water, because they were looking at that same thing, that low-calorie option."
From there, both companies pondered how they could infuse the hop water without throwing off the flavor. What they eventually came up with became the best selling ready-to-drink beverage in California.
"I don't think we've even scratched the surface yet."
The team at Cannacraft has not been surprised by Hi-Fi Hops' popularity since launching last spring. "I don't think we've even scratched the surface yet," Hunter said, adding that he expects continued growth as more consumers gain access. Hunter says one thing that is slowing down the rollout is that dispensaries aren't really set up to carry beverages. It's important to remember as well, nearly 80% of California cities don't even have a dispensary.
According to Oh Hi Beverages spokeswoman Emily Hutto, Colorado's tale of beverage popularity is mostly aligned with new consumers entering the marketplace, and more regular edibles consumers looking for something low-calorie or to microdose. But weed seltzer has also proven popular with America's fastest-growing cannabis consumer demographic, senior citizens. Hutto noted her own mom as an example of someone in their early 60s who has found the product very approachable.
"She's all about a weed claw, but you would never see her hitting a vape pen. And you definitely wouldn't see her smoking, even though she'd tell you she loves the smell of it," Hutto said.
Hutto said the Oh Hi launch was three years in the making.
One of the popular themes so far with cannabis beverages is their low dosage. We asked Hutto if Oh Hi had any plans for bringing something with a bit more kick to Colorado. She replied that they are still working on the original products line, but they've received feedback from consumers hoping for something more potent per serving. She said one of the people pushing the cause is budtenders.
"Budtenders want to know people are getting bang for their buck, and we are getting feedback about a heftier dosage," Hutto said, but admitted the company is run by a bunch of outdoor enthusiasts really into microdosing.
Keep an eye out for a wave of new pot beverages as other companies get caught up on the technology required to do it well.
Sign up here for our daily Thrillist email, get Eatmail for more food coverage, and subscribe here for our YouTube channel to get your fix of the best in food/drink/fun.