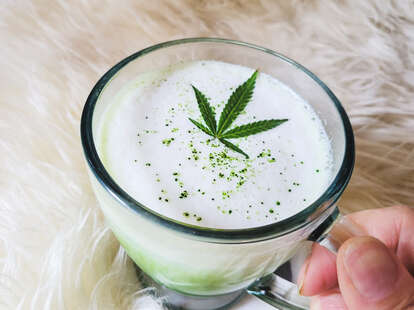 California may bring sunshine and palm trees to mind, but Northern California's rugged coastline conjures cool ocean fog rolling inland every morning, emanating through old growth redwood forests up to the mountains of Humboldt County. It's here where sungrown cannabis farms dot the landscape of sprawling pine forests.
My twist on the classic London Fog tea drink—inspired by those misty forests and famed cannabis growing region—swaps earl grey for matcha tea. When the steamed, cannabis-infused milk swirls into the green tea and resembles those low-hanging clouds that drift across the treeline. As you sip the creamy tea, sweetened with vanilla brown sugar to balance the herb, you're transported to a pine-covered forest floor.
Rather than making infused tea via traditional cannabis buds and butter, this matcha tea latte is made with cannabis-infused milk and fan leaves—the large, seven-pointed leaves that cover cannabis plants. Are cannabis fan leaves tasty to eat on their own? Yes and no. It tastes like spicy grass. These fan leaves contain cannabinoid acids, vitamins, and antioxidants including folate, iron, calcium, vitamin K, and vitamin C. The fan leaves won't contribute to the high, but you do get the benefits of cannabinoids in their raw form. Either fresh or dried cannabis fan leaves make a lovely tea but the flavor will differ, similar to mint tea made with fresh herbs compared to dried herb tea bags.
Matcha contains caffeine, though generally less than a cup of coffee or black tea. The combination of THC and caffeine, colloquially known as a hippie speedball, purportedly makes drinkers feel more focused and alert. The combination feels great because THC and caffeine both trigger the release of dopamine, and in low doses can magnify the feelings of motivation, alertness, focus, and happiness that come with dopamine.
Whether you're looking for a flavorful alternative to coffee or a special something to sip on a foggy, obligation-free Saturday, here's how to make a Humboldt Fog Tea Latte.
Humboldt Fog Tea Latte
As a nod to the fresh, piney aromas of Humboldt County, pair with Pinene-rich strains such as Blue Dream, Jack Herer, and OG Kush.
Ingredients:
• 6–8 large cannabis leaves, fresh or dried
• ½ cup boiling water
• 1 teaspoon (3.5g) matcha powder
• 2 cups unsweetened milk of choice
• 5 tablespoons cannabis-infused milk (recipe follows)
• 1 tablespoon vanilla brown sugar syrup
Vanilla brown sugar syrup
• 1 tablespoon light brown sugar
• 1 tablespoon hot water
• ¼ teaspoon vanilla extract
Cannabis-infused milk
One tablespoon of infused cannamilk will approximately contain 2 mg THC. Results will vary slightly depending on the potency of your flower, choice of milk, and decarb efficiency.
Ingredients:
• 2 cups milk of choice (note: milk with higher fat content infuses better, since THC is fat soluble)
• 0.4g cannabis flower, ~25% THC (activated and decarbed at 240 degrees F for 40 to 50 min.)
Directions:
1. Make the vanilla brown sugar syrup: In a small bowl, stir together brown sugar, hot water and vanilla until melted. Set aside.
2. Make cannabis-infused milk: Mix flower and milk in a glass oven-safe container, mason jar. Seal the lid, place into the oven and bake at 170°F for 2 to 3 hours to infuse THC into the milk. Remove from oven and cool to room temp. Store in fridge until ready to use, keep cool.
3. Make a cannabis leaf tea: Combine cannabis leaves and boiling water in a cup. Steep for a few minutes until the water turns a bright green, pour the hot water through a sieve to strain out the cannabis leaves and into a second cup with the matcha powder. Whisk or froth the matcha with the cannabis tea until well blended and you see air bubbles. (Note: It's ok if you can't get your hands on fan leaves—they're more for bonus vitamins and flavor than cannabis effects. Continue the recipe as written, sans leaves.)
4. Steam the milk: In a small saucepan, combine the milk and vanilla brown sugar syrup and warm it on the stove (not to a boil) while whisking gently to froth the milk. Or use a heated milk frother to heat the milk.
5. Pour the frothy milk into the cup with the cannabis matcha tea. Add more vanilla brown sugar syrup to taste. Sprinkle matcha powder on top to garnish.
Dosing:
One tablespoon of cannamilk using this recipe contains ~2mg THC. Five (5) tablespoons of infused cannamilk are used in this recipe for a total of ~10mg THC in the entire recipe. For those who are new to edibles and cannabis, it is recommended to start at 5mg THC or less per person.
Any substances referenced above are not intended to diagnose, treat, cure, or prevent any disease. The experience is based on the writer's personal use, the results of which may not be typical or intended. The legality of the substances varies by state, and is subject to change, and readers are encouraged to check their local laws before purchasing and using any substances referenced herein. Possessing, using, distributing, and/or selling these substances is illegal under federal law as of the writing of this article, regardless of any conflicting state laws. Compliance with the laws of a particular state in no way assures compliance with federal law, and there is a risk that conflicting federal and/or other state laws may be enforced in the future. Nothing in this article is or should be construed as advice regarding the legal status of the substance(s) or medical advice. You should consult a medical professional regarding matters pertaining to your health before starting any course of medical treatment. Any views expressed in this article regarding the substance(s) do not necessarily represent the views of Thrillist and/or Vox Media.
Christina Wong is a culinary cannabis writer, creator, and baked baker in Los Angeles, California. She's the Founder & CEO of Fruit + Flower Co. and writes Fruit + Flower Unfurled, a weekly newsletter for culinary cannabis enthusiasts. Her work has been featured in
High Times
,
Cherry Bombe
,
CannaCurious
, and
Kitchen Toke
magazines.