Flyers sparkling CBD cocktails in a can

| Photo Courtesy of Flyers
Flyers sparkling CBD cocktails in a can

| Photo Courtesy of Flyers
Cannabis beverages have been the talk of towns everywhere the past couple of years, but few people anywhere are taking advantage of all the zesty, bubbly, and giggly options for drinkable highs. Despite being one of the most hyped categories, with a lot of interesting new brands creating interesting, tasty beverages, drinks still represent only a tiny part of total cannabis purchases. Which is a sad, thirsty shame.
What are we waiting for, y'all? From mature markets to newly legalized states and every CBD-friendly city in between, there are a bevy of emerging beverage options vying for a chance to serve as an alternative social lubricant—one that's easier on our bodies than alcohol, and in some cases, can even make us feel better in the long term. For longtime cannabis consumers, beverages are a new kind of edible that can hit sooner than the average gummy or cookie, efficiently delivering cannabis effects without negatively impacting lungs.
To help inspire more adventurous sips this holiday soirée season, we've gathered a bunch of CBD and THC mixed drink ideas that highlight the range of ingredients, doses and flavor combos possible in the drinkable cannabinoid space. Whether you're aiming to host a healthier happy hour, impress the more experimental imbibers in your friend group, or just change up the cocktail routine, these pot-based potables are sure to leave a memorable impression. Here are eight delicious CBD and THC drink ideas to spark your creativity—you take it from there.
CBD Mocktails
Mellow Eggnog with Mello Mind Water Soluble CBD
If you want to start with something simple, a water soluble CBD like this one can be mixed into any drink—tea, soda, eggnog. The solubility means it's going to be incorporated evenly into the drink and the effects will hit sooner than waiting for your stomach to digest it. This particular ​​formulation is made with 100% unadulterated, full-spectrum hemp extract and does have a slight herbal taste, hence the sweet, full-bodied pairing with eggnog.
Mock Mule with Jeng CBD
This ginger-lime CBD sparkler uses a hint of juniper to mimic the flavors of a traditional Moscow Mule, and it's delicious straight. At 11 milligrams per can, it's safe for even the newest of CBD newbies to enjoy the whole thing. If you're in the mood for something stronger, you can always combine with vodka for a quick and tasty cocktail.
CBD Highballs with Flyers
Another ready-to-drink hemp option, this NY brand was founded by a trio of Aussie friends and cannabis enthusiasts who worked with award-winning mixologist, Ivy Mix, on each flavor of their spiked seltzers. You can't go wrong with BKLYN Gold, their spin on a whiskey highball with notes of oak barrel, vanilla, and sweet cola. Add a little rum for those extra-chilly winter nights.
Espress-no Martini with Jibby Cold Brew
Skip the vodka and claim some calm with this 25 mg can of Colombian cold brew. Although a far cry from a true martini, you can add a splash of soda water and lime to mimic the tang of alcohol for a CBD coffee mocktail that delivers the same, if not more, rejuvenating effects.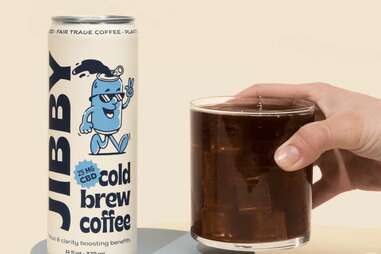 THC Cocktails
THC Spritz with Levia
This popular sugar-free THC seltzer contains only 5 mg THC, and while the Rasberry Lime is bomb, the holiday Pomegranate Punch is fantastic when combined with a bit of real lime juice and angostura bitters on ice. An easy, gentle high that will fade by the end of the holiday party when you need to make your way home. This one's only available in Massachusetts, but CANN and Pabst Labs Seltzers offer similar products in California, and Happi is a popular infused seltzer brand in Michigan.
Rosemary Fizz with Afterdream
Satisfy wintertime Aperol cravings by riffing on this recipe from Athena Calderone, swapping 2 ounces blood-orange juice for 1½ ounces of cannabis-infused spirit Afterdream, plus a ½ ounce of Aperol, a splash of prosecco, and a sprig of rosemary for garnish. The spirit is flavored with sumac, sorrel, lemon peel and rosemary, as well as specific terpenes to enhance the flavor and feeling of 3.5 mg THC, CBD, and Delta-8.
Something Bubbly with Magic Number
This Oregon-based brand pulled out all the stops with this live resin-infused sparkling cider, packaged in a gold foil-topped champagne bottle to boot. Each contains 60 mg THC—about 5 mg THC a glass—so it won't end the party too soon. Truly a champagne for cannabis enthusiasts.
MJ Mule with MXXN
For the pleasant, rich glow of a whiskey cocktail, MXXN recommends mixing 1 ounce of Kentucky Oak, half a lime's worth of juice and a splash of ginger beer. This flavor features notes of charred oak, vanilla, and a hint of demerara sugar for sweetness, and MXXN also makes a version with hints of flint and salt as a tequila substitute and a citrus, juniper and cucumber alternative for gin. 1 ounce equals 4 mg of THC, so you can increase to 1½ ounces for a more potent high.
Nothing in this article is or should be construed as advice regarding the legal status of the substance(s) or medical advice. You should consult a medical professional regarding matters pertaining to your health before starting any course of medical treatment.
Lauren Yoshiko
is a freelance writer and editor based in Portland, Oregon. She writes
The Broccoli Report
, a bi-weekly newsletter for creative cannabis entrepreneurs.